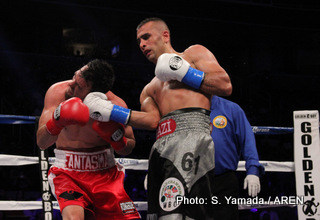 Turkish welterweight contender Selcuk Aydin failed to knock out Robert "The Ghost" Guerrero but surprised and impressed most spectators with a great performance in an action-packed WBC interim championship fight on Saturday night at HP Pavilion in San Jose. After 12 close rounds local hero Guerrero was awarded with a unanimous decision win but admitted that "Aydin was the toughest opponent I had in my career so far. He is tough!"
The 28-year-old "Ghost" from Gilroy (30 miles south of San Jose) started very busy, throwing a lot of punches in the first couple of rounds though Aydin was able to block most shots with his tight defense. Although Guerrero had the higher punch output and out-landed Aydin easily, Guerrero seemed impressed whenever the Turk came through with his devastating hooks to head and body.
Aydin rocked his opponent with two clean and hard uppercuts in the seventh but Guerrero lived up to his name, refused to go down and kept on fighting back throughout the whole fight..
"I am disappointed because I couldn't get the job done", said Aydin after the bout. "I feel that I let myself and my people down. I know that I couldn't win by decision over here in the United States. I came here to stop this guy and I just couldn't pull it off. I have to give respect to Guerrero for taking so many hard and clean shots and still not going down."
Promoter Ahmet Oner emphasized that sometimes even by losing you can win something. "I think with this performance Selcuk gained the respect of fight fans over here in the United States", states Oner. "He said he wanted the people in America to know who he is. I think they do now. Of course, he made some mistakes – otherwise he wouldn't have lost the bout. But he will learn a lot from this fight. Guerrero was more experienced and smarter than Selcuk today. That is what won him the fight. Selcuk will learn more from his first loss than he learned from the 23 wins he had before. He will improve and come back stronger. The good thing about American TV and American boxing fans is that they know boxing and appreciate a good performance. Selcuk's stock is definitely raising with this performance. I am pretty sure that he will be back in action soon."