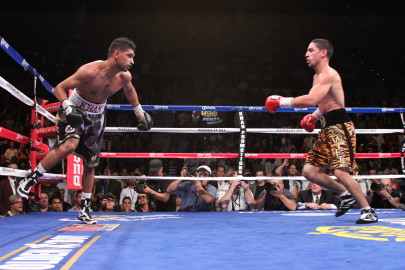 (Photo: Sumio Yamada) By James Slater – It's almost a week on from his shocking loss to Danny Garcia, and Amir Khan continues to be one of the biggest talking points in all of boxing. As fans may have read, Khan, wanting to do what's best for him, has hinted at a major change in his training approach, with even a parting of the ways with Freddie Roach seen as a possibility by some. Well, one man who has come out and said he very much wants to become Khan's new trainer is Enzo Calzaghe, the 63-year-old father of all-time great Joe Calzaghe.
Having recently got his trainer's licence back, the knowledgeable Welshman stated the following to the guardian.co.uk:
"My next goal is to talk to Amir Khan and his team. We spoke before, about three years ago. I have always believed Amir is a great fighter, despite what people think. People say he should quit but I don't think he should be quitting. I believe with the right trainer – and my C.V speaks for itself – he will be unbeatable.."
Khan has rubbished any talk of possible retirement ("some fighters don't turn pro until they're 25!" Khan said) and who knows, maybe he and Calzaghe will get together? Khan will need a good long sit down with Freddie before deciding on anything, however.
But Khan is in the news for another reason: the possibility of him facing the rumoured-to-be-coming-back Ricky Hatton. If Khan has rubbished any suggestion of his retirement, he has not rubbished the idea of his getting it on with Hatton in an all-British super-fight. Not totally anyway.
"I don't think Ricky will want to fight us," Khan said to the guardian.co.uk. "I try to avoid the Ricky fight but you never know. It'd be a huge British fight and I don't think we've had a British fight like that. It would be bigger than the Dereck [Chisora] and David [Haye] fight but who knows?"
Obviously, Khan's number-one priority is a return fight with Garcia (target date December), but after that, if Khan were to win, a Hatton fight would certainly be a massive money-spinner. Of course, this is all just talk at the moment and we don't even know if Hatton will fight again (but new photos have confirmed how the 33-year-old has shed the pounds – with Ricky looking trimmer and fitter than anyone would have expected), but at the end of the day, money talks. How shocked would you really be if Khan and Hatton fought in a sell-out stadium in the U.K next year?
As for Garcia, everyone has been calling him out since his smashing 4th-round win, and "Swift" will now have to decide who to fight next. A return with Khan would be a hot ticket, but the unbeaten 23-year-old has so many other options.