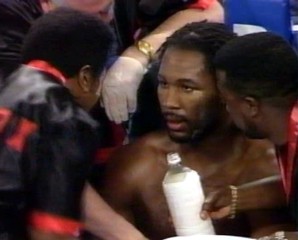 By James Slater – Retired great (retired most likely for good but maybe not!) Lennox Lewis has basically said he's had it with the current heavyweight division. Claiming the division is "dead" and that the fights of the all-conquering Klitschko brothers are "boring," the 46-year-old said today's heavyweight title fights make up a "circus."
Speaking with German paper Stern, the man who ruled (off and on) from 1992 to 2003 says that both the Klitschkos and their challengers are in the sport just for the money.
"Right now, the heavyweight division is dead," Lewis stated. "The Klitschko brothers and their opponents are just filling their bags [with money]. Their opponents will not improve, they wouldn't have even made sparring partners for me.."
Lewis may have a point if he is referring to guys like recent Wladimir challenger Jean Marc Mormeck. But to be fair, the Klitschkos have ducked no-one and it's not their fault if there is no-one out there capable of testing them. Also, guys like Dereck Chisora, Eddie Chmabers and David Haye would all certainly have been good enough to have at least sparred with Lennox! But Lewis went on, describing why a typical Klitschko fight is boring in his opinion.
"At some point, the referee steps in and stops the fight," he said. "They are boring. If you are looking to decide the best boxer in the world it must be decided by an epic fight. Not this circus."
But again, who can give either Wladimir or Vitali an "epic fight?" The last man that gave either brother a great, truly memorable action fight was Lennox himself, when he went to war with "Dr. Iron Fist" in his final bout before retiring. Hang on, is Lennox attempting to set up an "epic" ring return?
"For 100 million, I'd come back," Lewis said, not specifying if that figure related to dollars, pounds sterling or deutschmarks. "For that I would take my pyjamas off and go to the gym."
And we'd all tune in if the all-time great (some, such as fellow legend George foreman say Lennox is THE best heavyweight of all-time) fought again. Lewis has said many times that he is too smart to come back; that he has done all he needs to do in the squared circle. Has the 46-year-old had a change of heart and is he willing to come back to add some much needed drama to today's heavyweight picture?
There would be positive and negative reactions from the purists if Lewis did come back (mostly the latter), and "circus," that word Lennox used to describe today's heavyweight division, would likely be put in a number of articles written about his own ring return.
Don't do it, Lennox. The division may lack drama, but the titles are in good hands.