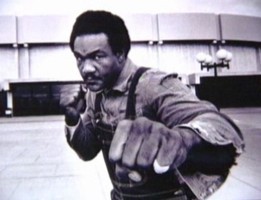 By James Slater – "When Foreman hit me, the floor came up to meet me," Ron Lyle, who lost a classic to Foreman and won one against Shavers.
"Shavers hit so hard he could turn horse piss into gasoline," James Tillis, who won a decision over an ageing but still dangerous Shavers.
George Foreman and Earnie Shavers (between them scoring a whopping 137 KO's!) never met in the glory-filled 1970s; a great era when most of the fights we wanted to see happen happened. For whatever reason (and Earnie feels it was because he was too dangerous a proposition for "Big" George) the two biggest hitters the heavyweight division ever produced (in the opinion of many experts, anyway) never rumbled. But, oh, we wish they had!
Dream-fight time!
It's 1973. George Foreman has recently shocked the boxing world by extinguishing world champ "Smokin' Joe" in just two rounds. The new king is instantly reckoned to be invincible and ,to many, a new breed of heavyweight has arrived.
Lower down in the world rankings, a fight occurs that propels another big hitting heavyweight to the forefront. In a match-up between former champ Jimmy Ellis and the hard punching Earnie Shavers, Shavers puts himself in a position to perhaps one day soon challenge Foreman, courtesy of a devastating first round blitzing of Ellis.
It may be true, to some extent at least, that Foreman wanted no part of Shavers, but we must not forget that Earnie was to lose his very next fight, to Jerry Quarry, and this surely had something to do with the Foreman fight being lost. Still, Shavers did regroup and his desire to square off with Big George never dissipated.
Here's what would have happened had the fight got made soon after Foreman had lost his title to Ali and was in the process of fighting his way back up the rankings, while at the same time Shavers had won four since the loss to Quarry and had then lost a war to Ron Lyle:
Foreman Vs. Shavers is held at the same site as Foreman's epic win over Lyle – Caesars Palace in Las Vegas and the date is June 15th 1976.
Round one starts, and both men come out cautiously. Foreman snaps out his left jab and, with both hands held high, tries to sneak in a couple of right hands to the body. Shavers grins at George through his gum-shield as he does so. Then Foreman suddenly explodes into action like a wild man! He cracks a huge right into the side of Earnie's head with swiftness and a shocked Shavers is swept to the canvas. He is badly hurt but wobbles to his feet at the count of seven. The crowd is screaming, and so is Foreman's corner-man, Gil Clancy.
Foreman resumes his attack as soon as the referee signals the action to continue. He lets both hands fly and a desperate Shavers does his best to hold. Foreman switches his attack downstairs and a five punch combination knocks some serious wind out of Earnie. It looks a lost cause for him already. But then the bell rings and a weary Shavers staggers back to his corner. The minutes rest passes in an all too brief flash and the bell rings, forcing him to rise from his stool and face the wrath of Foreman once more.
Round two. Shavers immediately goes on the defensive as Foreman swarms all over him. Another big right jars Earnie and a cut opens above his left eye. This is the least of his troubles at the moment, however, and George lands two quick left hooks to the head. Shavers is taking a hellacious beating and many at ringside are thinking it's all over for him. Then, somehow, perhaps due to Foreman's complete self assurance, Shavers manages to whip in his trademark punch, the over-hand right. Foreman, thinking Earnie has nothing left, is caught flush on the side of his head and crashes face-down onto the mat. The crowd is now in an almost orgasmic state! The savagery continues and an exhausted Shavers throws absolutely everything he has left at a still dazed Foreman, who is now staggering around the ring like a drunk. No-one can believe how Shavers has been allowed back into the fight.
Foreman finds the speed to throw a volley of blows, mostly lefts to the head, and Shavers' arms drop to his sides. He has absolutely nothing left but his head is clearer than Foreman's. If Earnie has the strength to hold on until the end of the round he will survive. Instead, a wide Foreman body shot sends the four years-older man violently sideways and a follow-up right hand to the jaw sends Shavers down once more. Earnie bravely struggles to get up but does so just as the count hits ten. It's over.
In a nutshell: Shavers was great, Foreman was greater. Shavers hit hard, Foreman hit harder. Shavers had a suspect chin, Foreman did not!