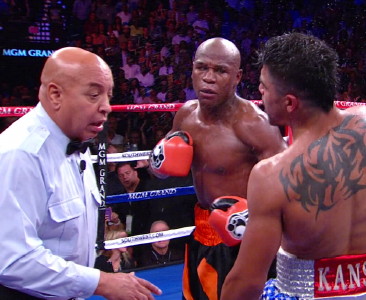 By Vitali Shaposhnikov: I am safely assuming that most of you if not all, have read about, or have seen and heard the video in which Floyd Mayweather Jr. directly calls out Manny Pacquiao to fight him on May 5, 2011.
This, in my opinion, is not just another scenario where empty words are thrown around just to make a little stir for the media; just the opposite, this is something that will definitely require a response from team Pacquiao, specifically Bob Arum.
When Floyd makes an appearance on video, most of the time it's very arousing for the boxing world. In this video by FightHype (http://www.fighthype.com/pages/content11263.html?PHPSESSID=45e87fbd9fcbeb2f7946228d1fbb91ad), he does something different. In his statement, his avoids too many weasler words such as 'maybe' and 'if".
And just as most hoped, Bob Arum did indeed respond, and has confirmed that the fight is being seriously considered and worked on. According to Manila Standard (http://philboxing.com/news/story-63475.html), Arum had the following to say: ""There are a couple of investors who want to put up a lot of money to do the fight. So we are exploring how real it is. The investors know Mayweather. They met with us at my house and they told Michael that they were going to see Mayweather and that Roger Mayweather would meet Michael outside the gym and take him in to meet with Mayweather."
"If I explore the deal and Floyd likes the deal, hopefully he'll accept it and if he doesn't like the deal and then he says we have to do a regular ordinary deal so we run it ourselves, I'll sit down with whomever he says. But right now it makes no sense to sit down with anybody else," proceeded Arum.
Michael Koncz meeting and talking things out with Mayweather Jr. personally, to me, is a big deal, and could be the beginning of something very promising.