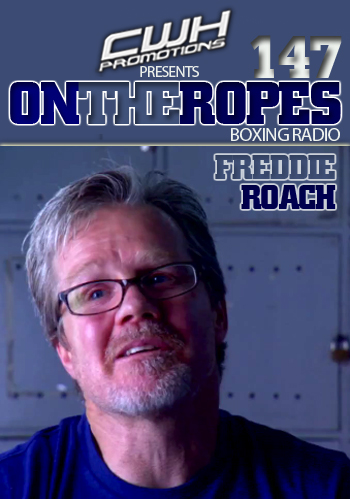 by Geoffrey Ciani (Exclusive Interview by Jenna J & Geoffrey Ciani) – Last week's 147th edition of On the Ropes Boxing Radio (brought to you by CWH Promotions) featured an exclusive interview with highly regarded trainer Freddie Roach, who spoke about various topics, including Pacquiao-Marquez III, Bernard Hopkins, Jorge Linares, Amir Khan, being included on the 2012 IBHOF ballot, and more! Here is a complete transcript from that interview:
JENNA J: Let's move things to our final guest of this week's show. He's a returning one making his fifth appearance to On the Ropes Boxing Radio. We're joined by one of the most well respected trainers in boxing today. We have on Freddie Roach. How's everything going today Freddie?
FREDDIE ROACH: Hello. How are you?
JENNA: I'm doing very well today. How about yourself?
ROACH: I'm doing good. I'm just getting started with my day. I'm getting ready. I have three champions getting ready for fights coming up. I've got Manny Pacquiao, Chavez Junior, and Amir Khan getting ready for their title fights. Manny is really doing well. He's ahead of schedule. Amir's just getting started and Chavez just got here and started sparring yesterday. All three boys are doing well.
JENNA: Alright well let's talk about your first fighter there. Manny Pacquiao's got a very big fight, a third fight with Juan Manuel Marquez, on November 12. How's the training camp been going so far and how's Manny looking really?
ROACH: Well you know we spent a month over in the Philippines with Pacquiao. It worked out really well. We didn't have any distractions at all, which is kind of unusual. He's very focused. He started boxing eight weeks out with Linares to help him get ready for his fight, so he's a little bit ahead of schedule. He's boxing very intensely. He sparred eight rounds yesterday and then we did eight rounds with the mitts. He's just on fire right now. He really wants this fight. Juan Marquez went to the Philippines and wore a t-shirt saying that he beat Manny twice. It was a slap in the fact to Manny. It was an embarrassment, trying to embarrass Manny. Manny's going to pay him back! Manny will knock this one out!
JENNA: Alright now Freddie, what do you think it is about Juan Manuel Marquez that had made him such a tough opponent for Manny Pacquiao. The last man to even really touch up Manny in the ring was Marquez. Why do you think that is?
ROACH: Well Marquez always gave us trouble, but that was the old Manny Pacquiao, though. That was Manny Pacquiao who just had a left hand, Manny Pacquiao who could only move in one direction, and Manny's really come a long way since they fought and it's been a long time. I think Manny's skills that he has now are going to overwhelming, and I don't see the fight lasting too long.
JENNA: Alright now you mentioned the weight. A lot of people out there that are putting odds on this fight are saying that Marquez is too small, and that Manny Pacquiao has become adjusted to these higher weights and that he will blow out Marquez. Do you think that is Manny Pacquiao's biggest advantage in this fight? The weight?
ROACH: Well the fight's at 144. We gave him a catch weight because they asked for it. I'd rather fight at 147 because that's Manny's best fight weight. He's the welterweight champion of the world, but they're fighting at 144 and it's probably to Manny's advantage. But they asked for the fight, so maybe they asked for too much.
JENNA: Alright now you also mentioned Julio Cesar Chavez Junior. He's got a fight coming up with Peter Manfredo in the same month. How is it having both of those guys in the same camp, and do you see yourself having any trouble giving the proper amount of focus to Chavez to really get him ready for that fight?
ROACH: Well with Chavez, you know I have separate times for each of the fighters so we break it up that way. They overlap a little bit, but everybody gets the same treatment and that's just not a problem. I mean they all get the attention they need and they get the sparring they need.
JENNA: Okay Freddie, well everything seems good on that front, but let me turn things back to Manny Pacquiao for a second. I know you have some business in front of you with the Marquez fight, but fans are still talking about what's next for Manny Pacquiao and some are saying because Timothy Bradley has signed with Top Rank Promotions that he could be next. I just wanted to get your view on that and what you think of that situation?
ROACH: We have Marquez in front of us right now and that's all I'm worried about! Timothy Bradley is off the radar! I have no idea who our next opponent is! I want it to be Mayweather, so we'll leave it at that. Timothy Bradley is like not a challenge, in my mind at least. But again we have Marquez first, and we'll take care of that and we'll go from there.
JENNA: Geoff.
GEOFFREY CIANI: Hey Freddie, it's a pleasure to have you back on the show and I wanted to ask you about the fighter you trained this past weekend on the Hopkins under card. Jorge Linares and Antonio DeMarco, what were your thoughts on that fight?
ROACH: Well I thought he fought a great fight. The cuts were a problem and the cut-man Joe Chavez just couldn't get control. The blood just kept pouring out. You know I wish that maybe they let the fight go a little further, but the referee is there to protect the fighter and he used his discretion to stop the fight. I think we're going to get a rematch and I think we deserve one. We were ahead nine rounds to one, eight rounds to two, seven rounds to three. I thought he fought a great fight and DeMarco just came on at the end and the blood was just too much to handle.
CIANI: Now Freddie I was also wondering if I could get your opinion on the main event itself from that night where we had the unsatisfying ending as fans watching the Hopkins-Dawson fight get stopped early. It was ruled a TKO victory for Chad Dawson. What were your thoughts on how everything went down in what little action we got to see in that one?
ROACH: Well you know what, honestly my fighter Linares was getting stitched up so I didn't get a chance to see the Dawson fight. It sounds like they should make it a No Contest because the fight didn't go four rounds. I think that's the ruling, but again they gave him the win. I'm not sure what the commission's stand on that is, but usually a fight has to go at least four rounds to be a fight, and that didn't happen. So I'm sure they're protesting, and I think that fight will be called a No Contest in my own opinion.
CIANI: Now Freddie what do you think of what Bernard himself has been able to accomplish since you last worked with him? He has victories over Pavlik, the rematch win against Jones, a pair of really good fights against Pascal where he became the oldest champion. Were you surprised by what Bernard has done in this time the last three years?
ROACH: Yeah, you know after he fought Calzaghe I did tell him I thought it was time for him to retire, and he told me that he was not ready. He came back and beat Pavlik in a real good fight and looked good, but when he fought Roy Jones it was kind of an embarrassment and I thought it was bad for boxing. From what I hear he was leaning on top of his opponent, and his opponent kind of shoved him off him. Moves like that aren't made in boxing that much, but it didn't seem like it was intentional from what I hear. You know he's done some great things, but against the right opponents he looks great, but I think against the tougher young guys he's going to have trouble.
CIANI: Now going back to your fighter Amir Khan Freddie, when you took over the realm as head trainer for Amir did you ever envision he'd be quite as successful as he's been since you two teamed up?
ROACH: Yeah, you know I have a lot of belief in Amir. His first day of sparring in my gym was with Manny Pacquiao, and he showed me that he has what it takes. I think that cleared his conscious with being stopped by when he got knocked out in that one fight by—I forget the guy's name right now. (laughs) But he's come a long way, he's a great athlete, he's an Olympic Silver Medalist. I expected it to go this way and I do think that he will be the pound-for-pound king after Manny retires.
JENNA: Well Freddie some recent news came out about yourself. You were put on the ballot for the 2012 Hall of Fame class. What would that mean for you to get elected in?
ROACH: Well I hope I make it. I have been in the LA Hall of Fame for ten years now, and with New York this is the first time putting me on the ballot. But it would be great for me. I love to be recognized for what I do and I'm excited to get put in the Hall of Fame now.
JENNA: Okay now to turn things back to something you mentioned before, you mentioned Floyd Mayweather Junior. Do you ever get tired as a trainer of people continuously going up to you saying, "When's that fight going to happen? When's that fight going to happen?" How do you react to that when people keep bringing that up to you?
ROACH: (laughs) Every day of my life I have somebody ask me. I was out last night and a couple came up to me and said make that fight happen. I said I'm trying, but the thing is I'm kind of frustrated that the fight hasn't happened yet. I look forward to the challenge, and I think it's going to be bad for boxing if that fight doesn't happen. So I think it has to happen, and hopefully it's soon.
JENNA: Okay now in previous interviews we've had with you, you mentioned that you believed that the fight with Mayweather would probably be the last fight of Manny Pacquiao's career. So in some ways—
ROACH: No! I never said that. I said I would like that to be the last fight of his career, but Manny will make his own decision. After he beats Mayweather I don't see where else he could go, but that's my thought on him. Manny Pacquiao marches to his own drum and he'll quit when he's ready.
JENNA: Okay, but what about you Freddie? Some people have said that when Manny Pacquiao retires that you might follow him. I'm just curious do you see retirement any time in your future?
ROACH: No, I don't think my training career will end. I'm a boring person and I don't do anything else but box, and I don't know what I'd do with myself if I didn't have boxing.
JENNA: Okay well I just have a couple of more questions before I let you off the line. Let's talk strategy with the fight with Marquez. You mentioned many times before that Manny is an improved fighter and that he was just a left-handed fighter before, but in this rematch what do you think will have the biggest impact in the third fight?
ROACH: You'll have to watch the fight. (laughs) I'm not going to give that information away. So we have a great game plan and Manny will execute it perfectly.
JENNA: Okay, and for the end of the year I want to ask you about one particular bout. The Super Six Final is coming up, Andre Ward versus Carl Froch, the USA versus Britain. Just from a trainer's perspective, who are you favoring in that one?
ROACH: You know I picked Andre to win that tournament from the beginning. He's a very great boxer. I think he's a much better boxer than given credit for. Froch has really looked good though. He's game and he comes to fight. I think it's a very good fight, but I picked Ward to be the winner of that tournament and I still stand by that.
JENNA: Alright well I have one final question. With yourself as a trainer, if you're talking with a young fighter and I know you work with a lot of young fighters, but you can't work with them all. What's the best advice you could give them?
ROACH: Hey! The best advice is work hard and be dedicated. Manny Pacquiao and Linares and all of my guys come in shape, Amir Khan. I get accused with my guys for being on enhancing drugs and so forth, but people just can't accept that my fighters work hard, and that's what it's all about—working hard!
JENNA: Okay well Freddie, it's been a pleasure having you back on the show. Thank you for your time and we wish you all the best of luck.
ROACH: Thank you very much and I'll talk to you soon.
***
For those interested in listening to the Freddie Roach interview in its entirety, it begins approximately one hour and seven minutes into the program.
RIGHT CLICK and 'SAVE AS' TO DOWNLOAD EPISODE #147
***
To learn more about "On the Ropes Boxing Radio:
Visit our official Website:
http://www.ontheropesboxingradio.com
Subscribe to our show on i-tunes:
http://itunes.apple.com/us/podcast/on-the-ropes/id427474189
Join our Facebook Group:
http://www.facebook.com/group.php?gid=231954175413&ref=ts
Or Follow us on Twitter:
http://twitter.com/JennaOnTheRopes
http://twitter.com/CianiOnTheRopes
To contact Geoffrey Ciani or Jenna J:
ontheropes@boxing247.com
To read more by Ciani or Jenna please visit The Mushroom Mag:
http://www.eatthemushroom.com/mag