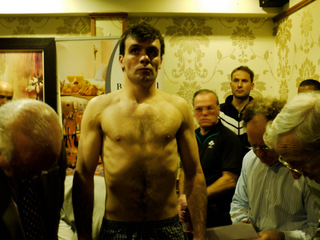 By Brendan Galbraith – Heavy handed, Irish Light Middleweight prospect, Ryan Greene has been working hard to emulate aspects of Manny Pacquiao's training to improve his piston-like explosive bursts of power punching, and will, undoubtedly be aiming to replicate the same drills in his fourth professional appearance tonight.
Greene will cap a productive year when he fights on the under card of the Lindsay-Simpson British Title fight at the Kings Hall in Belfast against Simone Lucas (2-5), who will be returning from a four-year exile from boxing to face the Lurgan southpaw.
As an amateur, Greene had a reputation as a big puncher and he appears to have carried that heavy handedness into the pro ranks, by hurting all of his opponents to date and stopping his last opponent Laszlo Haaz in the first round..
"I didn't set out to get the stoppage", begins Greene. "But I warmed up well on the pads before I went out. I thought that I caught him with a good body shot and hurt him and he wasn't firing back. We had been working on those straight punches – close up – 4's, 5's and 6's on the pads. And I decided to fire one of them in and the referee decided to step in. I was just thinking happy days this is great!"
Greene's exciting style commands the attention of fight aficionados, particularly explosive bursts to the body and head and these traits are developed further under the supervision of trainer, Damian Denny.
"I have been working on my defence, keeping my head moving, working on a higher quantity of punches per round and getting a lot of punches in, 6's, 7's and 8's on the pads. I have been firing off large quantities of punches and getting my breath back and going again."
"That is what Manny Pacquiao does in his training and I know loads of boxers do it, so I am trying to do something similar. And then go on the pads for about a minute – non-stop – just trying to build up the arms like pistons – keep them firing all the time – because attack is the best form of defence."
Despite being a relatively late-starter to the pro ranks, Greene is happy to dampen any talk of domestic titles in 2011, preferring to take one step at a time.
"I am hoping to get more rounds in and hopefully with a bit more sponsorship I will be able to take off work more and get more training in and longer training and probably a better diet as well.
"Look at Sergio Martinez he started his pro career late. Martinez is 35 and he world champion. Martinez didn't start boxing until he was 22 – he didn't have any amateur fights – he just went straight in as a professional. It was the light middleweight world champion and is now a middleweight world champion and is a southpaw too [like Greene]. It just shows you that age isn't a big thing now."
"My body fat is down to 6%, whereas Carl Frampton is down to 2%. But, obviously he living the full time professional life and I am not – so 6% is good for me. That just shows me that light middleweight is my weight. Some people have said to me that I could go down to welterweight but you need to keep the strength. I feel strong and I have been in with heavier guys and I have been hurting them."
The full weigh in details and proposed card is below:
British Featherweight Title
Martin Lindsay (8 stone 12 Ilb 14 oz) v John Simpson (8 stone 13 Ilb 6 oz)
British Flyweight Title
Shinny Bayaar (7 stone 13 Ilb 2 oz) v Paul Edwards (7 stone 13 Ilb 4 oz)
Tony Jeffries (12 stone 5 Ilb 6 oz) v Tommy Tolan (12 stone 8 Ilb)
Luke Wilton (8 stone 14 oz) v Uzzy Ahmed (8 stone 10 oz)
Jamie Conlan (8 stone 2 Ilb 2 oz) v Francis Croes (8 stone 7 Ilb 14 oz)
Brian Cusack (12 stone 10 Ilb 8 oz) v (12 stone 7 Ilb 14 oz)
Tony Nellins (10 stone 2 Ilb 14oz) v Jason Carr (10 stone 4 Ilb 8oz)
Dan Carr (9 stone 6 Ilb 4 oz) v Mike Harvey (9 stone 6 Ilb 10oz)
Ryan Greene (11 stone 1 Ilb 5 oz) v Simone Lucas (11 stone 3 Ilb 4 oz)
Steve Jevons v Martin Shaw (both fighters will weigh in on morning of the fight)