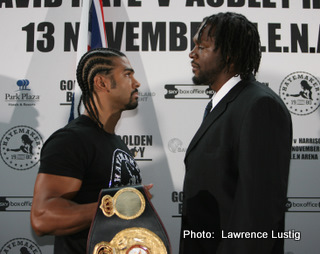 Sky Sports have officially confirmed that the WBA world heavyweight title showdown between David Haye and Audley Harrison on Saturday, November 13, will be the world's first ever boxing match televised live in 3D.
Fight fans purchasing the clash on Sky Box Office are set to witness a 'three-dimensional beating', claims champion Haye.
"This is great news for British boxing fans, but terrible news for Audley Harrison," said Haye, 24-1 (22 KO) in his professional career.
"Audley was going to have a hard enough time keeping up with me as it is, but now he's got no chance in 3D. He's going to feel like he's just walked in mid-way through Inception. He'll think he's being surrounded..
"For a man as mentally delicate as Audley, the added pressure of 3D could tip him over the edge. The last thing a paranoid schizophrenic wants is things jumping out at him."
Belt-holder Haye has been vocal in his belief that Harrison will be swiftly dispatched when the pair meet at Manchester's M.E.N. Arena, but now, with the addition of a third dimension, is even more excited about a potential knockout.
"This fight is going to be a three-dimensional beating of a one-dimensional challenger," warned Haye. "In addition to the 3D glasses, fight fans ordering this bout should be given a sick bag and an inhaler. They won't just be watching a beat-down on screen, they'll now be able to feel every punch, thanks to the beauty of 3D.
"I can assure everybody that watches the fight in 3D that, at some point during the fight, Audley Harrison will land on your lap in a crumpled heap.
"I have no doubt Audley will be seeing three of me once I land my right hand on his jaw – and that's got nothing to do with the glasses."
*** David Haye defends his WBA world heavyweight title on Saturday, November 13 against British rival Audley Harrison at Manchester's M.E.N. Arena, live on Sky Box Office HD and in 3D. For tickets, call 0844 847 8000 or visit www.men-arena.com ***
Harrison warns Haye – I'll fight you every second
Audley issues war cry to title holder from the mountains
Audley Harrison ran to the top of a mountain to warn David Haye that he will "fight him every second of the way" in their world title fight at Manchester's M.E.N Arena on November 13.
Harrison posted two videos on YouTube from his United States training camp at Big Bear Lake in California – before and after a gruelling early morning run up the mountains in the bitter cold.
The videos can be watched online at Harrison's official website, via this link: http://www.audleyharrison.com/index.php/audley-harrison-training-camp-big-bear-ca-sept-2010/
The 38 year-old challenger looked into the camera before the run and stated: "Here we are – six o'clock in the morning – we're on the track about to do our 45 minute run uphill. We are 7,500 feet above sea-level – you don't get this in London with David Haye's training, coming out of his nice posh palace and going down to his gym. This is the mountains."
Clad in winter gear, the Londoner now based in the US then pulled a climbing axe from his jacket and said: "You think I'm playing? Look what I've got – this is an axe, and it ain't for Haye – it's for the bears! We are in the wilderness and we ain't playing, David, you better be ready for a serious fight."
After completing the run in temperatures around eight degrees Celsius, Harrison had a message for the 29 year-old world champion in the countdown to their clash on Sky Box Office: "38 minutes, 7,000 metres uphill at altitude – I told you David Haye, every minute, every second, of every round, I'm going to be in your face."