by Robert Brown – On the 27 of November 2010 Juan Manuel Marquez will defend his WBO 135 pound title against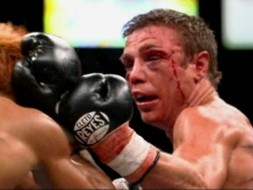 Michael 'The Great' Katsidis, at the M.G.M Grand in Las Vegas . This match stands to be a stern challenge for the aging legend Marquez, despite his many failed attempts to get a rubber match with pound for pound king Manny Pacquiao. This match defines boxing in its purist form with a master boxer versus a raging slugger. If all the ingredients together come this should provide a spectacle to satisfy the most battle hardened boxing fans.
This fight represents fighters at two different stages of their careers, one looking to cement what will be a Hall of Fame career, the other looking to put a multiple time champion in multiple divisions away and send him possibly into retirement. Either way this will be a career defining match for both fighters..
It is time to take a closer look at the challenger to the Marquez title, Michael Katsidis. His best weapon is without doubt the devastating right hand but does posses power in both.He is a pure pressure fighter who will cut off the ring and back his opponent against the ropes to launch devastating power, that disposed of up and coming undefeated prospect Kevin Mitchell in three rounds leaving British fans in a state of shock.
His defense is suspect however, evidence of this is when the previously undefeated and former WBO champion went after the then 36 year old Joel Cassamayor's WBC belt, ripe for the picking it would seem considering people at the time thought he was nowhere near the best lightweight in the division and possibly on a major decline. Katsidis rushed forward and got caught twice early, but then fought back during the middle rounds before he got caught again and lost the fight. Katsidis is vulnerable to uppercuts. This was also as was demonstrated in the Diaz fight where he got hit with several inside exchanges during the fight.
Marquez has got one of the best uppercuts in the sports and can deliver it on the inside and at a distance. This is the most dangerous punch to watch out for in regards to Katsidis. If he is able to cut the ring off and get Marquez in the corner, which he has to do to win the fight as he will not outbox him, and if he lands the right shots Katsidis can win. That is the question because Marquez has magnificent ring intelligence and boxing ability, so it will be a tough task.
Let's take a look at Juan Manuel Marquez.
For so long this great Mexican warrior lived in the shadows of his more dynamic and exciting counterparts Eric 'El Terrible' Morales and Marco 'The Baby Faced Assassin Barrera', particularly because of the unbelievably exciting and memorable wars those to fighters had. With those two fading away into the mist, although Morales has recently made a successful comeback to the ring, Marquez after his to great showdowns with Pacman and gallant challenge against Floyd 'Money' Mayweather is finally getting the respect he is due amongst general and casual boxing fans as a great champion.
Die hard boxing fans have always known about Marquez and respect his great talents in the ring but it has taken a lot of years of hard toil and frustration on his part to gain it. Marquez has brilliant counter punching abilities and great accuracy combined with exquisite boxing skills and timing and it has been shown that Katsidis is vulnerable to counter shots. He was hit with counter rights at certain stages that wobbled him in that fight and Diaz hit him with several counter uppercuts on the inside in his win over Katsidis. Marquez however has showed signs of slowing down and whether he will be able to keep up with the young hungry contenders pressure is a big question for Marquez at this stage of his career, the type of pressure that was applied against Mitchell Amrosi and Earl in particular.
KEYS TO VICTORY
Marquez would be well advised to use his skill to outbox Katsidis and keep the fight in the center of the ring as much as possible keep the fight out of the domain of his younger opponent because Katsidis does not have the tools to cope with the boxing skill of his seasoned opponent.
Katsidis key to victory is to fight in a phone booth apply constant pressure and try and land that powerful right concentrating on that 39 year old body, keeping his head tucked into the chest of Marques avoiding counter punches and uppercuts from Marquez.
PREDICTION
I believe Marquez will have superior ring generalship boxing skills and therefore I pick Marquez by unanimous decision or late round stoppage.