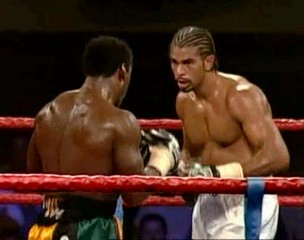 By Martin 'The Brain' Potter of the Boxing Clever Podcast: I have battened down the hatches. I have put on the flak jacket. I realise that by naming an article 'Defending David Haye' I am setting myself up to be shot down, especially considering the comments routinely made about him by critics, writers, bloggers, rival boxers and any other party you can think of over the past year or so.
Ducker. Coward. Paper champion. Big mouth. A yapping little dog who runs when the big dogs bark back. These are just some of the kinder things that have been said about Haye in recent months and as an unashamed David Haye fan I have asked myself; Is David Haye really that bad? Does he deserve such abuse? I have tried to look at the evidence and assess the facts. Like it or not, below I present my case for the defence of David Haye…..
The most common accusation leveled at the Hayemaker is that he is a ducker or a coward. This is based on one factor and one factor alone; He has not yet fought or signed to fight the Klitschko brothers. Although it can't be denied that a fight with the Klitschkos does not appear to be forthcoming I simply refuse to believe that the omission of this one (or possibly two) fight(s) from his record at this stage of his career can justify people calling him a ducker or coward. Let's look at the facts; David Haye unified the cruiserweight world titles. In order to do this Haye traveled to the defending and linear champion's home country and fought him in front of a hostile partisan crowd having had only twenty professional fights. Furthermore Haye climbed from the canvas to win the title by knockout. It should be added that as a warm up for the fight David Haye fought at heavyweight and blasted out Tomasz Bonin (37-1) in one round. Are these the actions of a coward?
Having taken two belts from Mormeck, Haye – oft accused of having a suspect chin – stepped into the ring against the big punching WBO champion Enzo Maccarinelli in what many people at the time called a 'pick 'em' fight. Haye marched to the centre of the ring and blasted Enzo out in two. Are these the actions of a coward?
We all know that the Hayemaker stepped permanently up to join the big boys following his crushing victory over Enzo and made an immediate impact by goading the Ukrainian brothers grim, Drs Steel hammer and Iron fist respectively. This was perhaps a mistake in that it has led to the hate he now faces, as despite the goading and promises, the fight hasn't thus occurred. However what David did do was knock out perennial heavyweight title contender Monte Barrett and then, as he did at cruiserweight, traveled to the country (or in this case adopted country) of a defending world champion and beat him in front of his own crowd. In only his third heavyweight bout. Against the biggest world champion in history. Are these the actions of a coward?
So Haye is a fighter who has routinely traveled to the backyards of his opponents in world title fights. A fighter who has come back from an early career defeat to win world titles in two weight divisions. A fighter who has climbed off the canvas against the linear champion to win by knockout. A fighter who, in only his third heavyweight fight, took on the biggest champion in the divisions' history (at a seven stone disadvantage and being nearly a foot shorter). A fighter who, when weighing up all of this evidence, surely can't be called a coward.
So what of the Klitschko situation? I certainly want to see this fight but am not convinced by the K2 promotions propaganda machine and its attempts to portray Haye as the sole villain of the piece. In my opinion both parties should take their share of the blame for the fight not being made and the refusal of a few other top heavyweights (Valuev, Adamek, Haye, Povetkin) to fight the Klitschkos could be for two reasons; Either the Klitschkos are that good (they are not) or; The Klitschkos are that hard to negotiate with.
David Haye does have a big mouth and sometimes makes distasteful comments, but, bad rape metaphors aside, much of what Haye says is a breath of fresh air in a stale heavyweight scene full of eastern Europeans fighters who don't inspire the American market and bad American heavyweights who inspire them even less ('Fast' Eddie Chambers – and I thought Americans didn't get irony?!) Alongside Haye's verbal dexterity (some would say verbal diarrhea) he is surely the most exciting fighter to watch in the heavyweight division. Would you rather watch a clinch fest between two behemoths jabbing their way to a points victory or a quick explosive puncher who could knock out, or get knocked out, at any moment? I don't condone the bout with Audley Harrison as he doesn't deserve a shot, but I guarantee it will be a better fight that the recent bout between Kiltschko and Peters.
In summing up, Haye brings excitement, Haye brings explosiveness and Haye has already achieved at the highest level, scaling heights that many professional fighters will never reach. Yes, we all want to see a Klitschko fight and I believe it will eventually happen, but for the time being just sit back and enjoy the Hayemaker rollercoaster. Heavyweight boxing would be a far duller place without David Haye.
Oh, and for the record, I am not Adam Booth in disguise, although like David Haye I do come from South East London and like David Haye I do support Millwall….. (Does this make me biased?)
For more opinions from 'The Brain' listen to the Boxing Clever Podcast, available on iTunes or at www.boxingcleverpodcast.libsyn.com or you can e mail me at boxingcleverpodcast@gmail.com.