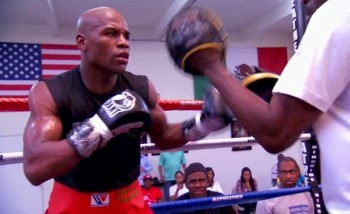 By Vivek Wallace: The two men that sit at the center of tonight's spectacle have traveled vastly different roads, but an old Hindi adage reminds us that although "paths are many, destination is one". For Mosley, his path to this grand stage has encountered both title defenses, as well as title defeats; capped with controversy in the form of allegations that acutely marginalize each and every last accomplishment he has ever made. For Mayweather, (to quote a once popular tune by the Isley Brothers), it's been "nothin' but smooth sailing"; yet tonight his ride along easy street seems all but certain to veer down the path of uncharted territory. In an effort to narrow down each man's chances, we take a look at "keys to victory", as well as "four" game changing elements to explore, and an official prediction.
SHANE MOSLEY ("KEYS TO VICTORY")
For Shane Mosley, the best potential key to victory is a fast start. Mayweather is known to take the first few rounds at a measured pace to analyze what strategy he needs to employ. Shane needs to capitalize on this, forcing Mayweather to play catch up late in the fight. If Floyd finds himself behind on the cards against an opponent who won't run out of gas late, (for a change), the level of urgency he would employ would place him out of his normal character, using more aggression, and in essence, forcing more mistakes.
Once Mosley builds that lead, he needs to use Floyd's own medicine against him, by not standing in the pocket as much, and simply sticking and moving, making Floyd find him to score points. Although Floyd is fast, Mosley will need to keep push him around and try to keep him close to the ropes where he can land with power on a stationary target, which doesn't happen often with Floyd. These two things are extremely simple in strategy, but being executed by a fighter with stamina, speed and power, it's a very easy blueprint to defeat Floyd.
FLOYD MAYWEATHER JR. ("KEYS TO VICTORY")
Floyd Mayweather jr. will need to test start fast, removing Mosley from of his comfort zone, and forcing him early to question his teams game plan. Mosley has been seen in several fights bewildered on the bench between rounds because despite his great ability, strategically, he isn't always the best executor in the ring. Floyd is well known for his precision punches, and facing a man who hasn't been in the ring for 15-months, there's no better plan than to keep him guessing by landing those shots and eluding him at all cost.
Mosley has NEVER lost a fight to anyone he felt was afraid of his power. Even if Mayweather is, (afraid of his power), he will need to use the template that Cotto employed in the beginning of their showdown. Cotto initially stood in the pocket and traded with Mosley which got him in his typical aggressive mode; later opting to switch the strategy back to a tactical chess match, knowing Mosley has a fundamental weakness in adjusting back and forth between styles. If Floyd can use his precision punching, stellar conditioning, and ring mastery like he has in the past, he can certainly walk away with the "W".
FOUR TO EXPLORE (4 THINGS TO WATCH/POTENTIAL DEAL BREAKERS)
Lackin' or Packin'? – Floyd Mayweather jr. has been long criticized for his heart. Some view him as a businessman who took only the necessary moves; others view him as what Naazim Richardson labeled "a talented coward". Whether you agree he was "forced" into this fight or not, the reality is that the dotted line is signed and it will all take place in just a few hours. A fearful fighter is the last thing to survive standing in front of Mosley. Whether Floyd survives or not will come down to whether or not he's truly lackin' or packin' (heart).
Changing of the 'Guard' – Shane Mosley has been known for his power, speed, and durability throughout his entire career, but this time he'll bring something he never has to the ring……a sound defensive strategy, due in part to brother Naazim Richardson. Many consider age to be the determining factor here, but defense is the best known age preserver in the sport, ask Bernard Hopkins. It worked with Pavlik, yet failed against Calzaghe. With Shane Mosley, it worked against Margarito, but how much will it help against Floyd Mayweather jnr.?
'Imperfect Setup, Perfect Upset' – At the beginning of the year, we were all anticipating a Mosley/Berto showdown, as well as a Mayweather/Pacquiao showdown. Fate would change that script. As if it were always meant to be, the earthquake in Haiti took Berto from the equation, and Pacquiao's refusal to comply with randomized steroid testing helped this highly and long anticipated fight to fall right in place. Will this imperfect setup lead to what some fans find to be a perfect upset?
'Give or Take'? – Of all the many subplots surrounding this fight, the one that practically NO ONE is talking about is the fact that Mosley will enter the ring as the champion. Despite the title not being on the line, the rule of thumb is that "to beat a champ, you have to do it decisively". Knowing that this is boxing and a mega-fight in waiting can mean a victory (at all cost) in the making, the operative question here is can Shane Mosley win a decision with Pacquiao waiting in the wings for Mayweather? There's no title on the line, but there's a mega opportunity to be 'given' to the man that actually 'takes' the victory. And I do mean 'take', because whoever gets this nod will have truly work for it.
OFFICIAL PREDICTION/UPSET BAROMETER (RATING 1 – 5)
The "upset barometer" in this fight scales quite high. Few out there seem to believe in the jinx factor, so be it fact or fallacy, consider this….Floyd Mayweather jr. has often said that he's the greatest boxer to ever live, yet many around the sport consider that billet to be held by the late great 'Sugar' Ray Robinson. Where this all gets a bit eery is that 'Sugar' Ray Robinson entered a ring in Michigan with a record of 40-0 on the night that he suffered his first professional loss. In just a few hours, "the best" from Michigan will step in the ring with a man named 'Sugar'. One who is not only out to avenge a few losses, but truthfully, a now suspicious career.
By the end of this evening, I fully expect to say that we have seen Floyd Mayweather jr. taken to the very brink of his very worth. Setbacks in life often spur on the most triumphant moments. 23 days before he faced Mike Tyson, Buster Douglas lost his Mother, paving the way to victory, despite 42 to 1 odds. Shane Mosley has encountered some very painful things in life recently, and I think the weight of the world will not only be on his shoulders, but deep in his mind as he enters the ring, tonight. Trouble is, that's the last place you need to have occupied when you're facing someone like Mayweather known to fill up so much space in there to begin with. I think Mosley will test Floyd to a deeper capacity than we've ever seen him tested, but in the end, Floyd wins.
MAYWEATHER via SPLIT DECISION (UPSET BAROMETER: 5 of 5)
(Happy 2nd Birthday to my daughter Shrijani Shanti – Daddy was called to duty, but I'm comin' home for you real soon, mi amor!)
(Vivek Wallace can be reached at vivexemail@yahoo.com, 954-292-7346, Youtube (VIVEK1251), Twitter (VIVEK747), Facebook, and Myspace)