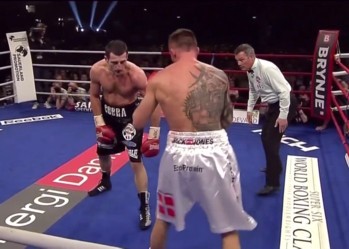 By Paul Strauss: Once again the hometown fighter came away with the victory. In this particular case it was Mikkel Kessler over Carl Froch, which took place at the MCH Messecenter, Herning, Denmark. Both fighters proved to be exciting and courageous. They both took a beating, and sustained multiple cuts and bruises. Both seemed to be temporarily hurt at times, and both took command of the fight at different stages. However, Kessler stayed busier and looked to be the more consistent aggressor. He did a good job in mixing up his attack to the body and head. As a result, the judges rewarded him with a unanimous decision, and the WBC super middleweight title.
In the post-fight interview, Froch made a mild effort at disputing the decision, but admitted he could have done more. He felt he had Kessler hurt more than once, but failed to properly follow up. He mainly objected to the disparity in the margin of victory on one judge's score card (117-111). He thought it was too great. Kessler, who had a bad cut over his left eye, jokingly said, "I'm starting to look like a fighter!" He knowingly admitted that he will have to move his head more. Mostly, Kessler was just plain happy to once again have a championship belt, and to have given his fans a victory..
The fight itself was not a thing of beauty. It falls into that category of a war or a brawl. It definitely was exciting and gave fans their money's worth. However, neither fighter was particularly sharp or accurate with his punches, and both were very hittable. Kessler was the aggressor, but too often he stayed in front of Froch after throwing a combination to avail himself of counters. He seemed to forget that age old advice that all fighters should remember, and that is after punching, "Don't stand there and admire your work!" When it comes to Froch, his footwork is awkward to say the least, but he has proven to be successful in the past with his awkwardness, but it's going to continue to cost him against the best.
Another admirable trait both fighters exhibited tonight was their toughness. They tagged each other with hard punches, but both warriors shook off the effects and battled back. Kessler's new trainer Johnny Montoya seemed to help keep Mikkel's confidence up between rounds. He also properly chewed him out at times to make him understand what he was or wasn't doing. It was that little extra encouragement he needed to generally stay busier than Carl Froch. A fair assessment of the action would give Kessler six rounds and Froch four, with two that could have gone either way. So Froch was probably right in criticizing the size of the margin of victory, but in the end it's academic.
What's more important for each of these fighters is what's next. With Kessler's victory, the tournament scoring has pulled everyone close. Abraham has three points, Kessler, Froch, Ward and Dirrell each have two, and Green, who has yet to fight, has none. Kessler was a favorite to win the whole thing, and remains so in the minds of many. However, in his next opponent he will be facing a geniune one punch knockout artist in Allan Green. If Green doesn't sustain any serious damage in his fight with Andre Ward, he has a good chance of stopping Mikkel Kessler. Green was probably drooling while watching this fight, because he saw that Kessler lacked side to side movement, and was not sharp with his punches. To make matters worse, and by his own admission, he fails to move his head enough as well. To some, the encouraging aspect of Kessler's attack was his body punching, but chances are he will run into Green's potent left hook when he tries to throw his right to Green's body, and it probably won't happen more than once and the fight will be over.
Froch also will have his hands full with another big puncher in Arthur Abraham. Abraham is going to be looking to get back on the right track after being disqualified against Andre Dirrell. If Froch takes the chances he normally does, which puts him off balance and out of position, then it's likely he too will get stopped. Granted, Abraham is also awkward and unorthodox, but his style is much tighter, and his punches are harder and much more accurrate. He is usually set to punch, whereas Froch often is not. Froch keeps his hands low and depends on movement to keep from getting hit, but he tends to have lapses when he relaxes while still in the danger zone. That could cost him dearly against a true knockout puncher with the speed and explosiveness of someone like Abraham.
As far as pure athleticism, hand speed, foot speed and boxing skill are concerned, Andre Ward seems to be a notch above the rest. Dirrell is a close second, but he doen't appear to have Ward's mental toughness. At least not yet. If Ward stays healthy (knee) and can get by Green, he could very well win it all. Then wouldn't it be interesting to see a matchup between Ward and Lucien Bute! All the attributes mentioned about Ward apply to Bute as well. Their matchup could truly be a mega fight, and might even evolve into multiple fights.