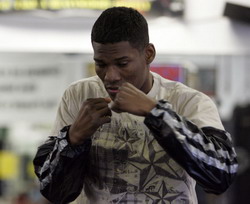 23.02.09 – Jaime Castro-Núñez, Photo: Marco Pérez/ mpsportimages.com – Last Friday night at the University Center Arena in Fort Lauderdale, FL, we had the occasion to watch Breidis Prescott for the third time. Although the puncher has 21 professional fights, we only got to know him last June, when he took a fight on a 3-day notice against Cuban prospect Richard Abril. Prescott decisioned Abril and we saw him again three months later, in September, against Amir Khan. Before that, the Barranquilla-born had fought 17 times in his native Colombia, once in Panama and once in the United States. Upon knowing that Khan's next opponent was an obscure boxer from South America, boxing erudites and fans started to dig up the web in order to find out more about this heavy hitter. They discovered two things: his "impressive" record and the youtube fight against Abril. They thought Prescott was not more than a boxer with an inflated record. Conclusion? Amir Khan will dispatch this turkey before the fifth..
September 6th arrived and, contrary to all British odds (odds in Colombia were different), Khan failed to probe the entire world he would be "an untouchable in two or three fights". In less than a minute Prescott went from being "another Columbian tomato can" to "the next big thing in the division". He knocked Khan out in such a wonderful performance that fans and commentators forgot what they had written/said just two minutes before the fight. The Prescott hype had started…
With Amir Khan as his first decent victim, Prescott was inked by a new company and relocated to Florida. He started to train and soon noticed he was scheduled to fight Humberto Toledo of Ecuador. Commentators, writers and fans resumed the hype: boxrec, youtube, google. Conclusion? If Humberto Soto and Lamont Peterson knocked Toledo out, Prescott will definitely do the same. If Prescott dispatched Khan in 54 seconds, Toledo must be gone within 45!
That was the state of things until the end of the fight, when a frustrated Toledo became "Kid Dracula" as he bit Prescott's shoulder. The taller boxer won in a convincing fashion, but the result disappointed many. They not only wanted, they expected a knock out. Yuriorkis Gamboa and Erislandy Lara had won in the first, so it was Breidis Prescott's boxing duty to do the same with "Kid Dracula". Most reports and chatting rooms reflected dissatisfaction. Like the stock market, Prescott went down. His ability to dispatch a rough pugil sent him back to the days before the Amir Khan bout and many did not hesitate to label him as "overrated," a word (now a cliché) that am about to eliminate from my personal dictionary.
On the one hand, most suggested Prescott´s victory over Khan was a result of a lucky punch, that he is not as caliber fighter as most believe, that his power has been over estimated after September and that he cannot move to the right and throw. Others, on the other hand, were satisfied with the outcome. A post by t-bone reads: "fluke ??? Cause .. Prescott didn't knock this guy out in the 1st round ?? Thats just stupid talk. He had him ready to fall a few times. Don't expect a Knockout everytime a puncher steps into the ring. There will be plenty of Knockouts in prescott's future.. he hits very hard."
You may not agree with t-bone, but I do. To support t-bone's argument, let us bother ourselves by looking at Mike Tyson's record, the most feared, heavy-handed boxer of the eighties. After 19 straight devastating knock out victories, James Tillis took him to the distance. The next fight, Mitch Green accomplished the same. Does that mean Tyson's power was overrated? Now examine Julio César Chávez's record. I am not equating Prescott to either Tyson or Chávez. I am just supporting the fact that one cannot expect a knockout every single time a puncher steps into the ring. With all these antagonistic opinions, is there yet something reliable we can tell about Breidis Prescott so far? I believe we can put together some thoughts, based on his last three fights, specially the one against "Kid Dracula".
POSITIVE
Breidis Prescott is a young fighter who has not reached his prime. Agree? As such, he has things to learn. Is there something wrong about not being a final product in need of polishing? He might not be ready for top contenders just yet, but the kid has a good chance of becoming a force in the lightweight division in the next year or so. He utilizes his job to keep the distance. Knows his range, has a good footwork and can hit hard, PERHAPS very hard. His knockout victory over Khan speaks not only about his power but also about Khan's glassy chin. He could not dispatch Abril and Toledo, but remember, he did not put to sleep Dunis Liñan either, a real tomato can with more defeats than victories. A veteran with twice as much experience as Breidis Prescott, "Kid Dracula" lost all rounds.
The 25-year-old pugil fought a dirty guy who head butted, punched with elbows and tested his eight incisors. The fact that the victory did not come by way of brutal, 1-second knockout as many expected, can have many explanations. Perhaps a matter of styles, good chin, better preparation on Toledo's part than he did when faced Soto or Peterson. Make no mistake. Boxing is not an algebraic equation, where if A>B and B>C, then A>C. Take a look at the following example. If Pavlik (A) defeated Taylor (B) and Taylor (B) defeated Hopkins (C), then Pavlik (A) must defeat Hopkins (C).
NEGATIVE
There are a couple of habits Prescott needs to get rid of. His tendency to drop the left hand while backing up, which gives the opponent the chance to score, can put him in trouble in the future. Similar to that, we noticed that before releasing the right uppercut, he drops the hand in an attempt to gain momentum. While doing this, he exposes the chin for a good left hook.
Prescott usually throws one punch at the time. He needs solid combinations, one-two, step back. During this particular fight he talked/looked too much at the referee. An opponent like PBF will take advantage of the situation. Every single fighter should learn from Arturo Gatti.
CONCLUSION
My conclusion is that Breidis Prescott is a good fighter who is not ready yet for top contenders. I consider he has the talent, the skills, the power and the desire to sparkle in the division. I will be able to make a better judgment after April 3rd, when the Colombian puncher steps again into the ring.