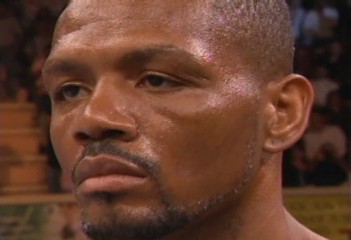 By Vivek Wallace: This weeks 'C.E.O. Fridays' segment takes a closer look at a figure in the world of boxing who has seen his fair share of highs and lows. To witness an example of this, one has to look no further than the events of his last 365 days. Within that span he went from a solid but less-than-respected figure, to standing on top of the lightweight division, right back to being title-less and on the categorical brink of a very feared 'high-risk-low-reward' platform. Today, like all of my other 'C.E.O. Fridays', we'll take a look at all sides relative to understand the true depth of this fierce competitor. We'll analyze the 'Supportive' perspective, the 'Critics' perspective, and to keep it fair and balanced, a more 'Neutral' perspective to tie all the loose ends…..
Nate Campbell – (The Supportive Perspective): In an era of the sport where fighters and their promoters go far out of their way to preserve the "O", competitors like Glen Johnson and today's subject, Nate Campbell, prove that more than 4 losses is not a career gone bad, but instead a mere tool for motivation in an individual whose talent evolution has yet to come full circle.. The Nate Campbell of today is vastly different from the one who began his career back in February of 2000. Absent is the lack of preparedness, present is the studious mind of a champion. Gone is the questionable determination, while ever-present is the hunger of a lion. Making things perhaps even more intriguing is the fact that on a personal level, Campbell is widely known as a standup guy who rarely makes excuses, as evidenced recently when asked about his failure to meet weight for a title defense. Those who support Campbell are quick to point out his work rate, which even at the ripe age of 36 – (weeks away from 37) – is vastly better than a great sum of his contemporaries. His work rate, combined with his veteran ring savvy and better than average ring IQ makes him a top tier competitor in today's landscape, and this argument was never more credible than last years showdown with a man that few in the lightweight division cared to waged war with prior to that point – Juan "Baby Bull" Diaz. Campbell's 12 round dismantling of the former lightweight champion put quite a few people around the sport on notice, and oddly enough, many who had previously made noise remained silent in wake of his performance. That performance against Diaz was not only a 'coming out' party for Campbell, but it would also go down as clearly the most defining moment of his career thus far. Trouble is, shortly after that victory, Campbell's good fortune would somewhat abandon him, shining light on the 'Critics' perspective which we'll now examine.
Nate Campbell – (The Critics Perspective): Throughout the career of Campbell, the critics have been awfully vocal, and according to whom you choose to believe, many of their gripes come with good reasoning. Of the many topics surrounding his name, the two that continue to come to the forefront primarily surround both his focus, as well as his 'likeability', which I find to be a totally unfair term, but in today's era of politically correctness, an articulate, yet outspoken fighter will rarely get the nod, particularly when he's viewed as a high risk. The outspoken former champion has been very open about his dislike of the politics that go on in the sport. Two of the names that he's been very vocal about are Oscar De La Hoya and Don King, two of the perennial players in the world of boxing promotions. The unfortunate thing here is that despite the many truths that have come from Campbell's mouth, in the eyes of the casual fan who may not have supported him, it's just more fodder to fill the airwaves from a man whose past lack of promotional depth continues to haunt him. Adding to that equation is the recent mishap where Campbell failed to make the weight, allowing some to return to the questions of his commitment and focus. He was able to come off of his longest inactive period in his career, overcome an opponent who held every physical advantage over him, and still do enough to win a rugged war over twelve rounds, yet it was all overshadowed by the fact that he was unable shed 48 ounces in the eleventh hour while on a very grand stage. The good thing about life is that in every setback there's a seed of benefit equivalence, and to a man who's no stranger to peaks and valleys, this recent setback could very well pave the way to something bigger….which is where our 'Neutral' perspective comes into play.
Nate Campbell (The Neutral Perspective): From the outside looking in, I find Campbell to be a blue collar worker in a white collar sport. Everyone seems so entrenched in supporting the Oscar's and the Pacquaio's of the sport that they tend to forget it's a brutal game and some of the not-so-fortunate contenders also fight hard as hell to reach that same level. A perfect example always lies in the court of public opinion. A great case of this would be the parallel between Manny Pacquiao's victory over Juan Manuel Marquez (first fight) and Nate Campbell's victory over Ali Funeka. When you look at the two fights, both were hotly contested, both men got multiple knockdowns, yet in the end, the bigger named fighters questionable draw decision was rarely questioned by the mainstream media, while the not-so-popular contender was left a mere after-thought despite earning a "W" according to the ringside judges. Campbell has had his fair share of challenges, and many have led some to question certain elements about him, but rather than judging by the actions, sometimes it's safer to simply watch the effects. Yeah, he's been a bit outspoken, but don't question the statements, question the depth of its truth. Example….he recently stated that "none of the fighters vying for the title at lightweight now were talking about title matches when they were on his waist". Some may not like that, but realistically speaking, where was Marquez, Juan Diaz (for a rematch), or any of the others who are now in dead pursuit of the titles? Some may not have liked when he called out Pacquiao and Hatton among others, but realistically speaking, when he was the undisputed champion of the lightweight division, why did the sports P4P king opt to face the not-so-heralded owner of the fourth strap rather than him? This isn't to bring Pacquiao into question, it's to prove that all things are relative. We may not like some of Campbell's actions outside the ring, but last time I checked, we're supposed to be judging him by what he does in it. Why some of us continue to seek perfection in an imperfect world is beyond me, but when it all boils down, hit or miss, this dude is a stud and I feel his better days have yet to come. I could be wrong, but if the best don't step up to fight him, who will ever know? Think about it!
(Got questions or feedback?: Contact ESB's Vivek Wallace at vivexemail@yahoo.com and 954-292-7346, follow more of his work at 8CountNews and The Examiner, or show some love at Myspace and Facebook).