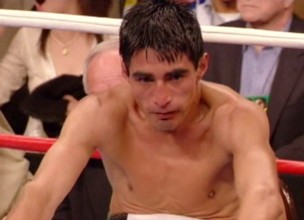 by James Slater – Together they brought us one of the fiercest and most compelling trilogies in recent, if not all-time, boxing history – and neither guy was willing to yield in either of their three battles. Unfortunately, neither Marco Antonio Barrera nor Erik Morales – the two super-bantamweight/super-featherweights that gave us the trilogy I'm referring to – are willing to face facts and realise they are ready for permanent retirement, either.
The 35-year-old from Mexico City has already made his ring return, boxing and winning two low key fights, and he is set to meet hot prospect Amir Khan next month. Now planning to join his onetime fierce rival and make a ring return of his own is the legend from Tijuana, Morales. "El Terrible" says he will shift the excess weight he's gained since being idle and then come back as a lightweight – the same division "The Baby Faced Assassin" now boxes in.
And though he has gone on record as saying he'd like to win a world title at 135-pounds (thus making boxing history as Mexico's first ever four-weight world champion), and that he has Juan Manuel Marquez in his sights, it hasn't taken people long to suggest that we just might get to see another instalment of Barrera Vs. Morales.
Let's face it, part-four of the great series from the 2000s, this time at lightweight, would sell. Nostalgia sells in boxing, and all-time greats, no matter how faded they may be, are capable of getting fans in big numbers to want to believe in them again. Ask yourself, would you tune in if Barrera-Morales IV were made, and would you pay cash for the privilege? Also, at least Morales, as past it as he is, would be matched with another, slightly less faded, veteran if he fought Barrera again. For though Marquez is actually older than both of his countrymen at age 35 (Morales, amazingly, is still only 32, while Barrera is a few months younger than Marquez) he remains on the top of his game.
There would only be one winner if "Dinamita" met Morales today (or Barrera, come to that), but a fourth instalment of Morales-Barrera would be a pretty hard one from which to pick a winner. This doesn't mean a fourth match should happen, but it would be a lot better than being forced to see "El Terrible" getting badly hurt and embarrassed by Marquez or any other formidable lightweight.
Morales, 48-6(34) has lost his last four fights and he has not been in action since his admirable but losing effort against the there-to-be-hit David Diaz. Erik gained a lot of weight after the August 2007 points loss, and he is now reportedly working hard to shed the excess poundage. It seems he will not be talked out of a ring return.
Who would have thought, that some nine years on from their first savage fight (the super-bantamweight classic was actually nine years ago this very day!) both Morales AND Barrera would still either be fighting or planning to recommence doing so?
Both legends are stubbornly insisting on carrying on in the world's toughest sport, as such there is a fair chance the two all-time greats will wind up meeting again – as crazy as that may be to believe!