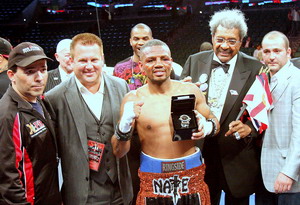 By Wray Edwards at Ringside: all photos © Wray Edwards/ESB. Generally speaking Nate Campbell is a journeyman Boxer. I've seen him sneak into the corner of a boxer who was losing a fight and kibitz a bit on style or a weakness he has spotted in the other boxer and, bingo, the other guy bites the dust. Not only was Nate training to win his match with Funeka, he was also taking on Mother Nature.
For many boxers the time comes when they hit the weight wall. J.L. Castillo, Mike Anchondo, and many others have hit that point in their careers when they just have to move up. Timing is everything in life especially in and out of the ring. The photos below are evidence of that..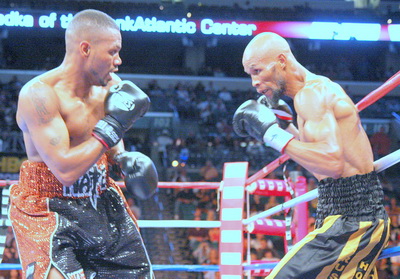 Here we see that Funeka appears more ripped than the softer looking Campbell.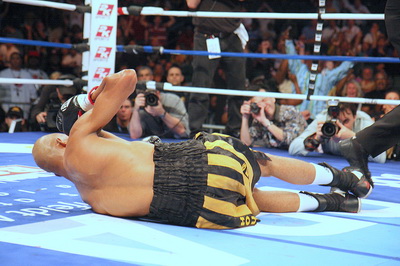 That difference did not, however, keep Campbell from horrizontalizing Ali…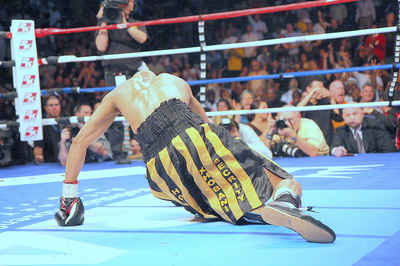 who struggled…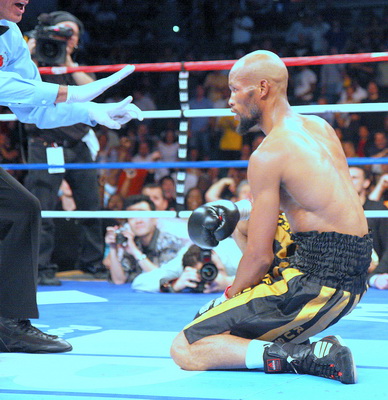 to his knees to take the eight-count, and BTW, rising at the last second.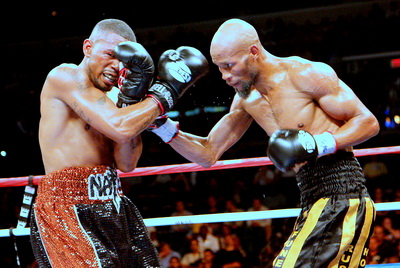 Funeka scored, IMO, about 50% of the time when he went to Nate's head. Funeka was busy and accurate throughout the match.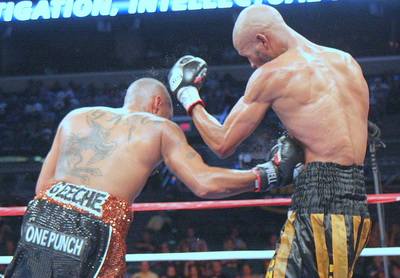 Nate divided his cowhide deliveries about 50/50 between body and head.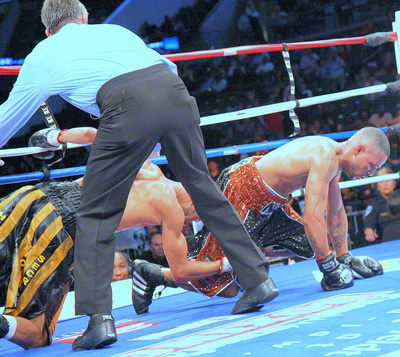 This tactic caused Ali to drop his guard at times. Here we see Funeka going down again as Nate trips over him.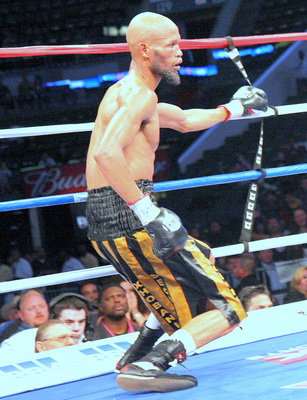 As Nate is sent neutral, Funeka wobbles to his feet with more difficulty this time.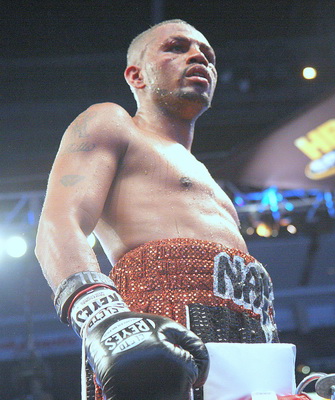 After going the distance, the final bell sent Nate to stand on the corner ropes to lobby for a victory cheer. The reaction was mixed. Then came the announcement of the decision in Nate's favor: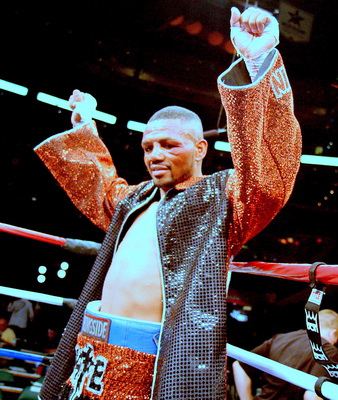 The round card girls followed the arm raising demonstrated by Nate. Girlie see, Girlie do.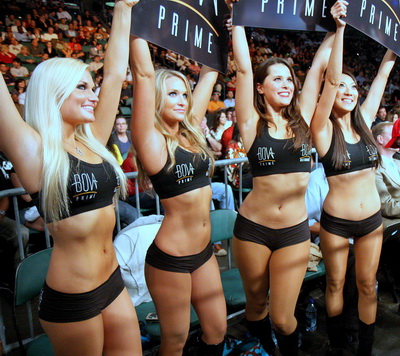 As the decision (a majority win, 113/113, 115/111, 114/112 for Campbell) was announced by Michael buffer, Funeka's corner contained a rather despondent scene.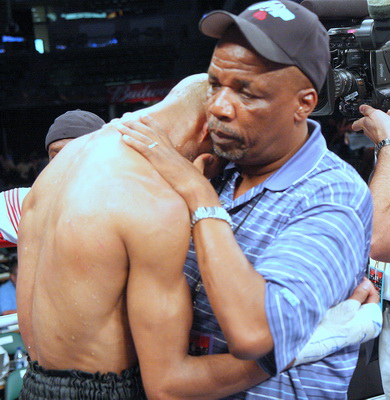 Campbell could be heard in the background saying, "His [Funeka's] time will come." Nate told the TV audience he felt very bad about not making weight. Perhaps he should move up, but Urango, Holt and Hatton might be a bit much for him. If he should stay in the present area, there's always Manny…YIKES!..I don't know Nate.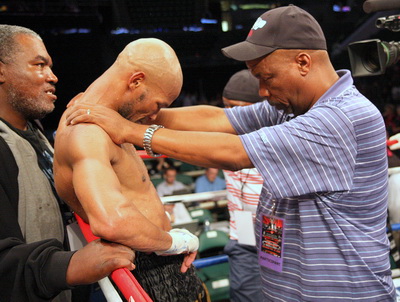 Taking nothing away from Nate, he did hang in there. Scotty Foster told me that he heard Nate say that he really hit a wall around Round Five. If so, we saw a real display of courage as he hung in there with a pretty punishing assortment of punches from Funeka.
Though, in my opinion, Funeka scored much better than Campbell numbers wise, Nate had him down and in trouble twice. Combine that with the general feeling that, even though he had vacated his titles, Nate was still the senior rep in the title contention ranks and Funeka failed to close the deal in some way, the decision wasn't all that bad. KD's carry a lot of weight and sometimes overrule the "must" system. Some judges want to see something convincing in subsequent rounds which Funeka failed to deliver. Scoring is OK, but scoring with effect is better.
Don King Productions assembled no less than 12 (count 'em…TWELVE!) fights for their "Valentine's Day Massacre" event. I got cramps from holding the camera. DK himself was very low key last night. Say what you will about his career, he has mellowed a bit, and it was almost comforting to have him there. East Side Boxing thanks Don King Productions for their kind invitation to the apron. I will assemble the Cintron/Martinez pics in an hour or so. That was a bizarre fight which was divided into two halves like a football game. See you at the fights.