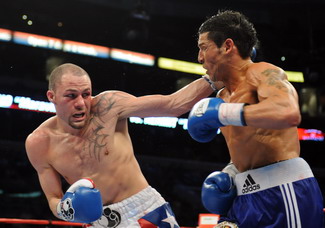 By Vivek Wallace, photo by Naoki Fukuda – In this weeks 'Left-Hook Lounge' we take a good look at some very key topics in the world of boxing. Making the slate is the bittersweet weekend of Nate Campbell, as well as the ability of Kermit Cintron. Also making the list is of course the Margarito hand-wrapping controversy, and in a look ahead, one fight fan fast forwards to the potential Mosley/Cotto rematch. So with no further ado, we jump right in the mix with a question from Miami, Florida where a fight fan wanted to know the following:
Richmond L. (Miami, FL): What did you think of Nate Campbell's performance and how much longer do you think he will be effective in the sport?
Vivek W. (ESB): I think that when you look at Campbell's performance objectively there's only one outlook you can have and that's a very positive one! He was coming off of an eleven month hiatus, and secondly, people thought that he was supposed to go in and blow away Funeka because Funkeka isn't a household name, but Funeka has a nearly unblemished record for a reason; that reason is because he's a helluva talent. ANY OTHER LIGHTWEIGHT IN THE GAME TODAY would have had major fits with a guy like that. He's a Paul Williams like fighter who towers over everyone in his respective division, has a great reach, and a very consistent punch output. When you think about the fact that Campbell was able to dissect this type of fighter the way he did after the longest inactive period in his career, at age 36, there's no legitimate way to criticize his efforts. Personally, I found the efforts of Campbell to be very Hopkins-like, in the sense that he did it purely with experience. He fought the younger, more active fighter with categorical advantages in every area possible and his experience and execution led him to victory. I said it before, and I'll repeat now, THERE'S NO REASON HE SHOULD NOT BE IN THE MIX WITH TO FACE PACQUIAO. That fight would be a Glen Johnson/Chad Dawson remix as the salty vet would give the younger stud all he could handle. Unfortunately, the politics in the sport would probably make a similar ending with the younger fighter getting the questionable nod, but whatever the case may be, the fight should happen. It didn't happen at lightweight, it has to happen at jr. welterweight. If Mayweather doesn't return after the Pacquiao/Hatton fight to face Pacquiao first, I think it will.
Hector Martinez (Miami Lakes, FL): How would you evaluate Kermit Cintron's performance against Sergio Martinez?
Vivek W. (ESB): In all fairness, I'd like to dissect the video footage a few times before making a true assessment, but from what I saw at ringside, I think there's something missing with Cintron. Something I can't quite put my hands on. He's been with some very good trainers, and he's currently with another very good trainer, but I really think something is missing. If I could change one thing about Cintron, it would be his killer instinct. I think when he turns the 'switch' on, he can be a beast, but he doesn't fight that way for 12 rounds and as a result, he falls short on the big stage every time. I don't know if it's a confidence thing, or an anxiety thing (which is common in the sport), but there's no reason for a fighter with that type of punching power and athleticism to not be a perinnial figure in the sport. With the right disposition, I think he has the tools to clean up the welterweight division but he hasn't been able to put it together. It often seems like all of his trainers continue to try to polish him up fundamentally when his fundamentals aren't really the core problem. He enters the ring passive, and when the opponent stands up to his power he just seems to get a bit shaky. I could be wrong, but if he fought with the aggression and deadly pursuit of a Miguel Cotto, equipped with that 'stalk-til-they-can't-walk' swagger, there's no welter around that could handle the guy (in my humble observation). Until he gets that, he's just another face in the crowd. Perhaps more competitively attractive than some others, but still just another face in the crowd. I like him, and I hope it falls in place for him.
Peter Miller (Covina, CA): I think Margarito got off way too easy with the year suspension, but many don't. What are your thoughts on the matter?
Vivek W. (ESB): I think anytime a person intends to gain an unfair advantage of any type it should result in some type of disciplinary action, and to know that this is an edge that could have resulted in the bodily harm of a competitor, I would tend to agree also that the one year suspension is little more than a slap on the wrist. Honestly, I think if that's all they were gonna give him for something this serious, why do anything? And that's coming from a great supporter of Margarito, who has been for years. If there was any silver lining for Team Margarito I think it would all come down to the fact that he was caught before the fight with the hardened substance as opposed to afterwards. That set the stage for the 'mistake' alibi, as opposed to being seen in complete guilt. The troubling thing is that if it happened for this fight, who around the sport truly believes that it hasn't happened before? Unfortunately, at this point all anyone can do is accept the ruling because it's not gonna change. But for the record, I do have an issue with the minimal suspension term and an even bigger problem with the guys, (Arum, Steward, etc), who have spoken in opposition of this suspension.
Rashaad W. (Dallas, TX): Do you think the Mosley/Cotto rematch will go any different than the initial fight?
Vivek W. (ESB): When Manny Pacquiao easily defeated Oscar De La Hoya, I stated that people should be wary of him doing the same to a Floyd Mayweather jr. because he and Oscar are two entirely different fighters. The same holds true for Mosley in a rematch against Cotto. I hate to sound cliche-ish here, but styles make fights. Although Margarito is a very busy puncher, he's not as gifted or intelligent as a boxer as Cotto is. When Mosley and Cotto fought before, Cotto totally outboxed Mosley. Mosley didn't appear to have much of an answer for him. I still think that Cotto is the better of the two in some ways, but the 'X-Factor' here is the fact that Mosley is not only bringing in the experience of fighting Cotto once before, but he's also bringing in Nasim Richardson. I think Richardson is the most effective trainer money can buy when he has a fighter whose experience is grand and that fighter still has enough gas in the tank to take him to the promised land. He's an old school trainer and he molds his guys into a very throwback type style. Cotto has gotten very skilled as a boxer and the way he lost against Margarito was a mix between great aggression and a reach Cotto couldn't penetrate – neither of which Mosley possess. So I think Richardson will help, but no matter what subplots play a role, aside from the ref, there will only be two men in the ring to settle the score.
Mike Chambers (Seattle, WA): If you could change anything about the sport of boxing, what would it be?
Vivek W. (ESB): There are a ton of things I would change in the sport, but one thing that has personally been a pet-peeve of mine that I would change this afternoon if I could would be the fact that all fights are scheduled in even numbers (ie – 10rds, 12rds, etc). Imagine if all championship fights were scheduled for 13 rounds. There would be no fights resulting in a draw and fewer ending in controversy. I think odd round fights would be just as pivotal to the sport of boxing as instant replays are in other sports. Cuts the confusion, and instantly nullifies a potentially drama causing scenario. Think about it.
—Special congratulations to fellow fight fan Michael Vonn M. Labog and wife Jhoan Mae A. Labog on the christening of little Maisie Vernice Labog—
(Got questions or feedback?: Contact ESB's Vivek Wallace at 954-292-7346 or vivexemail@yahoo.com, follow more of his work at 8CountNews and The Examiner, or show some love at Myspace or Facebook).