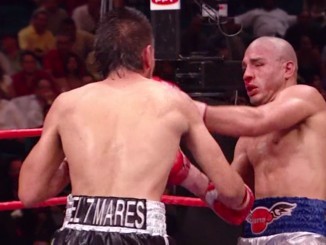 By Vivek Wallace: In this years first installment of 'Call Em Out Fridays' we take an in-depth look at one of the sports deepest divisions. In 2008 we saw much progress as Margarito, Cotto, Clottey, and a few others set out to mark their territory, but despite Margarito defeating the man previously viewed as the best in the division (Cotto), the victory did little more than earn him high acclaim without totality to solidify it. As it stands, Andre Berto (WBC/23-0, 19KO's), Antonio Margarito (WBA/37-5, 27KO's) and Joshua Clottey (IBF/35-2, 20KO's) are current strap holders, with Miguel Cotto (32-1, 26KO's) expected to claim the currently vacant WBO title by mid-February.
Forever lurking on the prowl is Paul Williams, the only fighter in the pack to establish a victory over the man (Margarito) who beat 'the man' (Cotto). With no unified champ in the division since Zab Judah (Feb '05 – Jan '06), we take a look at the men involved in this quest and the mission ahead. Like any other 'Call Em Out Fridays' segment, we take a look at the 'Supportive' perspective of this happening, the 'Critics' perspective of it not happening, and in the end, a 'Neutral' perspective to tie all the loose ends.
Welterweight Unification – (Supportive Perspective): The welterweight division is known as the proverbial 'loaded deck' of the sport and with good reason. Between the four men expected to be the cornerstones of the division, each comes equipped with a big heart and pride the size of Texas to accompany it. When thinking of these 'four horseman' and pride that they have, it's very easy to see a scenario where they come to terms and find a way to give the fans what they want. Win, lose, or draw in their currently scheduled fights, Top Rank promoter Bob Arum has already stated that Margarito and Cotto will square off regardless, presumably in the Summer on the weekend of the New York City Puerto Rican parade and festival. If that does happen, the winner could potentially walk away with ownership of the WBO and WBA straps. Prior to that point Andre Berto will have squared off against southpaw Brooklynite Luis Collazo and Joshua Clottey will have had time for a defense as well. Providing the two successfully defend, a showdown between the two (which has been discussed in the past) could potentially be in line to happen within a month of the Cotto/Margarito rematch time frame. If this blueprint pans out, by Fall '09 (or Winter at latest) we could see the two brackets narrowed down to the two last men standing. Sounds easy in theory, but in an era of the sport that appears to have no answer for the three "problematic P's" (Promoters, Politics, and Partisanship), it's just as easy to see something which sounds so simple encounter many difficulties. Those three things are the source of our 'critics' perspective….One which has many merits and will undoubtedly play a role in how this all eventually plays out.
Welterweight Unification – (Critics Perspective): As great as it sounds to consider the possibility of a welterweight eliminator comprised of the current top guns in the division, as we've all seen, the 'powers-that-be' in the sport don't always make things too easy. Top Rank promoter Bob Arum will bring his two men (Margarito and Cotto) together because the matchup equates to the biggest fight to be made in the division. That fight will directly impact what will happen beyond that point because a Cotto victory would inevitably setup a Fall rematch. If it goes down that way, the odds of a unified champ by years end will no longer be an option. A Margarito victory on the other hand would leave him available to take on all comers, but the political aspect of that notion could remove at least one of the candidates (Berto) from the equation as few believe his promoter, Lou DiBella, would entertain a fight between Berto and Margarito without a little more seasoning for the young stud. Then there's the question that beckons whether or not Arum would pin Margarito against Clottey again if Berto and Clottey meet mid-year and Clottey comes out on top. There are no indications that say Margarito would not take this fight but if Margarito defeats Cotto for a second time that would give Arum only one horse in the welterweight supremacy race, so the odds of him pairing that horse against a 'high-risk-low-reward' opponent are probably not too good. Aside from promoter agendas and typical politics in the sport, the partisan issue by most governing organizations, allowing old names with big fame like Oscar De La Hoya and Floyd Mayweather jr. to enter the equation with no recent merit would also kill this unification possibility, namely because of the big purses attached to such fights. Aside from Mayweather and Oscar, another name that could break the ranks could be Pacquiao (who has been recently linked to Miguel Cotto), or on a lower scale but high interest scenario, even Paul Williams. A decent victory beforehand, a high purse gaurantee and a high enough demand from the fans would easily land either of them in the ring with the first champ willing to put it all on the line if the price is right. When viewing the angles that could overcome plans of unification they seem to flow in heavy abundance, but each clearly present problems that won't be overcome too easily.
Welterweight Unification – (Neutral Perspective): Ok, as much as we'd all love to see a unification eliminator, truth of the matter in this era is that there's a key reason why the term 'prize fighter' is so applicable. When you go behind the lines and really get the opportunity to see and perhaps understand why certain fights are never made it goes a long way in understanding what it is that really keeps fight fans from getting what they want most times in the sport. If we were to put the current champs in line and simply ask, you could rest assured that neither of them are afraid of the other and that they're just as eager to see this type of eliminator take place as us fans and media are. That being said, if the opportunity comes for either one of them to land the 'Money Mayweather' sweepstakes, or perhaps even get a shot at Pacman, no one could blame any of them for rolling the dice for the big bucks, even if it means delaying this play further by relinquishing a belt just to get the chance to do so. This isn't to say it's right, but the reality here is that we all have to take a step back and realize that these guys are doing this for our entertainment, but in their minds, taking care of their families and establishing their financial future probably serves a higher cause. I think we could all see the benefit in such an eliminator but a shot at a high roller changes everything. The only thing to derail these plans that I think we can take issue with would be a promoter keeping his fighter out of the line of fire to maintain his stake in the race. In example, not wanting to face a 'low-reward-high-risk' type opponent, or something along those lines. That's cowardly and any excuses to conceal it would fall on deaf ears. Hopefully the fights we all wanna see will happen, but realistically, seeing a unified champ – or as they like to say, a last man standing – by the end of the year isn't too likely to happen. We have twelve months to do it, but that's our timetable, not the promoters….and unfortunately for fight fans, they're the ones holding the clock!
(NOTE: My weekly mailbag will be published on Mondays as opposed to Wednesdays going forward)
(Got questions or feedback?: Contact ESB's Vivek Wallace at vivexemail@yahoo.com and 954-292-7346, follow his work at 8countnews.com and examiner.com, or show some love at www.myspace.com/anonymouslyinvolved)