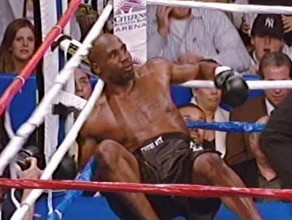 By Paul Strauss: The fans at Citizens Business Bank Arena, Ontario, CA, USA witnessed The Punisher's one sided victory over yet another out-sized and out gunned opponent. Paul Williams is so good, and has such a tremendous physical advantage over his opponents, that fans are almost forced to cheer for the underdog. Saturday night it was Verno Phillips who literally gave up the higher ground in his battle against Williams. He looked like a junior middle weight against a light heavy.
The only real question in the contest seemed to be whether the fight might be stopped due to a head butt cut over Williams' right eye, which he sustained in the first round. Otherwise, the contest almost appeared to be an injustice, because Williams had such a size advantage. A fighter about to face him would almost certainly want him to step on the scales again and again, because they would be thinking the officials must have incorrectly read the numbers, or the scale must be malfunctioning! They mumble to themselves, "This giant can't weigh the same as me, it's impossible!" Unfortunately for them Williams not only does weigh the same, but he puts that together with harder punching, and the ability to beat them (Phillips) on the outside or inside.
Phillips gave his best effort in trying to counter Williams' punches, but in the end there were too many of them, and a good percentage were deflating right hooks and straight lefts to the body. They were the kind that put blood in the urine. Ouch! Phillips appeared to land some impressive looping counters early in the fight, but his punches didn't noticeably slow down Williams' attack. In fact, they seemed to have the opposite effect.
Phillips' corner wanted him to stay in close, to jab more, and to straighten his punches. Williams' corner wanted him to stay outside and use his tremendous reach advantage to administer punishment at a safe distance. Much of the fight occurred inside, but at Williams choosing, and not that of Phillips. Although Williams could easily land his combinations outside of Phillips ability to counter, he instead chose to battle inside, using his hand speed, punching power and devastating combinations to gradually beat down the older Phillips.
Phillips finally succumbed to the tremendous accumulation of body punches at the end of the eighth round. The official time was 3:00 of the eighth. Williams plans to continue campaigning at any weight class from welter weight up to super middle weight, because he can't get the big fight or fight against Margarito or the other mega stars. Sooner or later there will be a rematch. There's too much money to be made, and Antonio Margarito, being the proud warrior he is, must want to chance to show his loss to Williams was a mistake.
The real show preceded Williams' one sided win. It was the big boys "beatin hell" out of each other. The fireworks or better yet bombs began dropping with the opening bell. Walker was determined to end things early, and it looked as though he might have his way. He unleashed an impressive series of leads and counters that had Arreola on his heals and in the defensive mode. Arreola appeared flustered, and backed up almost to the ropes. Every so often Arreola would attempt a jab or counter punch, but Walker would beat him to the punch, and then follow with several more punches directed to both the head and body. Arreola's out of shape physique seemed incapable of catching up to hand speed of the sculpted body of Walker.
One encouraging sign for Arreola's fans was he didn't seem to lose focus, even while under the assault. However, there definitely was a question as to whether he was keeping his eyes peeled on Walker by choice, or whether he was being knocked stiff?
Walker threw a tremendous amount of punches in the first round for a heavyweight, and you wondered whether he might punch himself out, but he came out like a whirlwind in the second round. He had Arreola's head "rockin and rollin" to the beat, and fans began to wonder whether they were going to witness The Nightmare's first demise.
Then bam, a straight right from Walker landed on Arreola's chin, and down he went to his right knee. Even though he was down, he appeared clear headed, as he kept his guard up while in the kneeling position.
Arreola beat the count, and quickly proved he wasn't in danger of knockout when he started his own assault. Finally, he started landing a few counters. Then he landed a few jabs, and then clubbed him with a right hand, and Walker seemed slowed down from the power of the punches.
Arreola kept up the attack, and dropped Walker with a combination, and then dumped him again right before the end of the second round. Walker seemed in a bad way, and the bell came at just the right time for him to get a minute to regroup.
However, at the start of the third, Arreola immediately landed damaging counters over Walker's now slower punches. Once Arreola senses his opponent is in danger, he has that instinctive ability to finish things off, and Walker was not about to be let off the hook.
Arreola drove Walker back with a wild combination, and then landed the finishing blow or coup de grace with a long left hook to the chin. The referee did not hesitate in waiving things off as Walker's limp body hit the canvas in the corner. So, one of this years most exciting fights ended at 0.13 seconds of the third round. The three minutes and thirteen seconds of the second and third rounds packed in four knock downs and as much action and excitement as just about any fight this year.
Arreola also proved once again to be a entertaining outside of the ring, because in the post fight interview with Kellerman, Max asked him to look at the monitor and tell the viewers what he saw. Well, the technical crew hadn't yet brought up the fight action, so when Arreola looked at the monitor, he told Max, "Me", because the camera was still on him! After viewing a replay of the tremendous action, Arreola credited Walker with being a very strong hard puncher. He said that at first he was playing the shell (defensive) game to try and determine what kind of power Walker had, and whether Walker was going to throw looping or straight punches. Once, he was able to weather the storm and figure out Walker's style, he mounted his own attack, which was not pretty, but was very exciting and destructive.
When Max ask him, "What's next, and whether he thought he was ready for the Klitschko boys?" Arreola put it to his fans. He took Max's mic and held it up, asking the fans what they thought? The fans were definitely affirmative in wanting to see him fight either Wlad or Vitali. Arreola also admitted once again that he needed to get himself in better shape, but he keeps saying that, but doesn't follow through, For Saturday night's action he weighed about 254 lbs. He should be about 20 lbs less in order to have a real chance against either of the Ukrainian brothers, as he will have to be at his best. But, whoever he fights, they had better watch out, because this guy can definitely produce feelings of anxiety and terror. He is The Nightmare.