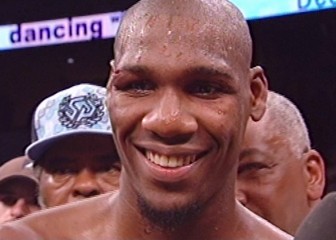 30.11.08 – By Frank Gonzalez Jr. – Saturday in Ontario California, Paul "The Punisher" Williams (36-1, 27 KO's) administered a beating to former IBF Light Middleweight titlist, Verno Phillips (42-12-1, 21 KO's). Williams used his long jab and a battery of punches to constantly back Phillips into the ropes, where Williams directed his assault to the body and head of his shorter opponent.
Phillips had a couple of good moments here and there, landing some clean shots, ducking, slipping and making Williams miss but the most damage he caused Williams came from a head butt late in the first round. That butt caused a nasty little cut on the side of Williams' right eye. The cut bled profusely during the fight but Williams paid it little mind and his corner did a pretty good job of keeping the cut from becoming a debilitating factor.
Phillips kept it a fight for about four rounds, after which, Williams relentless attacks started to break Phillips down. Though Phillips would score a good shot on occasion, it was Williams who consistently applied pressure and did so much scoring that after the eighth round ended, Phillips corner consoled with the ringside doctor and decided not to come out for the ninth round. It was a TKO 8 victory for Williams, who fought a high volume fight and never let the cut over his eye discourage him from trading at the pace he dictated throughout the fight.
Paul Williams, the WBO Welterweight titlist and now, the WBO Interim Light Middleweight titlist, is doing something unusual in the sport of boxing—fighting at three different weight classes and winning big. He's fought four times in 2008, winning titles in two weight classes. 2008 didn't start out so good for Paul, who lost his WBO Welterweight title in an upset, compliments of Carlos Quintana, back in February, where Quintana out-boxed Williams for the majority of the rounds to win a decision. But in June they fought a rematch and Williams won his title back by knocking Quintana out in the first round. Recently, he KO'd Andy Kolle (17-1, 12 KO's) at Middleweight in one round, and last night in California, gave veteran titlist, Verno Phillips a beating for his 39th birthday at 154-pounds. Talk about birthday punches! Williams was throwing about 90 punches a round and looked to be landing at a high percentage.
It would be great if Williams could fight a tournament at whichever weight class but we all know that's not going to happen. Too much politics in a sport that has no cohesive structure, too many titles from too many Sanctioning bodies is the problem. So, no more tournaments in boxing.
I'd like to see Williams fight another tall opponent, maybe someone like Ukrainian WBO Jr. Middleweight titlist, Sergiy Dzinziruk (36-0, 22 KO's), who stands at six-feet tall and just beat Joel Julio, a pretty good boxer. The guy I'd really like to see Williams fight is still considered a prospect—and that is Alfredo Angulo, at 154. Angulo is not very tall but he's a very strong boxer with a good chin, very good skills and a wicked ring demeanor. That would be a big opportunity for Angulo and a huge setback for Williams if he lost, so forget about that.
Why is Williams fighting at 154 and 160? Is it because he can't get fights at 147, where he feels he's at his best? WBA Welterweight titlist Antonio Margarito doesn't seem interested in a rematch with Williams and opted to fight Shane Mosley instead (for half the money the Williams fight offered). Margarito vs. Mosley is set for January 24th of 2009 (though I recently heard that the fight was called off by Margarito).
After Andre Berto was practically handed the WBC title in a fight against a guy who wasn't even ranked in the top ten (Miguel Angel Rodriguez), Berto said he wanted Williams but opted instead for a safer match against Steve Forbes, who gave Berto a good run for the first 2/3s of the fight. I can't imagine that no one wants to fight Paul Williams and get a chance to win his title. Maybe not the other titlists, not that the titlists' don't want to fight Williams so much as their handlers don't want them fighting him. Hey, he's a dangerous proposition for any titlist from 147-160 pounds. Somebody's manager or promoter could jeopardize losing their meal ticket. How boxing operates structurally is like 90% business and 10% sport. What a shame.
You have to wonder how it is that in boxing, the fighter's managers and promoters pick and choose who the fighter's fight, instead of having a rankings system that dictates who fights who, based on ever increasing accomplishments, en route to top contender status, leading to a title shot. That's the way it should be. But these days that's only done when it's convenient for the Sanctioning bodies to mandate certain fights and strip fighters who refuse such fights. It's ridiculous.
Politics aside, Williams has developed into an excellent boxer puncher. His jab is great, he throws lots of up and down combinations and most importantly, he knows how to use his height well, which makes things very tough on shorter opponents, which is just about everyone he's fought so far.
Paul Williams might soon be a reasonable candidate for the mythical, "best pound for pound" fighter in boxing.
* * *
Comments can be emailed to dshark87@hotmail.com