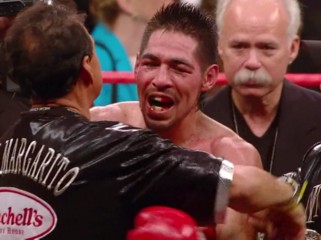 31.07.08 – by James Slater: The fighter of the hour, Antonio Margarito has been getting many plaudits after his great win over the previously unbeaten Miguel Cotto – and rightly so. Now firmly in among the pound-for-pound lists of a number of fans and writers, "Tony" has established himself as one of the very best today. But has the welterweight warrior known as "The Tijuana Tornado" done enough to be ranked as one of the ten best ever fighters from Mexico?
Margarito has a lot going for him when it comes to this question. Possessing the same qualities his predecessors had when it comes to his ability as a fighter – with heart, chin, stamina and mental attitude being uppermost on the 30-year-old's resume – Margarito certainly is the typical Mexican warrior. And now, with his win over Cotto being at the top, "Tony's" list of formidable opposition is building up. Longevity too, is a quality the welterweight has shown. Should he carry on the way he's going – say getting wins over five or six more top-notch opponents from the pick of today's best – Margarito will be a dead-cert for evaluation as one of Mexico's very best. Perhaps not quite there yet, Margarito is pretty damn close.
But cracked the top-ten? As tempting as it is to put the almost unbelievably tough Margarito amongst such exalted company as men like Julio Cesar Chavez, Salvador Sanchez, Erik Morales, Rubin Olivares, Marco Antonio Barrera and Ricardo Lopez, to name but six Mexican legends, I cannot. Not yet, anyway. As I said, though, the way Margarito's going he will be there one day.
Wins over Paul Williams (in a rematch), Floyd Mayweather (if "Money" ever fights again), "Sugar" Shane Mosley, Zab Judah, Joshua Clottey (in a rematch) and Oscar De La Hoya would do it. Doubly so if these wins came by stoppage. Margarito wants these fights, it's just a matter of whether or not he will get them. It's unlikely the humble warrior from Tijuana will be thinking too much about his legacy at this point, though. Concentrating only on earning the money he deserves and in giving his fans the best fights possible, Margarito is simply getting on with his fighting.
Never boastful when he wins, you will not hear Margarito shouting how he is the best fighter to have ever come from Mexico. Far too unassuming for that, the 30-year-old welterweight powerhouse will let other people decide his place in history for him.
In a few, likely eventful and crowd pleasing years from now – when he's hung up his gloves and is no longer destroying rival fighters – historian's will be doing just this.