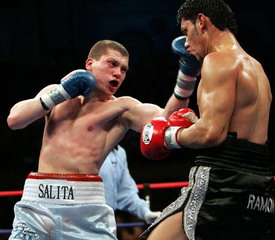 30.04.08 – By Matt Yanofsky: Junior Welterweight rising star Dmitriy Salita 28-0-1 (16 KO's) expected to be getting his big shot June 21st on national television as he was set to battle his long time cross town rival and former promotional stablemate Edgar Santana. This was until HBO decided to go against the fight that would have featured the two young rising New York stars. I had the opportunity to speak with Salita about his future plans as well as his disappointment about being denied the HBO date.
MY: Dmitriy, you had told me earlier in the week that this fight was going to be on HBO then you came back a few days later and said they turned it down. What exactly happened?
DS: Cedric Kushner was contacted about the fight, forwarded it to me, and I accepted the offer. A few days later, I heard it wasn't approved and that HBO was going to go with (the fight between undefeated heavyweight prospects) Chazz Witherspoon and Chris Arreola. Initially, they talked about it being a triple header but I guess there only going with two fights as far as I know..
It seemed like a great opportunity to showcase myself on a big scale. I have completed all the steps up to this point. This would have been a great fight as well as a nice showcase for me.
MY: I know you and Edgar Santana have gone back and forth with choice words for each other. Santana claimed he got the best of you in sparring while you have said he would be an easy fight for you. Was it especially upsetting to you that the world now may not get the chance to see who the better man was?
DS: My ultimate goal is to fight the Ricky Hatton's and Oscar De La Hoya's of the world. Santana was a good fight for me at this time as he is coming off a good win and all of the boxing media supported the fight as there was a big interest in it. Fans have been stopping me on the street to ask about this. I challenged (former WBA junior welterweight champion) Gavin Rees but the fight didn't happen then Oscar De La Hoya mentioned me as a potential opponent for his May 3rd fight.
I paid my dues I didn't just pop on the scene. I was a great amateur and grew up in Starret city boxing around some of the biggest names today. I overcame a lot of stereo types as well.
From a business standpoint, My TV ratings were high on Broadway Boxing and I was only 2nd to the NY Mets ratings wise when I fought. My fights always sell out and it didn't make a difference who my opponent was.
MY: Both of you are big ticket sellers and can definitely fill the Madison Square Garden Theatere. Would you fight him off TV?
DS: I wouldn't fight him off TV because it kills the idea of the fight. It's disrespectful to my people and my fans. It makes no sense for us to fight off TV. HBO aired Amir Khan vs Steffy Bull. They also aired Andre Berto against fight questionable opponents. On the June 21st card, (that Salita was scheduled to fight Edgar Santana on) he is scheduled to fight Miguel Rodriguez and in his last fight he fought Michael Trabant, both of whom nobody has heard of. Berto and Khan are very good fighters but the point is their level of competition is questionable and gets approved by HBO
MY: You have an undefeated record of 28-0 with 1 draw however; many critics say you haven't fought anyone? What is your response to that?
DS: I have fought and beaten all the guys who are supposed to progress me to the next level. I asked for a bigger fight and HBO turned it down so what do you want me to do? The critics should analyze the situation that is going on right now. I agreed to the Santana fight and I challenged Rees I also would have accepted the Oscar De La Hoya fight.
MY: Another name you mentioned to be on your radar was WBA champion Andreas Kotelnik. Is he still a point of interest?
DS: Yes 100% he is a world champion and was a silver medalist in the 2000 Olympics. Many people feel he beat Junior Witter as he lost a close decision in Witter's hometown. If this fight happened (Salita and Santana) it would have been a good introduction to the scene for a fight with me and Andreas Kotelnik. I plan to get a world title belt by any means necessary!
MY: A few months ago, you had a highly publicized break up with promoter Lou Dibella (who is the promoter of the June 21st show as well as Edgar Santana). What exactly happened with you two?
DS: I don't want to comment on the Dibella situation at this particular time and ill leave it at that.
MY: Your last fight (which took place on February 28th) was on a Cedric Kushner card. Is he your new promoter?
DS: No, I am a free agent. I worked with Cedric for that fight and it went well. Cedric is a good guy but for now I will operate as a free agent.
MY: Dimity, thanks for your time hopefully you end up with a big fight soon. Do you have anything to say to your fans and the readers in closing?
DS: I appreciate the support from my fans. I want the critics to know this is going to be my year. I have worked very as I plan to get big fights and become the face of boxing!