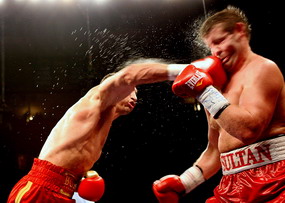 By Pavel Yakovlev, photo by Wray Edwards / ESB: Vladimir Klitschko defeated Sultan Ibragimov last night in one-sided fashion, winning a decision by scores of 119-110, 117-111, 118-110. Klitschko put on an impressive performance, exhibiting superb ring generalship, athleticism, defense, and boxing skill en route to neutralizing the offensive of the fast, dangerous Ibragimov. As a result of his win, Vladimir retains his IBF heavyweight championship belt while simultaneously acquiring the WBO belt held by Ibragimov.
This writer scored the bout 120-110 for Klitschko, who is now 50-3, with 44 knockouts. He was never stressed or pressed at any time in the bout, as his excellent use of his superior height and his defensive skills enabled him to dominate the action all night.
Ibragimov, whose record now stands at 22-1-1 with 17 knockouts, fought a highly competent bout against the world's dominant heavyweight. He proved that he could box and take punch. But never at any point was he able to threaten Klitschko because of the Ukrainian's combination of size advantages and expertise in technical skill.
Ironically, Klitschko is now garnering a great deal of negative press because he did not finish the bout by launching a devastating, fight ending offensive. In this writer's opinion, most of the journalists who are panning Klitschko's performance are being unreasonable. The point in boxing is to win, and last night Klitschko won in cool, professional, and domineering fashion.
True, the bout was a disappointment from the perspective of action and excitement. Vladimir never opened up with both hands in an effort to knockout Ibragimov. The crowd was inpatient with Klitschko for this reason. But Ibragimov was an extremely awkward and elusive target that remained dangerous throughout the match. At no point last night was Sultan ready to fall, and it would have been unwise for Klitschko to take unnecessary risks in an effort to end the fight early.
Sultan spent most of the night trying to create opportunities to counter Klitschko's long, straight right cross. But Vladimir saw through his opponent's strategy, and by throwing the right hand sparingly, he totally neutralized Ibragimov's chances to counterpunch.
Only in the ninth round did it appear that Klitschko might close the show with a knockout. Late in this stanza, he landed a powerful right to Sultan's jaw, snapping the Russian's head back and dropping him against the lower strands of the ropes. Ibragimov however showed that he could take a punch, as he quickly recovered and then executed a fast, skilled retreat in order to survive.
Klitschko's defensive use of his height advantage – 6'6 ¾" to Ibragimov's 6'1 ½" – was flawless. Ibragimov's fast hands, tricky counterpunching and considerable punching power were of no avail because he could never reach the towering Vladimir's chin. Last night Klitschko looked extremely fast, loose and limber. His reaction timing was impressive. In this bout Klitschko showed little of the rigidity and robot-like body movement that characterized some of his earlier career performances. Clearly, Vladimir's athletic gifts are being honed to their full potential under the tutelage of his trainer, Emmanuel Stewart.
Vladimir's left jab was the punch of the night, enabling him to constantly scored points while simultaneously dodging Sultan's frequent attempts at landing strong rights and lefts.
Throughout the bout, Ibragimov displayed the fast hands and rapid circling footwork that enabled him to win lopsided decisions recently over Shannon Briggs and Evander Holyfield. Sultan was a very quick, awkward and elusive target. He frequently fought out of a semi-crouch posture, looking at times like a coiled tiger as he sought openings against his taller foe. Ibragimov tried hard, but Klitschko's size, athleticism and ring generalship were simply too much and in the end, Sultan was able to accomplish nothing.
The crowd at Madison Square Garden was not happy with the lack of action in the ring last night, and no doubt this will hurt Klitschko's popularity with the fans. But this does not deter from the fact that Klitschko's performance was outstanding from a technical and tactical perspective. He won easily.
Klitschko weighed 238 lbs. for the bout, which was his lightest ring weight in years. Ibragimov weighed in at 218 lbs.
The following is a summary of the highlights of each round as observed on television by this writer.
ROUND ONE: Both fighters are pawing each other from center ring; each is feinting and exhibiting good, quick footwork and overall reaction speed. Vlad is making good use of his height superiority as he slaps Sultan's jab down. Vlad lands several light jabs. Sultan's footwork is excellent, and he makes himself a very difficult target to hit. Vlad is stalking Sultan, who misses with a wide right and left. The two fighters fall into a clinch and in the subsequent wrestling, they tumble to the canvas. Each fighter is feinting and falling short with jabs. Vlad looks very bouncy and fast. Klitschko misses a left and a right, and Sultan misses a right and a left. Vlad misses a right, then ducks Sultan's left hand counter.
EVEN ROUND
ROUND TWO: Both fighters square off, and each is feinting and pawing. Vlad's feet are positioned widely, and he is ready to throw heavy blows. Both fighters paw each other. Vlad scores with several light jabs. Sultan is very shifty, and makes himself an awkward target by quickly circling Klitschko on his feet. Vlad continues to land light jabs, and he is also very light on his feet. Vlad stalks Sultan with a series of jabs, and Sultan is backed into a corner. Each fighter feints, and Ibragimov quickly circles out of the corner. Klitschko continues to stalk his opponent, and he lands several more light jabs. Sultan misses with a wide right hook, and he misses a powerful, long left cross. Vlad's defense and footwork are extremely effective. Klitschko lands three light left jabs. Vlad seems to be in control of the action tactically, as he can jab Sultan without being hit in return. Klitschko closes the round by swinging two wide, light right hooks.
KLITSCHKO'S ROUND
ROUND THREE: Both fighters stalk each other from center ring, each circling the other rapidly, and both fighters are feinting skillfully. The match looks almost like a swordfight because of each boxer's technical skill and speed in feinting. Sultan attempts some lefts and rights, but Vlad is extremely limber and he easily dodges the blows. Vlad lands numerous grazing left jabs. Sultan attempts another offensive but Vlad easily glides away and none of Sultan's blows score. More grazing jabs from Vlad. Vlad jabs some more, and now he is stalking Ibragimov. Sultan attempts another attack that is easily dodged by the very mobile Klitschko. More jabs from Vlad. Vlad misses a left and a right. Sultan swings wildly and misses. Vlad closes the round by landing more light jabs.
KLITSCHKO'S ROUND
ROUND FOUR: Both fighters circle each other, pawing. Vlad lands a jab but misses with a huge follow-up right cross. Sultan's defense and footwork are very effective, and he is hard to hit. Sultan suddenly becomes aggressive and he swings several powerful lefts and rights at Klitschko; Vlad easily dodges the punches and ties Sultan up. Vlad stalks Sultan as each feints and paws the other. Vlad lands several light jabs. Sultan misses with a wide left, but he lands a right jab to the body. Vlad lands several solid jabs; his jabs are now connecting with more force. Sultan retreats as Vlad stalks.
KLITSCHKO'S ROUND
ROUND FIVE: Both fighters feint and dart jabs at each other. Both exhibit excellent overall body reflexes. Sultans' jabs fall short but Vlad's jabs tend to score. Both boxers continue to circle each other cautiously, looking for openings. Vlad is stalking Sultan again. Ibragimov attempts another big offensive, swinging several powerful lefts and rights, but Vlad easily avoids the punches Vlad lands several grazing jabs. Each boxer is mostly feinting and pawing at this point. Vlad's excellent ring generalship has totally nullified Sultan's offensive, even though Sultan is trying hard to score. Vlad stalks Sultan and falls short with several jabs. Sultan misses with several more big lefts and rights.
KLITSCHKO'S ROUND
ROUND SIX: Both fighters feint and paw, exhibiting light quick footwork as they seek openings. Sultan misses with a huge right hand. Sultan lands a jab to the body. Both boxers continue to paw and feint. Sultan unleashes another series of big rights and lefts, all of which hit air because Klitschko's defensive reactions are so effective. Both fighters are showing excellent hand and foot speed. Sultan attempts a powerful right to the head over Vlad's left jab, but Vlad dodges the punch. Sultan misses another right hand. Ibragimov is more aggressive this round, attempting to turn the fight into a brawl, but he is frustrated by Vlad's defense and ring generalship. Vlad falls short with several jabs. Vlad lands a jab. Sultan scores with a solid right jab to the body. Sultan misses with another huge right and left to the head.
EVEN ROUND
ROUND SEVEN: Vlad scores with a jab. Both fighters continue to exhibit very fast body movement, especially with their feinting and foot movement. Sultan swings with a big right and left, both of which are easily dodged by Klitschko. Sultan scores with a jab to the body. Vlad lands several grazing jabs to the head. Vlad is stalking Sultan, who continues to circle in around Vlad to prevent himself from being a stationary target. Vlad lands a light right hand to the head. Sultan swings more big rights and lefts which miss Vlad. Vlad lands two solid jabs. Klitschko scores with several more jabs. Sultan is retreating and Klitschko is stalking him as the round closes.
KLITSCHKO'S ROUND
ROUND EIGHT: Both fighters resume their tactical boxing and feinting approach from center ring. Both fall short with jabs. Vlad lands several light jabs to the head. Klitschko's ring generalship and his effective use of his height advantage are enabling him to control the tempo of the fight, as Sultan simply cannot pierce Vlad's defense. Vlad lands more light jabs and Sultan continues to run. Klitschko lands a grazing right to the head. Both fighters continue to circle each other, and Sultan slips to the canvas after missing a punch. Sultan attempts to land several rights and lefts, but Vlad easily dodges the punches. Vlad lands with several light jabs, and twice he lands light rights to the head. Vlad scores with a jab, but misses with a right. Sultans swings several wide rights and lefts as the round closes, but Klitschko dodges the blows.
KLITSCHKO'S ROUND
ROUND NINE: Both fighters feint and paw, continuing to look for openings. Sultan swings wide with two big rights, both of which are dodged by Vlad. Vlad lands a left jab, and then he connects with a straight, powerful right to the head as Sultan is retreating. The punch snaps Sultan's head back and he collapses into the ropes, with only the bottom strand of ropes holding him up. The referee does not call a knockdown. The crowd roars as it senses that Vlad may be on the verge of a knockout, Sultan however recovers quickly and he resumes his rapid retreat. The crowd is now chanting "Klitschko!, Klitschko!" Vlad continues stalking Sultan, who seems to have recovered from the heavy right he absorbed. Ibragimov misses a right to the body. Klitschko scores with a left jab. Both boxers feint and paw. Sultan misses with a right hand and Vlad successfully counters with a left jab. Ibragimov misses with another left and right. Vlad continues to stalk Sultan. Vlad lands with several left jabs, but Ibragimov is very elusive. Sultan seems focused on retreating as the round closes.
KLITSCHKO'S ROUND
ROUND TEN: Both fighters paw and jab, with Vlad landing a light left jab as Sultan's punches fall short. Vlad lands several light jabs, and he is using his left hand to slap down Sultan's right jabs. Sultan misses with several right hands to the body as Klitschko quickly dances away. Vlad is now stalking Sultan, pawing and feinting. Sultan unleashes an offensive of several hard punches from both hands, but Klitschko dodges all the blows. The fighters clinch and then fall to the canvas as they wrestle with each other. Sultan misses a with a right hook and Vlad lands another jab. Klitschko misses with a right hand, lands a jab then misses with a big, powerful right to the head. Sultan misses a with big right and left. The two fighters paw and feint without throwing punches as the round closes.
KLITSCHKO'S ROUND
ROUND ELEVEN: Both fighters fall short with jabs. Sultan lands a jab to the head. Vlad misses with a powerful right. Both continue to paw and feint. Vlad lands a jab, then dances away from several big punches from Sultan. The fighters clinch. Sultan misses with several punches. Vlad misses with a wide uppercut thrown from the outside. Vlad lands two jabs. Ibragimov misses with a right. Vlad misses a right, but then lands two light, slapping right hands thrown from the outside.
KLITSCHKO'S ROUND
ROUND TWELVE: Vlad lands two jabs and Sultan misses with a right to the body. Sultan misses with a big left. Vlad lands a jab and misses with a right to the head. Vlad lands a jab and misses with a right. Vlad lands a jab. Sultan is pawing and running from Klitschko, seemingly focused on surviving. Sultan misses with a left to the body. The fighters clinch, then feint and paw as they circle each other. Vlad stalks Sultan, falling short with several jabs as Sultan pulls back. Vlad misses with a right to the head. Vlad lands a solid jab. Vlad lands another jab and misses with a right uppercut.
KLITSCHKO'S ROUND