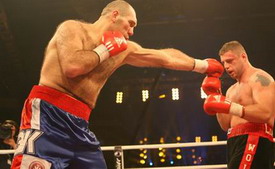 By Pavel Yakovlev: In an important match between top rated heavyweights, Russia's Nikolai Valuev (photo by Sauerland Event) impressively beat Sergei Lyakhovich today via 12 round decision at the Nuremberg Arena in Nuremberg, Germany. Valuev dominated the match with his fast, solid, long left jab. Lyakhovich was never able to effectively cut the distance between himself and the 7'0" Valuev, and as a result, he was compelled to spend most of the fight running from his opponent's telephone pole-like jabs and long, thumping rights.
The decision was unanimous, with Valuev winning by scores of 120-108, 120-108 and 120-107 on the judges' cards. This writer scored the bout 119-110 in favor of Valuev. Lyakhovich, a Belorussian native now residing in Scottsdale, Arizona, was simply never in the fight..
The difference in physical size between Valuev and Lyakhovich proved to be decisive, especially since Valuev has been trained to make excellent use of his height and reach. At 321 ¾ lbs., Nikolai outweighed the 251 lbs. Lyakhovich by approximately 70 lbs. Throughout the bout, Lyakhovich struggled with an eight inch disadvantage in height and a nearly one foot handicap in reach.
Tonight's impressive performance reestablishes Valuev (48-1, 34 knockouts) as a member of the inner circle of the world's best heavyweights, both in terms of proven ring ability and his place in the world ratings. Going in to tonight's battle Valuev was rated first by the WBA, with Lyakhovich (23-3, 14 knockouts) ranked second. Nikolai is now clearly the mandatory challenger for WBA champion Ruslan Chagaev's belt.
Valuev lost a very close decision to Chagaev in April, 2007. Based on his performance tonight, there is every reason to believe that Valuev may be able to defeat Chagaev in a rematch.
In tonight's bout, Valuev exhibited greater ring generalship and tactical polish than in any of his previous professional fights. Under the tutelage of his new trainer Alexander Zimin, Valuev's left jab has vastly improved: today it looked faster, straighter and more snapping than ever before.
Lyakhovich never seriously threatened Valuev in the fight. Nikolai boxed very effectively from the stand-up orthodox position, carrying his gloves high near his chin and jabbing constantly to keep Lyakhovich at bay. For most of the bout, Valuev stalked Lyakhovich, forcing him to move backwards while occasionally battering Sergei with both hands along the ropes.
Lyakhovich was never hurt in the bout, but as the rounds progressed, he took more and more leather from Valuev. Throughout the fight Lyakhovich shuffled from left to right, often bobbing-and-weaving his head and shoulders in an effort to slip Valuev's jab and fight his way inside. Valuev's command on the ring however was too effective, and most of Sergei's punches missed, or, if they landed, they had little weight behind them.
The only weakness displayed by Valuev tonight concerned his right cross. Rarely was Valuev able to throw his right hand quickly and smoothly as a follow up punch to his excellent left jab. Nikolai was always compelled to set himself and push with his right, and as a result, Lyakhovich was able to duck what otherwise might have been fight ending right hands from the "Russian Giant."
The following is a summary of the highlights of each round as observed on German television by this writer.
ROUND ONE: Both boxers start slow, fighting cautiously. They probe with their jabs. Lyakhovich is energetic and aggressive in trying to jab his way inside, but all of his punches merely touch Valuev's chest, having no effect. Lyakhovich misses with a wide left-right combination. He is having trouble dealing with Valuev's vast height advantage. Valuev closes the round by landing several long, sharp left jabs. Valuev lands a right to the side of Lyakhovich's head just before the bell.
VALUEV'S ROUND
ROUND TWO: Valuev jabs from long range, making effective use of his height and reach advantages. Valuev seems calm and confident, taking his time. Lyakhovich circles Valuev, constantly circling to his left and right in an effort to make Valuev miss. Valuev lands a sharp left jab. Lyakhovich misses with a wide, slow left hook to the head. Lyakhovich lands several fast, light jabs against Valuev. Valuev jabs effectively to continue to control the action. Lyakhovich is moving on his feet and missing with his punches. Valuev lands a sharp right uppercut to the head. The round closes with Valuev attacking strongly, forcing Lyakhovich to the ropes. Lyakhovich covers up well but he clearly loses the round.
VALUEV'S ROUND
ROUND THREE: Valuev lands a sharp, snapping left jab. Lyakhovich is now in retreat, seemingly confused about how to penetrate Valuev's guard. Valuev is stalking, throwing his left jab with authority. Valuev misses with several slow right hands, but he continues to control the action with his left jab. Lyakhovich effectively slips many jabs, but he is not punching enough in return. Lyakhovich misses with a wide left and right to the head. Valuev scores with two sharp left jabs that land with a loud snapping sound. More left jabs from Valuev score. Valuev seems to be in complete control of the fight.
VALUEV'S ROUND
ROUND FOUR: Lyakhovich starts the round more aggressively, as if he realizes he needs to turn the fight around. Lyakhovich jabs energetically, and he lands a short left hook counter to Valuev's head. Both fighters continue to circle each other. Lyakhovich scores with a solid left jab. Valuev forces Lyakhovich to the ropes with a series of jabs, and Lyakhovich dodges most of Valuev's punches as he covers up. Lyakhovich scores with a right hand to the body. Valuev suddenly attacks Sergei aggressively, scoring with both hands in an effort to stymie Lyakhovich's attack. Both fighters trade punches in the corner. Lyakhovich scores with a series of sharp left jabs and a good left hook counter to the head.
LYAKHOVICH'S ROUND
ROUND FIVE: The action slows down this round, as if both fighters are trying to conserve energy. Valuev scores with several left jabs from long range. Both fighters miss with their jabs. Lyakhovich is double jabbing in an attempt to get inside, but Valuev has effective command of the ring and keeps Lyakhovich at bay. Lyakhovich lands a left hook to the head, and he follows up with some body punches. Valuev is completely unfazed by Lyakhovich's punches. Valuev continues to maintain control of the action with his left jab.
VALUEV'S ROUND
ROUND SIX: Lyakhovich jabs to Valuev's body. Valuev misses with a double jab. Valuev lands with two strong jabs to the head. Valuev lands a fast snapping jab to the head but misses with his slow follow up right cross. Valuev lands a right to the body. Valuev lands another right hand to the body. Valuev continues to jab strongly, and he lands an solid right to the head late in the round.
VALUEV'S ROUND
ROUND SEVEN: Both fighters trade jabs from long range, with Valuev's punches looking sharper and more consistent. Valuev lands three consecutive left jabs, all of which land with a sharp, snapping sound. Valuev jabs and both fighters trade punches. Valuev continues to control the action with his telephone pole-like left jab. Valuev is stalking Lyakhovich, who seems confused about how to cope with his taller opponent. Lyakhovich continues to retreat as he looks futilely for opportunities to counterpunch Valuev. Valuev is in complete control of the bout at this point. In between rounds, trainer Tommy Brooks warns Lyakhovich that he is losing badly, and that he can't continue to "stand in front of this guy." In an effort to motivate Lyakhovich, Brooks actually asks Sergei if he "wants me to stop the fight."
VALUEV'S ROUND
ROUND EIGHT: Both fighters jab, with Valuev's jabs being more consistent and effective. Valuev is showing more aggression now, moving Lyakhovich backwards with strong, steady jabs. Lyakhovich continues to retreat, looking confused about how to penetrate Valuev's guard. Valuev is in complete control of the action from long range, and he is stalking his opponent intensely. More long, strong left jabs from Valuev. Valuev lands a sharp left hook to the head, which Lyakhovich takes well. Valuev scores with more steady, fast left jabs. Valuev lands a sharp, long right to the head. Lyakhovich is in complete retreat.
VALUEV'S ROUND
ROUND NINE: Valuev scores with a left hook to the head. Valuev continues to maintain control of the action with his left jab. Lyakhovich seems focused only on defense and survival. Valuev forces Lyakhovich to the ropes and he suddenly opens up with strong punches from both hands. Lyakhovich remains backed against the ropes, holding his guard high and blocking many of Valuev's shots. Valuev rains punches from both hands against Lyakhovich's head, gloves and arms. Valuev steps back and extends his left arm to measure Lyakhovich, much like Larry Holmes used to do to outclassed opponents in 1970s. Lyakhovich escapes from the ropes, but he takes a series of hard, fast, sharp left jabs to the head. Lyakhovich fights back desperately, and he lands a sharp left hook to the head, but Valuev is unfazed by the punch. Toward the end of the round, Lyakhovich assumes the offensive, but he has little effect on Valuev.
VALUEV'S ROUND
ROUND TEN: Both fighters trade left jabs aggressively in center ring. Valuev continues to score effectively with his jab, but he misses with numerous slow, telegraphed right crosses to the head. Lyakhovich seems to be fighting harder in this round, as if he knows he is losing the fight. Valuev lands a strong right cross to the head, his best right of the entire bout. Both fighters seem tired now. Lyakhovich suddenly becomes aggressive, landing with a series of quick left jabs to the head. Lyakhovich lands a left hook to the head, but the punch has no impact on Valuev.
EVEN ROUND
ROUND ELEVEN: Valuev continues to control the action with his left jab. He is now clearly the stronger fighter, as Lyakhovich is in full retreat. Valuev scores with several long punches from both hands. Both fighters trade punches. Valuev misses with several telegraphed right crosses, but he continues to score easily with his left jab. Valuev is in complete control of the fight now, and his left jab is landing with loud, snapping sounds as he continues to drive Lyakhovich around the ring.
VALUEV'S ROUND
ROUND TWELVE: Valuev continues to control the action with his steady left jab. Lyakhovich is focused on slipping the jabs with his frequent head movement, but he is unsuccessful in his efforts to bob-and-weave inside the arms of his taller, stronger foe. More strong left jabs from Valuev score. Valuev scores with a flurry of strong punches from both hands, and Lyakhovich seems overwhelmed by Valuev's attack. Lyakhovich is retreating desperately from Valuev. Valuev closes the round with a sudden outburst of aggression, attacking his opponent with strong left jabs and right uppercuts to the head.
VALUEV'S ROUND