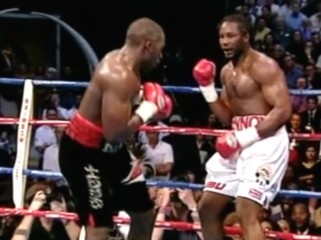 21.11.07 – By Andrew Wake: RULE BRITTANIA reads the headline of a well known British boxing magazine. On its cover stands the elated figure of David Haye, draped in the WBC and WBA crusierweight belts he has just ripped from rugged Frenchman Jean-Marc Mormeck.
The Bermondsey man's seventh round victory in Paris, coupled with Joe Calzaghe's recent unanimous win over Mikkel Kessler, has marked November 2007 as one of the greatest ever in British boxing history but the Wakester would like you step into his imaginary time machine and travel back with him to a time when things weren't so rosy. To a time that British boxing had fell to its knees. To a month to forget. Back to April 2001.
The story starts in early April in Las Vegas. Lennox Lewis is doing some light training in preparation for his world title defence to American Hasim "The Rock" Rahman in Johannesburg in less than three weeks time.
Sin City is not a place Lewis should be. Due to the altitude of the South African venue the big Englishman should already be nine thousand miles away acclimatising but a commitment to star in the Steven Soderbergh movie "Ocean's Eleven" has delayed his journey. To make matters worse, his trainer Manny Stewart has not been able to dedicate the hours needed to sharpen Lennox as normal as he splits his time between the big heavyweight and the camp of a another Englishman, "Prince" Naseem Hamed.
After an eight day shooting delay the work needed for the movie is completed and Lennox can now fly off and start his final preparations but instead decides to stay on and watch his countryman and friend fight Mexican Marco Antonio Barrera.
Naseem is aiming to prove the critics, who have said that his skills have declined since he dispensed of Brendon Ingle, wrong. He believes that beating the "Baby Faced Assassin" is his next step in achieving a greatness that has, in his own words, "Been written by Allah".
Due to the deluded belief that his journey to the status of legend is already decided "The Prince" has done little work on technique and most of his gym hours with Stewart and Oscar Suarez has been spent on the task of bringing him down to the 126 pound limit. Not an easy task when you consider the Prince's hearty appetite and extravagant lifestyle.
Showtime arrives and Naseem makes his usual flamboyant entrance, this time entering the arena by floating over the crowd on giant metal ring. Little does Hamed know but this is to be the highlight of his evening.
The fight starts and the little Yemeni-Yorkshire man is constantly beat to the punch by his Mexican foe. The crowd erupts every time Barrera land cleanly and already Hamed looks discouraged.
The next few sessions follow a similar pattern as Barrera lands with ease and makes the undefeated Hamed look like an amateur. As early as the fourth round Manny Stewart is telling his man that his losing the fight.
In the eleventh Barrera lands more solid punches and "The Prince" looks lost. He goes into the twelfth needing a knockout but the high point of the action comes when Barrera gets Hamed in what WWF fans will know as the "Full Nelson" and rams his head into the corner post. This earns the man from Mexico City a one point deduction but by this stage the judge's cards are so wide that it makes no difference.
When the bell rings the look on Hamed's face tells you that he knows he's been outclassed. The judges scorecards are read, 116 – 112 and 115 – 112 (twice) and Hamed gets his first taste of defeat.
Three days later and with only twelve days to prepare undisputed heavyweight champion Lennox Lewis finally arrives in South Africa.
Lewis (32 – 1 – 1) had hoped that fighting in South Africa would be seen as his way of giving something back to a country that was still getting over the horrid effects of apartheid. He had hoped for enough cheap seats to attract fans from Johannesburg's poorer black areas. He had hoped to fill a soccer stadium. Co promoters Rodney Berman and Cedric Kushner, however, had other ideas and the venue that has been chosen is a Casino that seats only 5,500 people and tickets, priced between $100 and $600 dollars, are only affordable to the city's most privileged occupants.
The big Londoner has been warned by his manager Frank Maloney that more time at altitude is needed for a fight of this magnitude and that Rahman (34 – 2 with 28 KOs) should not be underestimated but Lewis – who is a 15 – 1 favourite – is confident and sees an early stoppage win as a formality.
Meanwhile, "The Rock" – who had been in Johannesburg for nearly four weeks- is training harder than ever before in an old style gym known as the "house of pain" and has already adapted well to the climate. He feels that everything is right for a major upset.
Lennox enters the ring to the sound of Bob Marley signing "Get up, stand up" and the fight is on.
Lewis wins the first round narrowly by being cleaver with his jab. The second definitely belongs to the champion as he lands several overhand rights and big left uppercut.
In the third Lewis appears to have the air sapped out of him as he gasps for breath but he manages to get off another overhand right that swells the challenger's eye before the American comes back flurry near the end of the round.
During the fourth Lewis uses his jab to target his opponent's swollen eye but it is Rahman's round as he pushes the action and lands some decent rights.
Lewis begins the fifth by marching forward with his hands held arrogantly by his waist and just past the mid point of the round Rahman makes him pay as he connects with a lead right that momentarily rocks the champion. With his hands still low the Lewis moves backwards to the ropes but the challenger rushes forward, headhunting, and detonates a solid right cross to the chin. A split second later the Carnival City casino canvas shakes as 253 pounds of solid muscle thuds onto its surface.
Lewis struggles to get back to his feet but his attempts are in vain as referee Daniel Van Der Wiele reaches the end of his count and the most unexpected end to a heavyweight title match up since James "Buster" Douglas knocked out Mike Tyson in 1990, is in the books.
Within two weeks of each other two British fighters, who were widely regarded as the top men in their respected weight classes, had been conquered and British boxer suffered one of its most miserable months.
Lewis would exercise his rematch clause and knock out Rahman with a hard one-two in the fourth round seven months later while Naseem would fight only once more, against the virtual unknown Manuel Calvo, before disappearing from the sport.