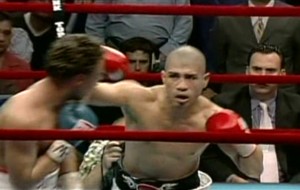 26.07.07 – By Geoffrey Ciani: The welterweight division has recently emerged as the best weight class in boxing. Filled with an abundance of talent, there are a multitude of outstanding potential match-ups on the horizon, most of which include reigning pound-for-pound king Floyd Mayweather Junior squaring off against one of division's other top dogs. However, there is one possible mega-bout which excludes Mayweather, and it might well be the most exciting in the division, if not all of boxing.
Rumors have recently surfaced regarding an upcoming showdown between 'Sugar' Shane Mosley and Miguel Cotto. Separated by almost ten years in age, this bout represents one of the more intriguing encounters for a multitude of reason, not the least of which is the warrior-like mentality displayed by each fighter throughout his respective career.
Miguel Cotto is undefeated in 30 contests, with 25 of his victories coming by way of knockout. He is a relentless pressure fighter whose power and unfaltering determination have helped him emerge as one of the best fighters in the game. All of his skills were on display in his recent victory against Zab Judah. In fact, Cotto looked absolutely sensational as he dominated Judah with his relentless assault over the course of the fight before stopping Judah in the eleventh round. This was Cotto's most impressive bout to date, as he seems to get better and better with each passing challenge.
'Sugar' Shane Mosley got his career back on track last year with back-to-back victories against Fernando Vargas. It was a crossroads encounter for both fighters, and Mosley emerged supreme. Earlier this year, Mosley outclassed the younger Luis Collazo en route to a one-sided unanimous decision in his return to the welterweight division. With the victory, Mosley proved he's still a force to be reckoned with in the 147 pound weight class. In fact, after the bout, many observers noted that Mosley may have been asking too much from his 5'9" frame to have been competing at heavier weights.
In a day and age when financial interests often prevent many a big fight from occurring, Cotto and Mosley provide the sport with a fresh breath of air. Neither pugilist has ever ducked a challenge for any reason, whatever. In fact, Mosley and Cotto can best be defined by a desire to fight the best available challenges. As such, it's no surprise these two are prepared to go to battle.
Floyd Mayweather Junior is a name often mentioned as a potential foe for both Mosley and Cotto. At this time, it appears Mayweather has no interest in fighting either. Instead, Mayweather is apparently seeking a bout with a naturally smaller and less talented boxer in Ricky 'The Hitman' Hatton. Not to take anything away from Hatton, who clearly lacks the size to compete amongst the welterweight elites, but for Floyd, he represents the path of least resistance. Apparently, the pound-for-pound king is too concerned about losing the 'zero' in his unblemished record, or perhaps he's holding out for more money. In either case, it's clear he isn't seeking out the best available challenges—something Mosley and Cotto have both been proactive about throughout.
Mosley and Cotto are both at their best when going forward. In that sense, each fighter is much like a charging bull. To date, Cotto has never succumbed to a foe while embracing this style, and he rarely ever takes a step back. When victorious, Mosley often fights in similar fashion, although, during his four losses (two apiece to Vernon Forrest and Winky Wright), Mosley has been baffled by his inability to apply pressure. Naturally bigger men who possessed good fundamentals and extraordinary jabs were able to tame his forward progress, and hence, throw him off his game plan.
If Mosley and Cotto are like bulls, then Mayweather is a matador. Although Cotto has an unblemished record in his role as a bull, I think a bout against Mayweather would be most difficult for young Miguel, for I feel Mayweather possesses the defensive prowess that will cause him problems. On the other hand, Mosley is considerably quicker than Cotto, and I believe his style is better suited for taking out Floyd.
Ironically, even though I'd favor Mosley over Mayweather and Mayweather over Cotto, I tend to believe Cotto has an advantage in a potential clash with Mosley, albeit, a slight advantage. Not only is Cotto the younger (and possibly hungrier) fighter, but his outstanding power and relentless punch output is going to cause Mosley some major issues. Going back to the bull/matador analogy, we've established that neither fighter likes going backwards. For Mosley to win, he's going to need to back Cotto up, and that's not going to be an easy task.
I definitely think Mosley has an outstanding chance against Cotto, for he's an elite athlete who still has a desire to make a mark on the sport before calling it a career. On the flipside, I can easily envision a scenario whereby he's outworked by the younger (and hungrier?) boxer. Mosley would have been better suited to fight Mayweather, but for Cotto, this might be the perfect match-up to really propel him to the big time.
Regardless who wins if this bout comes to fruition, the winner clearly deserves a crack at Floyd. The question remains, will Floyd be willing to take on the winner?
To contact Ciani:
geoff@eatthemushroom.com
To read more by Ciani please visit The Mushroom Mag:
http://www.eatthemushroom.com/mag