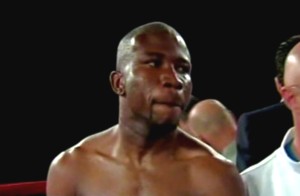 ("Bad Boy" Albert) 23.07.07 – By Ted Sares: Eromosele "Bad Boy" Albert, 21-1 with 10 KOs impresses the heck out of me. His punch volume is off the charts and is even greater than Kaseem Ouma's. This 32 year old middleweight fights out of Miami, was a two-time Nigerian Olympian, and reportedly had some 568 amateur fights including a win over the aforementioned Ouma. He has won eleven straight since losing a UD to Haitian Julio Jean back in July 2005.
The fact that Jean then lost six straight and now sports a 7-11-1 mark suggests this lone loss may have been an anomaly, though a loss is a loss. He is trained by the highly competent Orlando Cuellar who has a stable of fighters that include former light heavyweight champ Glen Johnson.
Regarding the loss to Jean, Cuellar said: "Eromosele at the time had a cold that lasted for 10 days but he insisted on taking the fight — he was just too weak for that fight, he went with his heart and not his head, he just felt that Julio Jean was going to be a walk in the park."
After a string of wins, Albert won the Vacant IBA Continental Light Middleweight Title by beating Dorian Beaupierre in December 2005. Even after his impressive win over previously unbeaten David Banks in June 2006, he remained an unknown commodity until he was matched with veteran Yori Boy Campas in May 2007. Banks subsequently impressed a lot of people in his two upset wins over the previously unbeaten Elvin Ayala and gave Peter Manfredo all he could handle in losing a close decision on June 20.
In this fight against Campas, "Bad Boy" had a coming out party of sorts as he landed continually with his super fast and heavier hands in scoring a dominating ten-round unanimous decision over the former IBF world champion. The Nigerian repeatedly got off first, in pounding out the victory over Campas, who held the IBF belt back in back in 1998. Despite his strength and experience, Campas had no answer for Albert's skills and particularly for his quicker hands. The scoring went 99-91, 99-91, 97-93 all for "Bad Boy."
Then on June 20, in a fight between two Florida residents, he defended his IBA Continental Jr. Middleweight Belt against 18-1-2- Daniel Edouard at the Mahai Temple in Miami, Florida. Edouard, known as "The Haitian Sensation," had a KO win over Willie "The Gladiator"Gibbs in a classic war three years ago and always comes to fight.
After a slow first round, "Bad Boy" went on the attack, took control and threw an incredible number of accurate punches until Edourad's corner stopped the onslaught at the end of the seventh round. Albert, who reminds me of an early Ben Tackie, went headhunting from the get-go. Had he thrown a few well placed body shots in the fourth or fifth round, he could have closed matters earlier but that was not his wont.
As well, this was the second straight time in which an Albert fight stole the limelight from a co-featured Fres Oquendo lackluster bore-fest. The Nigerian deserves props for that.
Since both he and Irish prospect John Duddy have wins over Campas, it seems these two would make a great match up. Duddy has a solid chin, good power, and perhaps could stand up to Albert's head shots, but his defensive lapses could open the door to disaster. "Bad Boy" throws punches nonstop and is a pretty complete package with incredible energy and the Nigerian boxer-trait of sticking to an opponent like glue and not giving an inch. He appears is technically sound in all facets. If Duddy is serious about moving to the next level, this might be the perfect fight for him. Let's do it.
As an interesting aside, Haitian (some via Montreal), Nigerian and Filipino fighters are suddendly making their presence felt in boxing. What's not to like?
I don't know much about Campas…a couple of people told me he fought Oscar De La Hoya, but I don't really care. Somebody told me he has a lot of experience, like that would discourage me, no. I got a lot of experience, too. I stayed too long in the amateurs, you know? Albert
Watch for Ted Sares's new book Boxing is my Sanctuary due out in the fall 2007