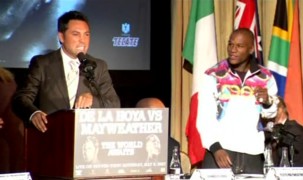 30.04.07 – By James Slater: Plenty has been written about the fight the whole world will be watching this Saturday. Who will win, will the fight be a toe-to-toe battle, will there be a KO? Etc, etc. But another question I think is a very important one is, will the fight be a good advert for its sport? Let's face it, the last thing boxing needs right now is an embarrassing or farcical event from a true super fight such as "The World Awaits." With this fight being held under what can only be described as a global spotlight, the last thing our great sport needs is another black eye. There have been embarrassments and disappointments from super fights past, though, haven't there?
Remember when Julio Cesar Chavez fought Pernell Whitaker back in 1993? This fight too was a huge event, one that saw the two best boxers in the business going against one another. Yet with all the attention the fight got, the end product – a highly controversial draw – left a sour taste in the mouth.
Once again observers other than the hard-core fans wondered aloud how boxing could be taken seriously when such a shoddy result could occur. Moving forward a few years, to when Evander Holyfield and Lennox Lewis tangled in their mega fight in New York, and the same thing happened again. As a result, the sport we love was subject to more ridicule.
My point is this, De La Hoya Vs. Mayweather CANNOT end up providing the boxing nay Sayers with any more ammunition with which to question its credibility. Another black eye, and one from a fight that is so very high profile, and boxing's image will suffer tremendously. Again, it can't happen. In other words, we do not need a bad decision with either guy getting treated unfairly, we do not need any middle of the ring melee like we had with a recent fight of Floyd's, we do not need any guy quitting and we most certainly do not need any premature stoppage. What we do need is a good, honestly fought and pure boxing match. A superbly exciting one would be great, of course, but a fine chess match would be okay too. As long as the fight provides the millions watching with an honourable and respectable evening.
We need a Leonard-Hearns 1, or a Hagler-Hearns, or a Duran-Leonard 1. Or a De La Hoya-Mosley 1 or a Mayweather-Corrales for that matter. We just need a good, controversy-free fight. If we get what we want, boxing will once again be the talk of the town, in a hell of a lot of towns at that, and for all the right reasons. I for one have set aside any desire I have to see my
personal favourite of the two emerge the victor – instead I simply hope the fight is a winner.
For in the final analysis, it doesn't matter which fighter's hand is raised, just so long as boxing's pro image is lifted right along with it. There is a lot riding on Saturday's fight, a lot for both boxers, their teams and their fans. But there could well be a lot more riding on the very future of the sport. Boxing can only stand so many bad nights, can't it? For while there are literally hundreds of truly great fights held all over the planet each and every year – fights that are terrific and exciting and hard fought and proof positive of the genuinely special qualities our sport possesses – the majority of these bouts are seen by no way near as high a number of people as De La Hoya-Mayweather will be. It is only the huge events like this one that get an audience from the casual observer, therefore a super fight carries with it nearly all responsibility for providing boxing with a good image.
Under as much scrutiny as the fight will be, Fingers crossed, "The World Awaits" will help boxing flourish by giving all concerned a truly special night. And no controversy.