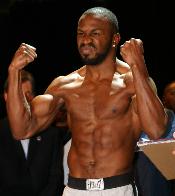 30.11.06 – By Gabriel DeCrease: Jeff "Left Hook" Lacy stands on the verge of his first comeback bout after a one-sided humbling at the hands of Joe Calzaghe—who many once considered an improbable conqueror. Lacy is set to take his second crack at the tough-but-unspectacular, Vitali Tsypko on December 2nd. The burning question, of course, is whether or not the man who enters the ring will be the wild-swinging, heavy-handed, ostentatious young warrior who took the title from Syd Vanderpool in 2004, or a shadow of that promising prodigy.
When a young, undefeated, and somewhat unproven titleholder is obliterated and embarrassed, as Lacy so clearly was, he rarely returns to live up to the promise he once showed. Often, such a loss permanently humbles, hobbles, and intimidates a fighter. Such a loss can break something inside that makes the spirit unwilling to motivate the body.
Before making any predictions about Lacy v. Tsypko, perhaps it is important to recall Jeff Lacy as he was before the breakdown.
When asked what the Welshman's most significant weakness was, Lacy replied offhandedly, "Him being willing to fight me." "Left Hook" was ultra-confident—if not arrogant—about his dominance in the division. He did not think much of the super-middleweight herd. They were, by his estimation, overcooked technicians that could not handle his power-bombs, or pugilistic-innocents—greenhorns that would run before they would stand his best shots. No one, he thought, had a crack at cracking the Lacy code, or surviving his heavy artillery. He looked past the limited notoriety afforded to his division, boasting, "People are attracted to [me] like they were with Evander Holyfield and Mike Tyson. I'm really loving that I'm able to go out and give boxing a breath of fresh air." Lacy was so outspoken he had most of the boxing public convinced by fight time that Calzaghe would be no big hurdle for the young champion. In the weeks before the fight, Lacy was shopping a reality television show about his day-to-day life to major networks.
Then he got schooled.
From bell-to-bell, from post-to-post Calzaghe dominated in a fight that punctuated his shaky title reign the way it might have jumpstarted Lacy's own. No one knew what to think. All Calzaghe's detractors went quiet, and so did Lacy's legion of die-hard boosters. "Left Hook," who had been on magazine covers of both boxing-specific publications and general sports periodicals, was all-of-a-sudden nowhere. With dents in his armor and his spotless record stained Lacy was left to put himself back together without the comfort of the spotlight.
He did not quit, or retire with a bruised-ego—ala Naseem Hamed after being lambasted by Marco Antonio Barrera. However, since losing his title-belt Lacy has been noticeably less bombastic in his estimations of his own prowess, and has actually seemed humble and, at times, timid in interviews leading up to his fight with Tsypko. Lacy says, "I want everyone to know that you win some and lose some, but its all about how you come back. I suffered my first loss as a professional and I can say that if you haven't lost, you don't know what a win is. Trust me, when I come back I am going to so much stronger, so much quicker. This loss that I suffered will only make me stronger." The hope is he is sincere in all his claims. A positive attitude and a hard-trained speed-boost represent his best shot at a successful return to the ring.
Looking at Tsypko on paper does not inspire awe exactly, or suggest that Vitali will do much to expose whether or not Lacy is bringing a full-tank back to the super-middleweight ranks. Lacy is the most notable name on Tsypko's opponent list, and their first fight ended in the second round when an unintentional head butt opened an enormous, flapping gash on Tyspko's forehead. Neither fighter had really shown much initiative in the fight by the time the docs called it. So, in some sense, this fight will give Lacy—if he wins—the positive charge of settling an old score. Tsypko pretty much brings the same fight every time out. He is well-conditioned and has a solid defense, but he is hesitant to punch in combination against opponents with any technical skill to speak of. He stalks from the edge of the action and is careful to get out of exchanges long before he risks being tagged with clean counterpunches. His chin is pretty well untested, but he has shown signs of wobbling when caught by guys with moderate-or-better power. He leaves plenty of room for the other guy to enact his game plan. Though once thought to be one-to-watch, the now thirty-year-old Tsypko seems to have stalled in his development. The guy looks as if he will spend the rest of whatever career he is to have as a durable, but pedestrian opponent.
Lacy can probably take an easy victory if he can ignite some of that old fire and put the pressure and the big bombs on Tsypko early to hobble or intimidate him before the fight wears on. Lacy's other option, if he really has increased his speed and coordination, will be to cleanly outbox Tsypko who seems always to lack fluidity and smoothness when he fires and moves. If Jeff can do this perhaps he can prove to himself that reinvention and stylistic evolution is possible and profitable after an ugly loss. Acelino "Popo" Freitas did not evolve. After crying "No mas" against Diego Corrales, he came back and tried to fight like his old self, but, trouble was, he couldn't pull the trigger anymore. And so after a disappointing second run. He quit. Let's hope Lacy does not go out like that.
Tsypko, whose only other significant victory stands as a questionable split-decision over Brian Magee, should not be seen as much of a trophy-buck if Lacy brings him down. The recent win over Magee is the driving force behind Tsypko's relevance in the division, and the scoring was just shy of a mugging. But then again, it took place in Germany, which has been the birthplace of many curious scorecards in recent years, and not just in Sven Ottke title defenses. There might be some justice, Lacy will be fighting Tsypko in Tampa, so even if "Left Hook' returns to the ring rusty and ineffective, all he has to do is hang on and he will probably get the benefit of the doubt from the judges.
That's the explanation and the prediction.
But with this much time off—and considering the nature of his previous defeat—there is no safe bet about Jeff "Left Hook" Lacy.