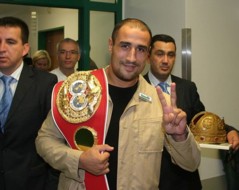 30.09.06 – Today in the morning IBF world champion Arthur Abraham has left the Protestant Jungstilling hospital in Siegen. "I´ve recovered from the operation and I feel good," the champion said to the journalists. "Having the belt on me is the most important thing of course. I fought hard to defend it."
King Arthur struck a blow against speculations about a possible end of his career because of the double fractured jaw. "In a few weeks, I will take up the fitness training again," the 26 years old boxer said. "In about two months, boxing training will follow. The jaw has been set by two titanium sheets. Healing process goes on. It doesn´t cause any problems."
King Arthur also reacted to statements of the inferior challenger Edison Miranda who has returned to his adoptive country Puerto Rico. The Colombian showed respect for Abraham, having given a good account but he considers to be the true winner of the fight and denies having boxed dirty. "What a laugh", the champion commented.
"He has obviously lost on points. Usually the referee had had to disqualify him. Miranda has been cautioned because of three low punches – everybody at the gym, every television viewer could see it. Some of the other hits below the belt have not been punished by the referee. It was an intentional and cruel butt – it was obviously to be seen at the television. Moreover there´s no denying that Miranda has been punching after the round was over. Maybe he should watch the fight again before talking such an idiotic bullshit. I still think that Miranda is an unfair sports man."
On Thursday in the morning the world champion flies to Chicago via Amsterdam to give an ARD TV commentary ("Boxen im Ersten") on the fight of Nikolai Valuev vs. Monte Barrett.