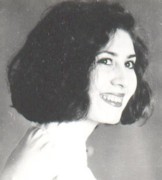 28.04.06 – By Karen Belford: Hello East Side People, it's good to be back once again. I've included a photo of me with my article. In this article, I want to take a look at a hypothetical bout between Wladimir Klitschko and Audley Harrison, since Wlad is now currently the hot fighter, at least for the time being, that is.
With the new IBF heavyweight champion Wladimir Klitschko's (46-3, 41 KO's) recent win over Chris Byrd, I've noticed a tremendous amount of people giving the nod to the younger Klitschko as being the best heavyweight in the division, even though he's yet to beat a heavyweight as big and powerful as himself, something I would expect if he really was the best heavyweight in the division. However, after scanning the heavyweight ranks, I think there's really only one fighter that can give Klitschko a true test at this point in time and that's Audley Harrison (19-2, 14 KO's). Despite losing a narrow decision to Dominick Guinn in his last outing, I have supreme faith that Audley can adapt and make the needed changes to correct the problem. So, the problem he had in his last two fights, pertaining to his late start in turning on his offensive arsenal, this will be rectified by his next fight in 2006, believe me.
Now, as for Wladimir, I frankly don't think he matches up well with Audley at all. Many people forget that Audley has as much power in his left hand that Wladimir does in his right. Also, Audley has one of the best jabs in the division, maybe even the best. His uppercut is clearly already the best in the entire division and reminds me a lot of Lennox Lewis' famous uppercut. Quite obviously, then, Audley would be going into the fight with even more offensive skills than Wladmir. However, what's more, having never been knocked out or severely hurt in the ring, Audley's chin is vastly superior to Wladimir's.
Audley Harrison, 34, burst on the boxing world in at the 2000 Olympic Games in Sydney, winning a Gold metal in the Super Heavyweight class. He proved to be combination of electrifying skills and incredible charisma, almost like a magnetic superstar that one sees only rarely. Upon turning pro in 2001, Audley quickly piled up a 19-0 record, with 14 knockouts. Indeed, Audley's athleticism was stunning in those bouts and he showed incredible wide assortment of punches. He showed the entire heavyweight package, knocking out Robert Wiggins in the 4th round on August 18, 2005. At that point in Audley's career, if asked, most people would have said that Audley was a better fighter than Wladimir Klitschko by far.
Remember, Wladimir had already lost three times by that time in his career, once each to Ross Purity, Corrie Sanders and Lamon Brewster. None of which, I personally think are as nearly good as Audley is. That being said, everything came crashing down for Audley later on that year, on December 10, 2005, when Audley lost a close 12-round split decision to Danny Williams. The fight was Audley's until he got a little careless in the 10th and was knocked down. He made it up and fought the rest of the way like a caged Tiger, bravely fighting off William's late surge. Immediately following the bout, a great poring of abuse was thrust upon Audley's head, quite unfairly, I must add, for he fought a winning fight until letting his concentration slip for a moment and getting knocked down by Williams. That's all it takes, you know, just one slip and it's over.
Okay, in the Audley's next bout, instead of taking an easy fight, Audley bravely took on one of the best heavyweights in the division in Dominick Guinn (26-3, 18 KO's). It turned out to be more of a miscalculation on Audley's part than anything. He misjudged the rounds, thinking he had more time to start going for the knockout. However, by the time Audley made his surge, there were only a couple of rounds left in the fight. Yet, Audley came close to winning the fight. Fighting on pure courage along, Audley hurt Guinn badly in the 10th and final round but unfortunately, he wasn't able to put him away. Anyway you want to cut it, this was a big learning experience for Audley, because he realized that he can't wait too long and count on his power to come through in the late rounds.
In some ways, Wladimir Klitschko is a mirrored image of Audley. Whereas Audley was the Super Heavyweight Olympic Gold medalist in 2000, Wladimir was the Super Heavyweight Gold medalist in 1996 Olympic Games. Wladimir turned pro shortly after winning the Olympics in 1996 and followed with 24 straight wins, 22 by knockout, before losing to Ross Purity in December 1998. In that bout, Wladimir seemed to take Purity lightly, perhaps thinking that he was a pushover, perhaps due to Purity's record at the time, (24-13-1, 22 KO's).
However, what Wladimir failed to take into account was Purity's high percentage of knockouts among his 24 wins, clearly showing that he was a fighter with a tremendous amount of power in his fists. Also, concealed among the 13 losses was the fact that Purity had a chin made of granite, making him one tough customer to attempt to knockout. And so, Wladimir stormed out and threw every punch in the book at Purity in rounds one thru none, all without effect. By the midway though the 9th round, Wladimir was completely exhausted and could barely hold his hands up to defend himself. Purity, upon seeing this, quickly mounted an attack and destroyed Wladimir in the 10th round. Technically, the fight was stopped by Wladimir's trainer, who rushed into the ring to avoid Wladimir taking anymore punishment from Purity.
After that loss, Wladimir seems to have worked a little on pacing himself more, not to mention, avoiding big punchers like Purity, who, by the way, Wladimir didn't fight again. Four and half years and sixteen consecutive victories later, Wladimir, again, lost by knockout in the 2nd round in March 8, 2003, this time, to Corrie Sanders, a tough South African boxer with tremendous power and excellent hand speed and a southpaw stance. Regrettably, it probably wasn't the best thing for Wladimir go straight after Sanders from the opening bell, looking for an easy knockout, since Sanders, despite being 37-years-old at the time of the fight, he was a remarkably well preserved 37, and looked almost 10 years younger. Unfortunately for Wladimir, he never knew what hit him, when he was clocked in the 2nd round by a big left hand by Sanders. Wladimir, to his credit, got up but he was sent back down again twice more before the fight, if you want to call it that was finally stopped.
Some would say afterwards that Wladimir had no chin but to me, he just seemed unprepared for a fighter almost as large as himself, and who punched from the opposite side, a southpaw, in other words. Wladimir came into the fight, in my opinion, without an almost careless attitude about Sanders and probably thought that people at that age are ready for old folk's home or something, not realizing that people retain much of their strength even into their forties. Does the name "George Foreman" ring a bell?
The next year, Wladimir lost yet again, this time to Lamon Brewster, losing by 5th round knockout in April 10, 2004. As was the case with Sanders, Wladimir seemed to underestimate Lamon Brewster's power, especially his left hook. Obviously, Wladimir was looking at Brewster's losses to Clifford Etienne and Charles Shufford, both of which occurred in 2000, before Brewster had fully developed into the ferocious puncher that he was by the time Wladimir fought him. Sure enough, the fight was grossly one-sided for the first 4 rounds, with Brewster taking a terrible beating, often times worse than the beating that the current WBO heavyweight champion, Sergui Liakhovich, inflicted upon Brewster in their recent bout in April 2006. However, though it all, Brewster took the punches well, although he was knocked down by a big right hand by Wladimir in the 4th round, he immediately got up and after weathering a storm of punches thrown by Wladimir, he answered back late in the round, hurting Wladimir with a left hook. In between rounds, Wladimir was totally exhausted and it was clear that he was going to have problems unless he backed off and started to box. However, sure enough, Wladimir foolishly continued pressing the action on Brewster, making it easy for Lamon to catch Wladimir with another big left hook that hurt him badly. Shortly there after, the referee stepped in and halted the bout.
So this is how I see the fight going between Audley and Wladimir:
Round One As the bell sounds, both fighters step out eyeing each other cautiously, waiting for the other to take the initiative. Wladimir opens up with a hard jab that snaps back Audley's hand. Audley immediately fires back with a couple of stinging jabs that redden Wladimir's face. Audley lands a long left hand towards the end of the round that connects with a loud thud to Wladimir's face. He then follows it up with a left uppercut to Wladimir's chin that whip lashes his head.
10-9 – Harrison. In between rounds, Emanuel Steward, (Wladimir's trainer) tries to get him to settle down and stay away from Audley.
Round Two: Wladimir runs out to the center of the ring as the round starts and starts pawing with his jab, trying to measure Audley in an attempt to land a right hand. Audley knocks his hand away with his lead right hand and immediately fires off a straight left hand down the pipe that connects dead center to Wladimir's face. In response, Wladimir retreats and gets on his bicycle, attempting to avoid Audley at all costs. However, if fails to work, as Audley fires off piercing jabs that catch Wladimir while he's moving. Towards the end of the round, Audley shifts quickly with his feet and catches Wladimir while he's near the ropes, knocking him backwards with a big left look. As the bell sounds, Wladimir walks back to his corner with a worried look on his face.
10-9 – Harrison. In his Corner, Vitali scolds Wladimir off and on, while Steward tries his best to get Wladimir to calm down.
Round Three: This time, Wladimir starts the round immediately backing up and moving constantly, throwing his jab, in his best Ali imitation. Some of the punches land. However, Audley fires back in anger several times and catches Wladimir in the face. Often forgoing his jab, Audley his connecting at will with his left hand. At this point, Wladimir is badly shaken and appears to be self destructing despite the fight still being in the early rounds. Wladimir, out of desperation, starts throwing right hands, some of which land with full force to Audley's face causing him to scowl in anger. In response, Audley throws an uppercut that he winds up from the floor and lands it to the chin of Wladimir, knocking him flat on his back, badly hurt. The referee immediately starts counting while at the same time motioning for Harrison to go to the neutral corner. Wladimir, badly shaken, gets up by the count of ten and immediately lunges for Audley and holds him tightly in a clinch. The round ends with the referee trying to pry Wladimir off of Audley.
10-8 – Harrison. In between rounds, Steward literally begs Wladimir to jab and clinch until he he's gets his head clear.
Round Four: As the bell sounds, Wladimir staggers forward, still clearly hurt from the previous round, and attempts to grab Harrison in a clinch. However, before Wladimir can get to Harrison, he steps back a foot and launches a perfectly thrown left uppercut that lands flush on Wladimir's exposed chin, knocking him completely unconscious. He then falls to the floor and lands with a sickening thud. The referee immediately rushes to Wladimir's aid and looks for assistance from outside the ring for the doctor.
* 4th round KO – Audley Harrison.