26.10.05 – Photos: TOM CASINO / SHOWTIME: In two match-ups that typify the essence of the SHOWTIME boxing series, "ShoBox: The New Generation,'' four outstanding prospects will face their toughest tests to date on FRIDAY, NOVEMBER 4, 2005 (11 p.m. ET/PT). The first explosive pairing features "ShoBox" veteran, Sechew "Iron Horse" Powell (17-0, 11 KOs) in a 10-round junior middleweight war against International Boxing Federation (IBF) No. 12 contender Archak "Shark Attack" Ter-Meliksetian (15-1, 12 KOs).. The dynamite co-main event will feature an eight-round brawl between undefeated super middleweights Jaidon Codrington (9-0, 9 KOs) and Allan "Sweetness" Green (17-0, 11 KOs).
SHOWTIME will televise the DiBella Entertainment doubleheader from the Buffalo Run Casino in Miami, Okla., at 11 p.m. ET/PT (tape delayed on west coast). The telecast represents the 67th in the popular "ShoBox" series, which debuted on SHOWTIME in July 2001.
SECHEW POWELL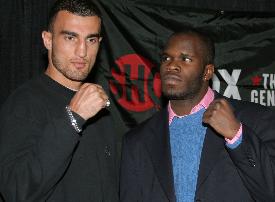 POWELL: "I want to thank Showtime for bringing me back to fight again on ShoBox. This time, I am going to solidify my place in the division. It's going to be a great show.
"I know he's a good fighter (Ter-Meliksetian), but I've seen him fight a fighter similar to me. If he fights the same way he did then, he won't get past the three rounds. I use a lot of, what I call sugar. I counter, I use my defense. I used to box before, but this time I'll mix it up, not only my punching power, but I'll be using slick movements. Archak's success comes from intimidation. That won't work on me. He's nothing to be intimidated by. It's nothing personal I have against Archak, this is just business."
"I got the name 'Iron Horse' because of my pedigree. My father used to own two horses and he dreamed that I would become a jockey, but I've been boxing since I was eight years old. The 'iron' part comes from my internal and external toughness."
ARCHAK "Shark Attack" TER-MELIKSETIAN
TER-MELIKSETIAN: "I am ready for anything he brings. If he's aggressive, that's good for me. If he comes out and tries to box, that's fine too. If just tries to move and counter, it doesn't matter. I think he will come out and try to box at first, but it will turn into an aggressive fight, which is better for me."
"I took the name 'Shark Attack' because I like the shark. It is a fast and aggressive predator. You'll see a shark in the ring on November 4."
JAIDON "The Don" CODRINGTON
CODRINGTON: "This is a big step up for me. I have to thank Showtime and everyone involved for giving me the opportunity. I have always been the type of fighter to rise to the occasion. I do well when in the spot light. I don't get scared or gun shy.
I knew I would have this big opportunity come up quickly in my career. Lou (DiBella) has kept up his promise to me. He told me that if I perform, he'll get me opportunities to move up in class and he's done that here.
I've seen Allan Green fight and I can see that he is very capable of being knocked out, very capable. He runs and he holds, but we are going to take it to him in this fight. We are going to be aggressive and smart at the same time.
It's exciting to get a chance to fight in a different part of the country. I don't care that this is his (Green's) home state. In boxing, unlike in any other sport, the fans come to see a fight. They will cheer whoever has the big round, whoever puts on the best show.
The best part about this is that all those people that I have made contact with, both in and outside of the boxing world, will have the chance to see me compete on national TV. They can finally see what I've been talking about.
STEVE FARHOOD, ShoBox Ringside Analyst:
FARHOOD: "The basis for ShoBox is to put young, talented fighters in tough match ups. As a commentator, I never want to say that one show is better than another, but this show, quite honestly, is the best. It truly defines what this series – the ShoBox series – is all about.
"In both fights on the Nov. 4 telecast, we are going to find some answers. We are going to see who is ready to take their career to the next level and who is not. Jaidon (Codrington) is stepping way up in class in his bout with Allan Green and Sechew (Powell) is also stepping way up in class against Archak (Ter-Meliksetian). So tune in on Nov. 4, because these two fights are as good as we've ever had on ShoBox."