31.03.05 – A press conference to formally announce the "Battle at the Blackham" fight card took place today, Thursday, March 31, 2005 at Prejean's Restaurant in Lafayette, Louisiana. Local boxer Clifford "The Black Rhino" Etienne, who will make his long anticipated hometown debut was present, along with several local boxers who will be featured on the undercard.. "Battle at the Blackham" will happen on Saturday, April 23, 2005 at the Blackham Coliseum and is being promoted by Dana Pitcher Productions. The event is scheduled to feature eight exciting Professional Bouts with World Class Professional Boxers.
The main event will feature the awesome "Railroad" Tye Fields. Fields is one of the most promising young heavyweights today, with a professional record (32-1, 30 KO's), Fields is ranked in the top ten by all the major boxing organizations. He is promoted by the world famous Don King Productions. The six-foot-nine, 280-pound former college basketball player is amazingly fit and agile for a man of his size, says veteran trainer Jesse Reid. "I want to be the best at whatever I do, so in this particular endeavor, that's becoming heavyweight champion of the world," Fields said. He is the modern day Great White Hope!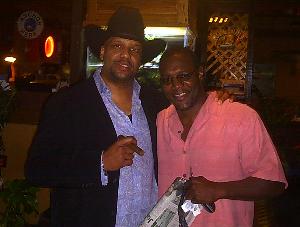 Appearing in the co-main event will be heavyweight sensation Clifford "The Black Rhino" Etienne (29-3, 20 KO's). Clifford will be fighting in his backyard for the first time in his professional boxing career. "The Black Rhino" started his pro career in 1998. Etienne had impressive wins against current WBO Heavyweight Champion Lamon Brewster and former Olympian Lawerence Clay-Bey; he hopes to make another run for the top of the division. "I love my people and that is why I am fighting in Lafayette", says Etienne.
Also, featured on the spectacular undercard will be the crowd pleasing Dallas' lightweight sensation "Handsome" Hector Beltran (8-0, 7KO's) versus the scrappy Sean Plessis (10-2-0,3 KO's), who is also trained by Jesse Reid; hometown favorite Blake "The Candyman" Prevost, Robyn Lerille along with many others.
Pitcher's matchmaker for this gladiatorial event is the world renown Payton Sher, who is also Don King's long time advisor and matchmaker and who has participated in several momentous boxing matches in the history of the sport, including the 'Rumble in the Jungle', 'The Thrilla in Manilla'. Sher has worked with boxers such as Julio Caesar Chavez, Mike Tyson, Larry Holmes, Tim Austin, Evander Holyfield and many more. He has organized and engaged in over 300 world championships and created in excess of 2,000 boxing matches. Payton was quoted as saying "Battle at the Blackham" will be one of the best fight cards ever in the state of Louisiana."
Tickets to the "Battle at the Blackham" boxing event go on sale Saturday April 1st at Shop Rite, Tobacco Plus and Piper Heaven locations and are priced at Ringside Table Seat $60, Ringside $35, VIP-floor $25 and General Admission $18.00. For ticket information please call (337) 326-0201 . Doors open at 6:30 p.m. with the first bout scheduled to begin at 7:30pm. Blackham Coliseum is located at 2330 Johnston Street, Lafayette, LA 70506…
A Portion of the proceeds to benefit the University of Louisiana –Lafayette Union Program Council (UPC) {The Union Program Council – Entertaining While Educating}