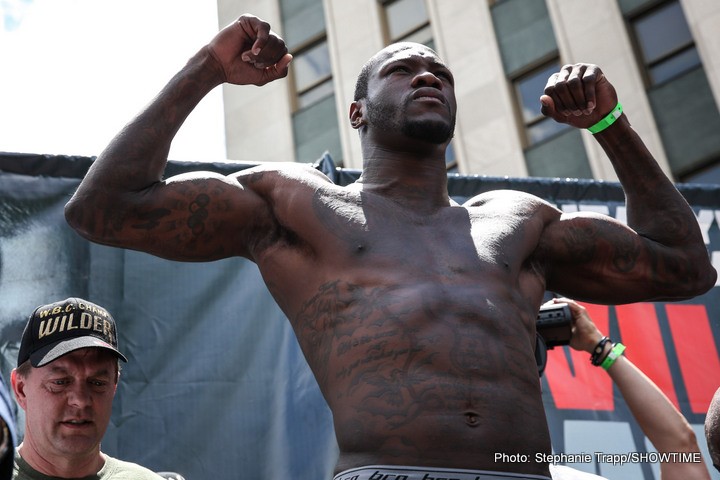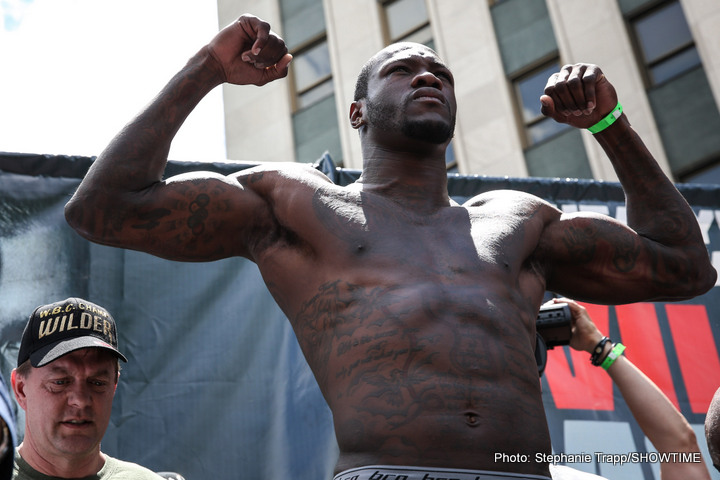 by TMZ Sports : Boxing superstar Shannon Briggs is calling out the heavyweight champ — saying Deontay Wilder is a lying "COWARD" who's smearing his good name … 'cause he's secretly scared out of his mind.
Briggs appeared on "TMZ Sports" on FS1 (Monday @ 9PM PT, 12AM ET) — to respond to Wilder's insinuation that Briggs couldn't pass a drug test if the two agreed to fight in January.
Briggs RIPPED Wilder apart — and then called B.S. on Wilder's other claim that he's asking for too much money … telling us he'll fight Wilder FOR FREE!!!!
Ya gotta watch the clip … and the entire segment on FS1 tonight … dude's PISSED and guaranteeing he'd K.O. Wilder in one round if they do step into the ring together next month.
Watch "TMZ Sports" on FS1 weeknights at 9PM PT, 12AM ET.
Deontay Wilder — Bring On Shannon Briggs … If He Passes Drug Test
He's set to fight in January — though no opponent has been selected — but WBC heavyweight champ Deontay Wilder says he's got his sights set on Shannon Briggs … if Briggs can prove he's not on 'roids.
Wilder was SUPPOSED to fight Vyacheslav "Czar" Glazkov at the Barclays Center in Brooklyn on Jan. 16th — but Glazkov backed out and took another fight … leaving Wilder without an opponent.
The solution?
"The only person I feel will save this show is Shannon Briggs," Wilder tells TMZ Sports.
Briggs is not only a former 2-time heavyweight champ … but famously chased Wladimir Klitschko around the world for years trying to Clubber Lang him into a title shot.
Wilder says Briggs would be the perfect opponent — but has 2 concerns … cash and drug testing.
"Will he accept the money that we're offering him?" Wilder says … "Shannon feels he's bigger than he really is … which he's not."
Wilder's also not convinced Briggs is totally clean … despite the 44-year-old insisting he's au naturel.
We're told Briggs is "definitely" interested — stay tuned.
AMIR MANSOUR BLASTS DEONTAY WILDER FOR CALLING OUT SHANNON BRIGGS; SAYS HE ACCEPTED TERMS FOR JAN.
"Man, how you call yourself champ of the world, the baddest man on the planet? Y'all asked me if I wanted to fight you, would I accept the terms? I said yeah! You already got my answer, yeah! Now you niggas gonna go look for Shannon Briggs? Ain't fought nobody in over a decade? Seriously? For real, Bronze Bomber? Seriously? Don't nobody wanna see no fucking Shannon Briggs and you fight, motherfucker! They want to see you fight a real motherfucking fighter, me," stated a heated heavyweight contender Amir Mansour, who was not pleased at all to hear that Deontay Wilder recently appeared on TMZ.com to call out former heavyweight champion Shannon Briggs as an opponent for his upcoming January 16 return to the ring. Check out this video that Mansour recently sent to FightHype.com via his phone.