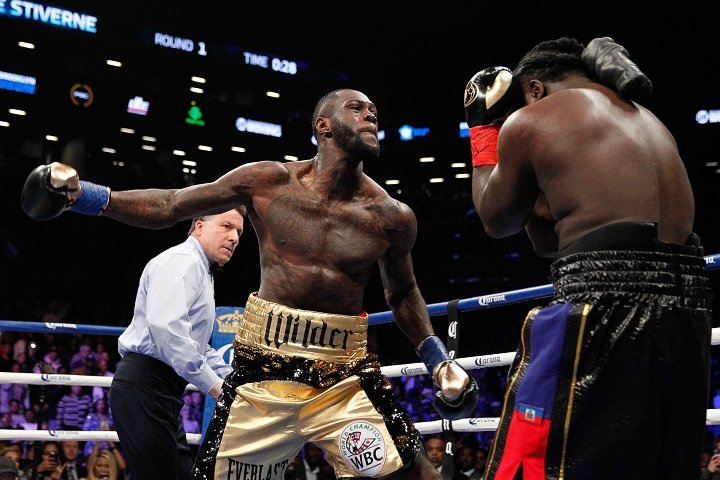 WBC heavyweight champion Deontay 'Bronze Bomber' Wilder thinks that IBF/WBA heavyweight champion Anthony Joshua's promotional teams is protecting their "gravy train" fighter by not willing to put him in with a risky fight against himself, and by focusing on matching him against beatable opposition that present no risk to their money train.
Wilder says if Joshua isn't going to take the fight with him, then he needs to give up his IBF and WBA title.
Wilder says he didn't like the move Joshua's promoter Eddie Hearn tried pulling recently by sticking him with Matchroom Sport fighter Dillian Whyte, and trying to get him take the fight against him as a measuring stick to what the threat level is for Joshua. Hearn was said to have offered Wilder $3 million to take the fight with Whyte. Wilder said it would make him look like he's chasing the Joshua fight by fighting Whyte. Wilder says he wants respect as the heavyweight world champion with the longest reign.
"They know I'm a risk. They don't want to risk their gravy train," said Wilder to The Guardian. "They can make money off turds not doing nothing. What does that tell you? You're really just running it as a business. You ain't no champion. In that case give up the belt and you can still do that. Give me the belts. Or fight," said Wilder.
Well, if the Wilder-Joshua fight doesn't get made, you can bet it'll be over the purse split for the fight. Wilder, 32, wants parity with a 50-50 split of the revenue for the fight. Joshua and Hearn don't see it that way. They feel they should get the lion's share of the money. That's going to make it difficult to put the fight together.
Wilder isn't the kind of guy that is too keen on giving his opponent a 60-40 or 65-35 split of the revenue? WBO heavyweight champion Joseph Parker has been having problems just trying to get a 65-35 split for the Joshua. Wilder might be able to get a 60-40 deal for the Joshua fight under a best case scenario, but that's probably not going to satisfy him. Tyson Fury recently took to Twitter this week, saying that he'd accept a 40 percent cut for a fight with Joshua. If Fury only gets 40 percent of the revenue for a fight with Joshua, then it's likely that Wilder won't get an offer above that. Joshua-Fury is a bigger fight on paper in the UK than Joshua-Wilder.
"We're not going to be looking like we're chasing," said Wilder. "When you're talking about the best fighting the best, champion fighting champion, it shouldn't be like a circus. Let's make this fight happen, no matter what the terms are. It ain't like I ain't done nothing. I'm the longest reigning [heavyweight] champion in the game, so put some respect on the name," said Wilder.
Joshua has an advantage over Wilder in that he's a pay-per-view fighter in the UK. Wilder's fights are televised on regular Showtime Boxing in the U.S. Joshua and his promoter Hearn are going to factor that in when they work out what percentage split that they feel Wilder deserves for a fight with them. If Wilder continues to ask for a 50-50 split, he might not ever get a fight with Joshua.