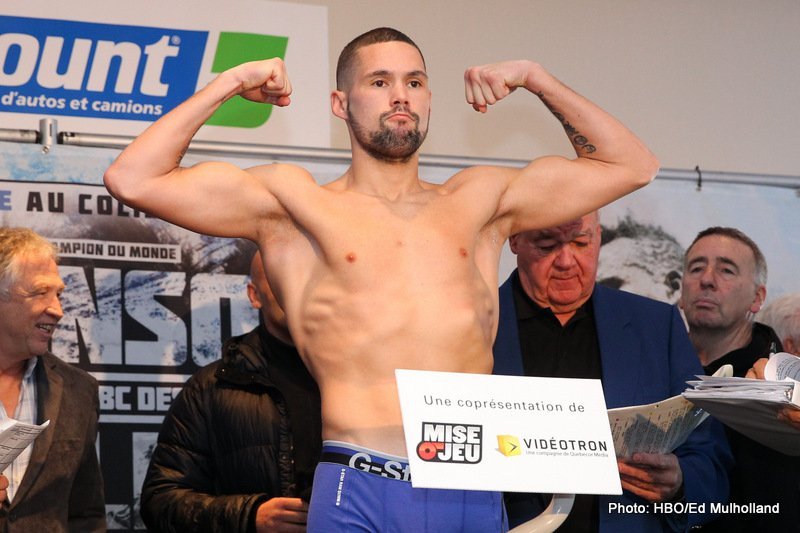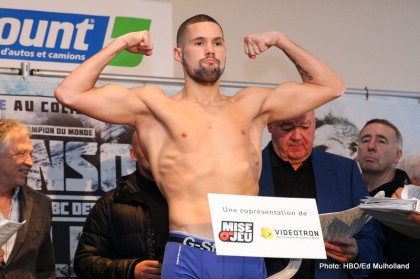 Tony Bellew is supremely confident heading into tonight's WBC cruiserweight battle with fellow puncher Ilunga Makabu in his native Liverpool. Bellew, who will go to war at the home ground of his beloved Everton football club, insists nothing Makabu, 19-1(18) can do will prevent him from realising his dream and capturing the vacant green belt. Bellew is sure his moment of destiny has arrived and he is even talking about who he would like to fight after he's beaten Makabu: none other than former undisputed cruiserweight champ and former WBA heavyweight ruler David Haye.
Of course, such talk will prove to mean absolutely zero if Makabu, who is also extremely confident, despite fighting a long way from his homeland of South Africa, smashes Bellew in around eight hours time. But Bellew, 26-2-1(16) insists Haye, with his recent comeback, is "degrading boxing." Bellew says Haye has fought terrible opposition and he should drop back down to his natural weight for a fight with him.
"I'm not saying I cam mix it with the giant heavyweights," Bellew told The Star. "But any of those little heavyweights I'd fight all day long and let me tell you, I'd kick their arses. I'll fight that f****r from Bermondsey (Haye) as long as he gets down to his natural weight. He knows what his natural weight is, his real weight, because he's a cruiserweight, there are no two ways about it. What he is doing at the moment is degrading boxing, it's sad. David's better than that and he knows it."
Bellew went on to slate Haye's two comeback foes: Mark de Mori and, last Saturday, Arnold Gjegjaj. Bellew certainly has a point, and many people have seemingly turned on Haye for such obvious handpicking. But would these same people buy into the idea of a Bellew-Haye fight for the WBC belt? If Bellew wins tonight, anything is possible. Bellew will have earned much respect if he can do a job on Makabu, maybe enough respect for people to give him a chance against Haye in a 200-pound fight.
Haye, who currently fights at around 223-pounds, is next set to fight Shannon Briggs, likely in September. But this fight has not yet been signed and many experts have been vocal in expressing how the fight should not be permitted to go ahead by The BBB of C, and that Haye should "do the decent thing" and fight someone else. Haye is unlikely to look Bellew's way, even if the "Creed" co-star wins by crushing KO tonight, but a Haye-Briggs fight has the look of a mere formality. At the very least, Haye-Bellew, with a legit world title on the line, would have a genuine intrigue/mystery factor to it.
And in boxing today, there seem to be a number of big fights coming up by way of a surprise. Who expected Canelo-Khan, for example? Bellew and Haye both have a big fan base (even if Haye's may be dwindling, more so if he does not fight someone with credibility next) and this fight would certainly sell. And as we know, money is and always will be the bottom line in this sport.