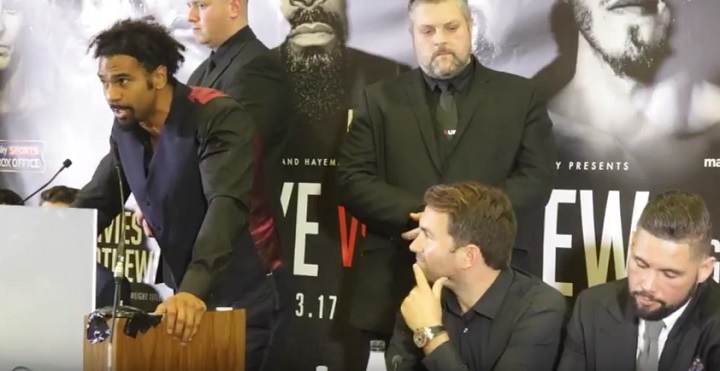 Both Tony Bellew and David Haye will fight in December; it's just a case of whether or not they will fight each other in a rematch or face someone else. It has been revealed how the two are in talks for a December rematch – courtesy of The Star – but that Haye, who sensationally lost to Bellew in March, must agree to Bellew's purse split demands for the fight to take place.
Haye, now recovered from the awful Achilles injury he suffered during the March fight, and with new trainer Ismael Salas, is reportedly "desperate" to get a rematch and with it a shot at redemption. But Bellew has other equally appealing options other than a sequel which could generate as much as £20 million. Bellew has also been in talks with both Andre Ward and WBO heavyweight champ Joseph Parker.
Haye did say mid-ring after the March loss that he would agree to Bellew's terms in a rematch, so now it seems "The Hayemaker" will have to play ball if he wants the rematch. Otherwise, Bellew will move on to a fight with either Parker (providing he gets past Hughie Fury in September) or Ward (if the reigning light-heavyweight king decides to move up to cruiserweight).
There is no doubt a Bellew-Haye II would sell big in the UK. The first fight, so wholly unpredictable, was full of drama and suspense. Would Bellew have got the win if not for Haye's terrible injury? Is Haye a seriously faded force or can he come again?
These questions and others will be answered in December if these two can come to terms.
Meanwhile, promoter Eddie Hearn has applied for a license to promote in Las Vegas, the expected sight of an Anthony Joshua-Wladimir Klitschko rematch. Hearn, also expected to soon apply to promote in New York, has reportedly offered Klitschko two deals: one to face Joshua in Vegas, the other to take the rematch in Cardiff, Wales.
Apparently an announcement regarding the rematch of April 29th's great fight could come in the next two weeks.