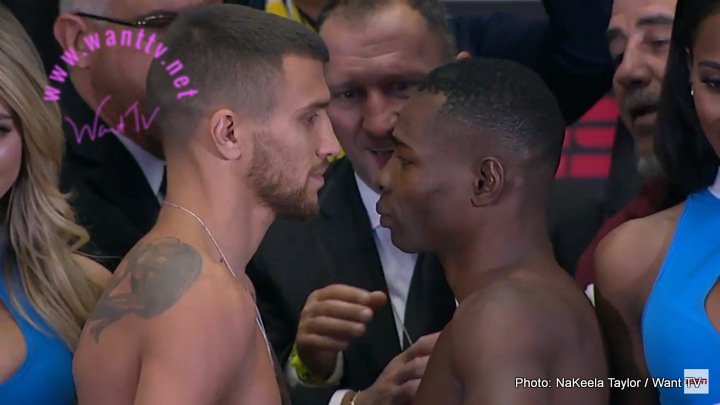 Vasyl Lomachenko, at just 10-1 as a pro boxer, has already achieved plenty: world titles in two weight divisions and the lofty top spot in most pound-for-pound rankings. Yet another astonishing achievement scored by the gifted southpaw, a quite amazing stat, is the fact that "Loma" has, in his last four fights, made his opponent quit, remain on their ring stool.
Can you name another former world champion who has made four, yes four, opponents in a row flat-out quit? Another question is, can Lomachenko make it five guys in a row on May 12, or will lightweight ruler Jorge Linares back up his words and take Lomachenko to places he has never before been?
Another question still is, should Lomachenko's opponents get paid their purse in full if they quit against him? Indeed, should any fighter who quits, against anyone, get paid if they had no real reason to pull a No Mas (say a serious injury like a broken bone or a nasty cut)? That's the thing about Loma's last four foes – Nicholas Walters, Jason Sosa, Miguel Marriaga and Guillermo Rigondeaux – none of them appeared seriously hurt, dazed or in any way beaten up, yet they still chose to quit (choosing to quit and being forced to quit are of course two totally different things).
This trend has annoyed Lomachenko, for he feels a fighter bailing out on him prevents him from, as he put it when speaking with FightHub, "showing my best skill." Speaking with the website, Lomachenko said opponents that quit against him should not get paid.
"Probably they start understanding I am controlling them100-percent. That's why they start quitting," Lomachenko said. "We need a signed contract before the fight. We need a signed rule – you can't quit. If you quit, you're not going to get paid. Of course I don't like it, because I can't show my best skill."
It really would be astonishing if Lomachenko forced Linares, a proud and excellent fighter, to quit; thus extending the number of capitulations to five. But when we look at the credentials belonging to the fine fighters who have quit against him – Cuban boxing master Rigondeaux especially – Lomachenko forces us to realise how it is possible for anyone to quit against him.
Can anyone even test the skills belonging to the man from Ukraine?