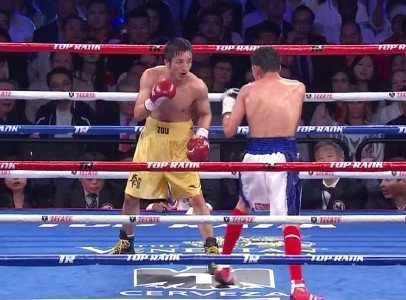 Former two time Olympic Gold medalist from China Zou Shiming (1-0) will be making his second fight of his pro career this Saturday night, July 27th against Jesus Ortega (3-1, 2 KO's) at the Venetian Casino & Resort, in Macao, Macao S.A.R., China. This will be a slight step up for the 32-year-old Shiming, as the fight will be 6 rounds instead of just 4 like in his pro debut against 18-year-old Eleazar Valenzuela last April.
Shiming struggled in that fight and hardly impressed with his slapping punches, and show boating. His antics seemed out of place for the way he looked for the opponent he was facing. When you see a former two time Olympic gold medalist showboating against an 18-year-old with only 6 fights on his resume it's definitely out of place.
Shiming hopefully looks better than he did against Valenzuela because he didn't look like he had the talent to do much at the pro level in that fight. Shiming looked terribly flawed, and it was surprising that Freddie Roach is his trainer. Roach has got his work cut out for him if he wants to make something out of Shiming before he ages out. He doesn't have a lot of time to improve, as he's 32 and he doesn't look young for that age.
Some guys like young at 32, but Shiming looks very mature for that age, and not in a good way. Bob Arum of Top Rank is going to need to push this guy quickly if he wants to have any chance of him ever winning a world title.
Judging by how he looked against Valenzuela, Arum is going to have pick one of the weaker flyweight champions out if he wants to give Shiming any hope of winning, because he looked like he would be overmatched against pretty much any of the current flyweight champions.
Shiming will be fighting on the undercard of the November 23rd Manny Pacquiao vs. Brandon Rios fight in Macao, China. There's talk that Shiming will be the co-feature against an opponent still to be determined. It's difficult to imagine this attracting many boxing fans in the U.S to purchase the pay per view card, if Shiming does end up in the co-feature bout. Boxing fans would be basically purchasing the fight to see Pacquiao-Rios, and the addition of Shiming would be an afterthought for many U.S boxing fans.