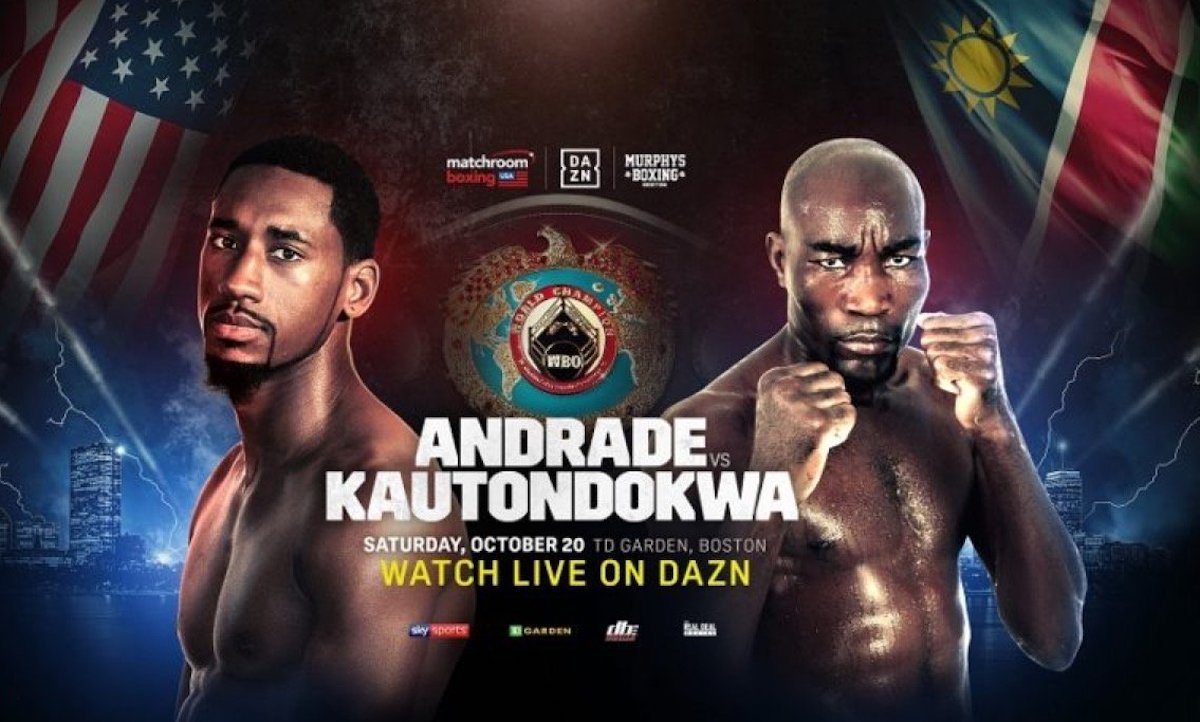 Demetrius Andrade did his thing tonight in beating a hopelessly over-matched Walter Kautondokwa by a 12 round unanimous decision in a 4-knockdown performance to win the vacant WBO middleweight title at TD Garden in Boston, Mass.
Despite being knocked down four times in the fight, Kautondokwa was never seriously hurt. The only time that he looked really buzzed was after Andrade teed off on him with an illegal punch while he was down on the canvas in the 1st. When Kautondokwa got back to his feet from the knockdown (and the illegal punch), he looked hurt. It would have been a perfect time for the referee to do his job and take a point off from Andrade, but the referee decided not to do anything about it.
Andrade wasn't perfect, but he didn't need to be against the limited previously unbeaten Kautondokwa (17-1, 16 KOs). Andrade knocked Kautondokwa down in the 1st round, and then hit him while he was down for good measure, I suppose. The referee Steve Willis stood and watched and did nothing about it. I guess Willis wasn't into penalizing Andrade, 30, for the obvious foul. Willis would later blow another call in the 4th round when there was a double knockdown, but he only counted Andrade's knockdown. It was baffling to try and understand why the referee Willis didn't count Kauntondokwa's knockdown of Andrade. The only good thing you can say about that is it didn't hurt the outcome of the fight. If Willis had scored the knockdown, and penalized Andrade for his numerous low blows and his illegal punch while Kautondokwa was down on the canvas in the 1st, it still wouldn't have changed the outcome of the fight. Andrade was still going to win the fight. Still, it was frustrating to watch the bad job the referee did in the fight. Kautondokwa might as well have been fighting two people inside the ring tonight, Andrade and the referee.
The judges scores were as follows: 120-104, 120-104 and 119-105. The scores were accurate. This was a one-sided fight for the most part.
The inexperienced Kautondokwa was recruited to face Andrade after WBO middleweight champion Billy Joe Saunders vacated his belt and pulled out of the fight after testing positive for a banned drug, and failing to get a license for boxing by the Massachusetts State Athletic Commission.
Andrade's next move will be up to his promoter Eddie Hearn of Matchroom Boxing USA. He'd like to match Andrade against Saul Canelo Alvarez, Gennady Golovkin and Billy Joe Saunders. Andrade's best option of those three is Saunders. Canelo and GGG likely won't bother fighting Andrade because there's no money in a fight with him, and they would need to deal with his movement.