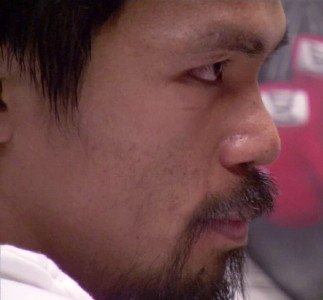 WBO welterweight champion Manny Pacquiao (56-5-2, 38 KOs) says he knows how to fight WBA/WBC Floyd Mayweather Jr (46-0, 26 KOs), and how to force him into brawling with him if he were to agree to fight him. Pacquiao says Mayweather is too concerned with protecting his unbeaten record and that's why he's not interested in fighting him.
Mayweather is at a point where he really doesn't need to fight Pacquiao in order to make big money. With him getting the big money for each of his fights on Showtime, it's almost pointless to fight Pacquiao right now.
The money Mayweather is getting to fight other guys is just too good, and he's already said that he won't fight Pacquiao until he leaves Top Rank, which it doesn't seem like Pacquiao is inclined to do. Pacquiao just re-signed a new 2-year extension that will take him until the end of 2016.
"I know how to fight him. I know what I'm doing," Pacquiao said to NJ.com. "I know what his style is all about. So, if he don't want to create action. I know how to create action. I know that I can make him stand and fight."
Pacquiao had a lot of problems in his first fight against Tim Bradley in 2012, and you can make an argument that the only reason Pacquiao did well in the rematch against him was because Bradley slugged with him instead of boxing him. Pacquiao still hasn't proven that he can beat a guy that uses movement against him.
You certainly can't count Pacquiao's win over Bradley in the rematch as him having proven anything. Bradley basically gave the fight to Pacquiao by choosing to slug with him. It was probably the poorest fight plan I've ever seen from Bradley before. All he had to do was use the same blueprint that he used to beat Juan Manuel Marquez, and he likely would have beaten Pacquiao again.
"Why he [Mayweather] will not fight me?" Well, I think he is worried about his (undefeated) record," Pacquiao said. "He talks about his zero losses. The zero that means so much to him means nothing when measured against who he fought."
Mayweather has fought Saul "Canelo" Alvarez, Miguel Cotto, Robert Guerrero and Marcos Maidana in his last four fights. Pacquiao has fought Brandon Rios, Tim Bradley [twice] and Juan Manuel Marquez in his last four fights. I'd have to say that Mayweather has fought the better opposition than Pacquiao.
You can measure Mayweather's legacy on the guys he's fought and he comes out high. Pacquia through no fault of his own is stuck fighting the guys that his promoter Bob Arum puts in front of him. Unfortunately, that's left Pacquiao fighting a lot of rematches with the same guys with fights against some of over-the-hill fighters like Antonio Margarito and Shane Mosley.