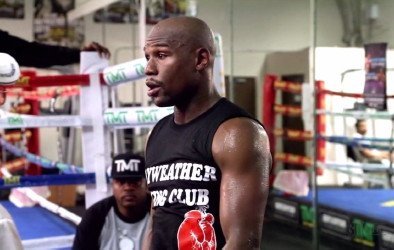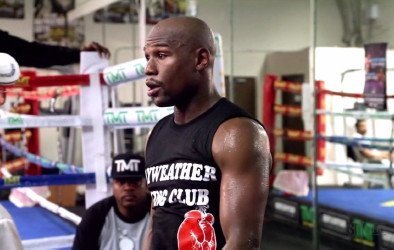 Floyd Mayweather Sr. doesn't want his son Floyd Jr. fighting the 172 lb. WBA/WBC junior middleweight champion Saul "Canelo" Alvarez (42-0-1, 30 KO's) at 154 lbs. because he sees the potential of Canelo filling up on water weight in the 24 hours after the weigh-in and coming into the fight weighing well over 170 pounds in their proposed fight on September 14th.
As such, Floyd Sr. is saying that if Canelo wants to fight Mayweather Jr. it's going to have to be at 147. Canelo will have to prove that he can make that weight before he can get the fight with Floyd Jr.
Mayweather Sr. said in an interview with Hustleboss.com "If they do the fight that's [147 lbs] where it's going to be…I bet you he [Canelo] is somewhere around 170 pounds, maybe more than that."
Mayweather Sr. is worried about Floyd Jr. fighting a 170+ lb. Canelo on September 14th because he thinks the weight could potentially give Canelo enough of an advantage to possibly win the fight. Floyd Sr. points out that Mayweather Jr. weighed in at 146 lbs. the night of his fight with Robert "The Ghost" Guerrero on May 4th this month after rehydrating. This tells you that Mayweather Jr. is really a light welterweight or possibly even a lightweight fighting at welterweight. WBC lightweight champion Adrien Broner rehydrates to 147-148 for his fights at lightweight.
There's a huge difference in weight between the rehydrated Mayweather and the rehydrated Canelo. If Mayweather comes into the fight weighing 146 and Canelo 172-175, Canelo would have a minimum of a 26 pound weight advantage over Mayweather. That's not exactly a sporting fight, is it?
I can't remember the last time Canelo fought someone 26 pounds heavier than himself because that would be like Canelo fighting someone weighing 198 pounds. If Canelo did that I think I'd be favoring the 198 pound fighter easily unless it's a poor fighter.
The only fair way for a Canelo-Mayweather fight to take place is at 147 with a rehydration limit to keep Canelo from going back up to 170. I have no doubts that Canelo would make it down to 147 to make the fight happen, but I do think he'd easily make back up to 170 so he can enjoy a 26 pound weight advantage over Mayweather. That's just way too much weight.