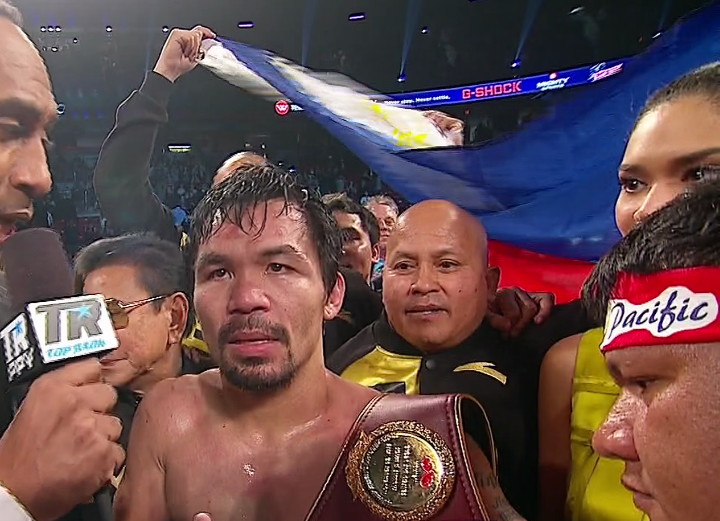 Reports coming via the Philippines strongly suggest superstar Manny Pacquiao has signed up with the powerful Al Haymon. The word is, Pac-Man, who turns 40 in December, will face none other than Adrien Broner, possibly in January of next year, before tackling Floyd Mayweather Junior in a monster rematch some time later on in 2019.
Nothing has been officially confirmed yet, but according to a "source" who has knowledge of the situation and has spoken with The Manila Times, Pacquiao will indeed be looked after by the notoriously secretive promoter/handler from here on in. A penny for Bob Arum's thoughts indeed!
Apparently, what is being worked on (amongst other things no doubt) is just where to hold the Pacquiao-Broner fight. It could be held in the US, the source said, although other venues and other countries are also a possibility. Broner recently tweeted that his fee for tackling either Pacquiao or Mayweather (this fight also being rumoured a short while ago) would have to be a cool (and highly improbable) $100million – each!
In reality, though, Broner – who has not won a big fight in quite some time and who has never once engaged in a fight of this magnitude during his once ultra-promising career – if he has been offered a fight with the living legend and all-time great, will almost certainly take it. It's not as though "The Problem" is swimming in options right now, is it?
But what if the fight does take place? Who wins? Pacquiao looked good, great even, in dismantling Lucas Matthysse a while back, but Broner is young, fast and who knows, if he buckled down to serious training, he just might have a winning performance over Pacquiao in him. Hey, stranger things have happened in this sport. On the other hand, fans who can't stand Broner (and there are more than a few who feel this way) would love to see Pacquiao beat up and flatten the outspoken trash-talker. Might Pac-Man become the first man to KO Broner?
As an appetiser to that big return with Mayweather (not as big as the first fight but still plenty big) a Pacquiao-Broner fight is certainly an appealing idea. Will we have to pay for both fights though? And if so, how much!