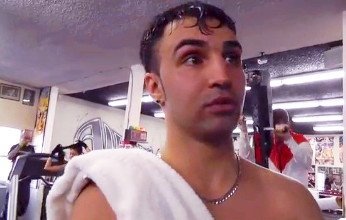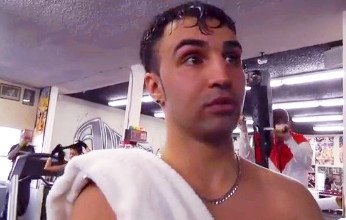 With the back and forth banter between WBA 147lb champ Paulie Malignaggi and WBC 135lb champ Adrien Broner set aside, it looks like this could be one hell of a scrap. Malignaggi is the bigger man and Broner is moving up 2 weight classes to face him. But…when you look a little closer at this matchup there are red flags all around that will make it a very hard fight for Malignaggi to win, in terms of style matchup, ring generalship, punching power and skills in-general.
In boxing and amateur wrestling it is common practice to train down to your figting weight shedding pounds and water to make weight and thereafter rehydrating the body regaining some of that lost weight. With this in mind Broner has been adding weight to his 5'7″ frame so he can train down to the 147lb limit, prompting Malignaggi to say "The only training that Broner is doing is at the buffet". If Broner doesn't gain this weight, his training could see him training down way below the 147lb limit coming in at a serious weight disadvantage to Malignaggi. Broner will come into this fight between 143lbs and 147lbs, it will take time for him to grow into a welterweight.
That being said, as long as Broner is not below 140lbs it won't make a difference, Paulie can't punch. Broner's defense which resembles the Mayweather shoulder-roll shell will be in full effect against the Brooklyn native. Malignaggi as he displayed against his last opponent Pablo Cano, has gotten very heavy legged as he's gotten older cannot move like he once did, instead stationing himself against the ropes to counterpunch like all older fighters do. Broner will use angles, stepping to either side against Paulie while he's against the ropes and punching him to the body and head, avoiding Paulie's counters. Paulie's once sharp reflexes have also suffered as he's moved into his second decade of professional fighting, and he's a split second slower than he used to be, causing him to react slower. Cano was able to capitalize on Paulie's slower reactions to time him with a punch knocking him down, which almost cost him the decision win in a close fight. Broner is much quicker than Cano and because of his weight-lifting routine will probably carry his power up with him to the 147lb class, this doesn't bode will for Paulie.
The fighters who have beaten Paulie in the past were able to muscle him around the ring, and outgun him, add to this Broner's quickness and defense and you have here a recipe for disaster. One thing that is in Paulie's favor is a his world class chin which has stood up to some of boxings biggest punchers including Miguel Cotto when they both fought in the 140lb division. As they say when you get older the last thing to go is punching power, well the first thing to go with age is punch resistance, which was evident against Cano and Amir Khan before him.
All the trash talk aside, Broner is a bad matchup for Malignaggi, style-wise or otherwise, better choices could've been made for the veteran Malignaggi to hold on to and defend his belt for awhile. Broner with his youth, style and skills will get to Malignaggi by the middle rounds of the fight most likely producing a stoppage. Of all of the choices that Paulie had to make a fight, this one was the worst choice, Broner is no bum.