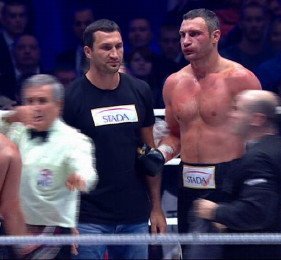 By Rob Smith: WBC heavyweight champion Vitali Klitschko (45-2, 41 KO's) added his 41st knockout of his career on Saturday night in stopping a game but badly overmatched Manuel Charr (21-1, 11 KO's) in a 4th round stoppage at the at the Olimpiyskiy, in Moscow, Russia. The fight was halted after Vitali opened up a bad cut over the 27-year-old Charr's right eyebrow in the 4th round after connecting with a left hook to the head. Charr was furious with the stoppage and packed back and forth, swearing.
However, he wasn't doing anything in the fight other than just taking terrible punishment. Vitali knocked Charr down with a hard right hand at the end of the 3rd round. It was pretty clear that Charr would have been badly hurt if the fight had gone into the second half of the fight because he was literally a punching bag tonight, and unable to land any shots. Vitali landed whatever he wanted against the helpless Charr and made it look easy.
Undefeated heavyweight contender Magomed Abdusalamov (16-0, 16 KO's) was knocked down by a hard right hand from journeyman Jameel McCline (41-14-3, 24 KO's) tonight but was able to come back to get a 2nd round stoppage by knocking McCline down with a jab. Abdusalamov, #13 WBA, was badly hurt after McCline tagged him with a tremendous right hand early in the 1st round. Abdusalamov stayed down a long time from that shot, and probably would have been finished off had McCline not stopped punching after that. It's unclear why McCline backed off, because he Abdusalamov where he wanted him but he just seemed to go into a hole after that knockdown.
Abdusalamov was able to dominate the remainder of the 1st and continue to dominate in the 2nd round. He finally nailed the 42-year-old McCline with a hard jab and that put him down on the canvas. He slowly got back to his feet but was unable to beat the count. Abdusalamov's training team then picked him up and paraded around the ring as if he had beaten a top fighter instead of a journeyman.
Given that Abdusalamov was knocked down and likely would have been knocked out McCline fought with more aggression, I think it looked out of place seeing Abdusalamov carried around the ring. The way he fought was a clear step backwards in his career and I think he'd have been destroyed by a better than McCline. The southpaw Abdusalamov and his team need to go back to the drawing board to try and learn how to block a right hand because he was getting nailed by McCline every time he had the impulse to throw one. It was not a good fight by Abdusalamov.
In other action on the card:
Vyacheslav Glazkov UD 10 Konstantin Airich
Andrey Meryasev TKO 10 Muhitdin Rajapbaev
vacant WBC Baltic middleweight title
Ayup Arsaev RTD 4 Khavazhy Khatsyhau
Svetlana Kulakova UD 4 Iryna Bartash