Kimbo Slice has died … TMZ Sports has confirmed. He was 42. Slice was hospitalized early Monday near his home in Coral Springs, FL. He passed away a short time later. The CEO of Bellator MMA confirmed the news … saying, "We are all shocked and saddened by the devastating untimely loss of Kimbo Slice, a beloved member of the Bellator family.'
"One of the most popular MMA fighters ever, Kimbo was a charismatic, larger-than-life personality that transcended the sport."
"Outside of the cage he was a friendly, gentle giant and a devoted family man. HIs loss leaves us all with extremely heavy hearts, and our thoughts and prayers are with the entire Ferguson family and all of Kimbo's friends, fans and teammates."
Kimbo — real name Kevin Ferguson — last fought at Bellator 149 back in February and defeated Dada 5000 — but the victory was overturned when Slice tested positive for a banned steroid.
Back in 2003, Slice became an Internet sensation for his backyard fighting videos — destroying several opponents in unsanctioned street fights. He later signed a deal to fight in the UFC.
Slice competed on "The Ultimate Fighter" in 2009 … and while his MMA career never really blossomed, he was undefeated as a boxer, with a 7-0 record.
Slice also did some acting — appearing in 2012's "The Scorpion King 3: Battle for Redemption."
Kimbo Slice — Death Not Suspicious … Medical Examiner Says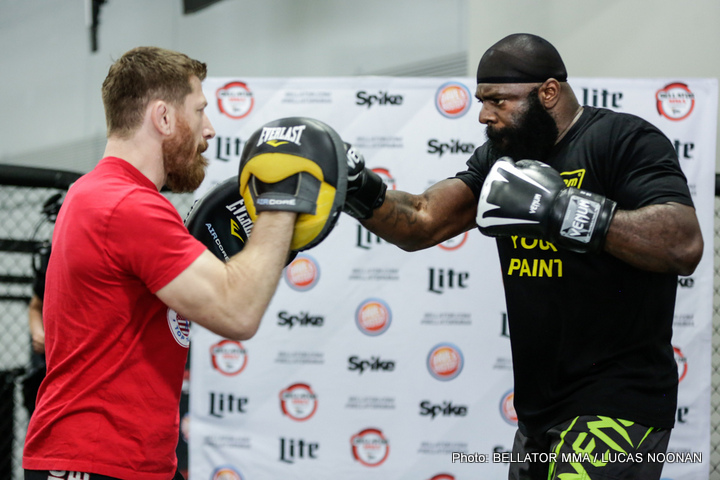 Kimbo Slice's body will not be tested for things like steroids or drugs … at least, not by the medical examiner's office which tells TMZ Sports there's nothing suspicious about Kimbo's death.
After the 42-year-old passed away suddenly near his home in Coral Springs, FL Monday — we reached out to the Broward County Medical Examiner to find out if an autopsy would be performed.
We were told … "We were informed of his death and after review of the circumstances, we declined jurisdiction. It is not a medical examiner case."
We asked if that meant the office believes his death is not suspicious and there's no need for toxicology tests — to which the M.E. Chief told us, "No medical legal investigation, including toxicology is necessary."
Slice reportedly tested positive for a banned steroid during his fight at Bellator 149 back in February.
Just because the coroner decided not to order an autopsy doesn't mean the family has to stay in the dark. They can pay for a private examination — though it's unclear if they're even considering that option.
Ken Shamrock — Kimbo Never Got the Respect He Deserved
Ken Shamrock says his heart aches for Kimbo Slice — saying the guy made a tremendous impact in the world of combat sports … but never got the respect he truly deserved.
Shamrock — who fought Slice (and lost) last year — says Slice made one helluva splash in MMA and boxing … but still had to battle extreme negativity from haters — even when he won his fights.
"Even when he won a fight it seemed like he was never good enough," Shamrock says.
"When you really care about your fans and you really care about what you do then those things that come at you from a negative position … it hurts … especially when it comes in thousands of people with negative thoughts. It stings, it hurts."
Shamrock says he never spoke with Slice directly about it — but says it was obvious Kimbo was affected by the negativity.
In the end, Shamrock says Slice should be remembered as a warrior.