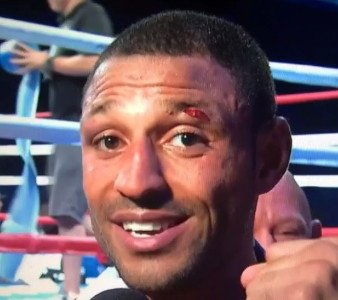 IBF welterweight champion Kell Brook has spoken out ahead of the Mayweather v Pacquiao fight to throw his hat in the ring as the "name" the winner should rightly face next.
Brooks assertions to BBC Sport are likely to anger bitter rival Amir Khan, who instead of facing Brook on May 30th, fights light-punching American Chris Algieri on May 29th in a contest that has widely been panned by fans as meaningless.
Instead of Khan, who Brook and promoter Eddie Hearn have been trying to coax into a Stadium fight in the UK, the Sheffield fighter will face former world amateur champion Frankie Gavin, on a PPV card from Wembley. It is a fight that has also attracted it's fair share of criticism in terms of quality, as despite his amateur credentials, Gavin is a fighter who has never really fulfilled his potential as a pro.
Win or lose on May 2nd, fight favourite Floyd Mayweather will fight his last contest in September, and with Khan now ostensibly ruled out due to the fasting period of Ramadan not leaving him ample time to recuperate, Brook, the only other world champion at 147lb, could very likely be the man to next get the call.
Whoever wins the May 2nd clash, it appears that Brook is more than prepared to fight either man. He said;
"It's not about money but legacy for them now. I've got a world title. Mayweather and Pacquiao have the rest. The winner will want to sail into the sunset with all the belts. I'm available for a unification fight so absolutely there is a chance that I will fight the winner."
"Boxing is a short career and you want to fight the best in the world."
Brook believes that Floyd is going to win the fight but was full of praise for Pacquiao, saying;
"Manny Pacquiao is an unbelievable fighter and there will be drama but I've got to go with Mayweather. Manny is a southpaw and they are a lot more awkward than orthodox opponents. He chucks a lot of shots and comes from awkward angles which Mayweather won't be used to. He will pressure Mayweather and make him uncomfortable. But Mayweather is just too clever. He will throw shots on the counter and make it a chess match. His defence is great also and he will find a way to win."
"To be honest, it's got points written all over it, though if Manny thinks he's behind in the fight and starts getting desperate late on, then I can see him getting knocked out."
Twitter @Undilutedpoison