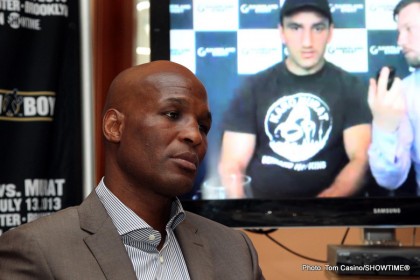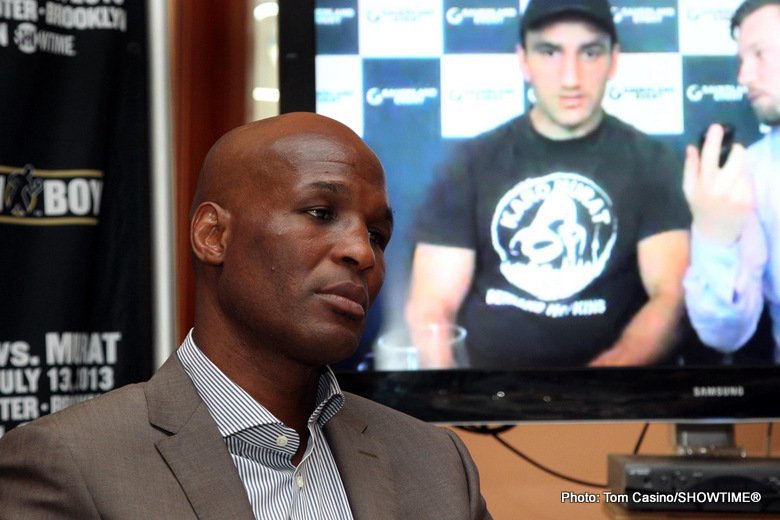 Veteran Scribe Steve Kim of Maxboxing.com has reported via Twitter that the scheduled fight between the Legend of Longevity Bernard Hopkins and Karo Murat has been cancelled due to Murat having visa issues.
Not long ago Kim, who can be followed on twitter @stevemaxboxing tweeted this "It looks like the Hopkins-Murat card on July 13th is off, from what I'm told. Murat has Visa issues". Minutes later he added this, "Btw, SHO is now going 'dark" on July 13."
Visa issues have been a thorn in the side of many events throughout the history of boxing. With that said you can't help but to speculate that there may be another reason for the possible cancellation of this fight. Murat's Visa issue if he has one could be legit. It could also be perfect timing for Bernard Hopkins to move in another direction. The fight was made quickly and for a man who has limited fights left before he hits the age of 50, there could be other factors that are dictating the fight being called off.
On Tuesday, Ryan Maquiana reported on CSNBayArea.com that he had been advised by Adonis Stevenson's Promoter Yvon Michel, that in the event that a fight with Bernard Hopkins cannot be made, that he would be willing to do a two-fight deal with super middleweight King Andre Ward. Michel told Maquiana "Adonis's first wish would be to fight Bernard Hopkins"
.
The writing is on the wall. Maybe some step aside money was thrown to Murat? Bernard would make a lot more money facing Adonis Stevenson and would also have a chance to once again add to his legacy becoming the Lineal Light Weight Champion. If he loses he could always go back to a fight with the heavy underdog Karo Murat or even a fight with Nathan Cleverly to try to end his career on a good note going out with style with a win. Another option if he won or loss to Stevenson would be a catchweight Super Fight in the London, England versus Carl Froch.