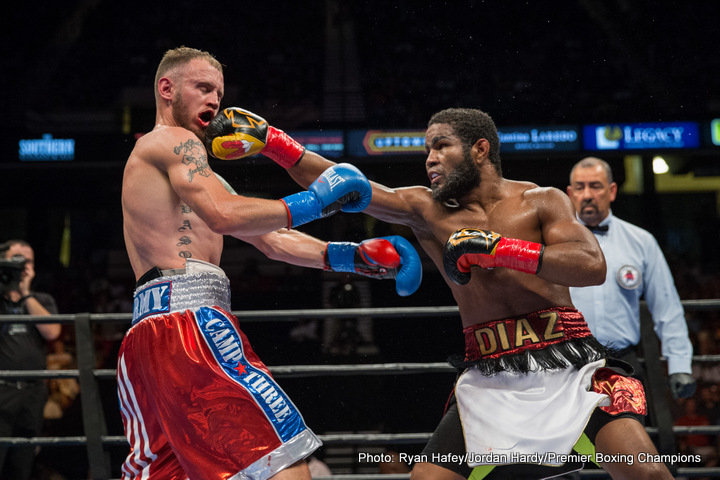 LOU DiBELLA: I am really looking forward to what I think is a really good fight and I am really happy with all of the karma coming out from the media with this fascination with Indongo who has never fought in the US and does not have the resume that Felix does because the more you talk about Indongo, the more mojo is thrown in our direction. I know how good Crawford is. Felix knows how good Crawford is. The media knows how good Crawford is, but he is not G_d, he is not unbeatable. He's had tough fights and I think he's had tough fights with guys like Gamboa, who was a little guy who gave him a tough fight for a while and Diaz has a lot of the same attributes when it comes to pressure and style which could make it a very difficult night for Bud.
Felix has wanted this fight forever. This is a kid that grew up with nothing. A poor kid from the Dominican Republic that became a top amateur and became the Dominican's only Olympic Gold Medalist in the history of the country in 2008. The only gold medal for boxing in the Dominican. This is the culmination of a professional boxing career that began in 2009. Joel Diaz in California trains him. He moved up to welterweight and had a big win against Sammy Vazquez. He had to move up to welterweight to get that opportunity. He's got a lot of other quality wins and I thought he beat Lamont Peterson. He's beaten Emmanuel Lartey and Adrian Granados and Gabriel Bracero before he lost to Peterson. I think this is the toughest challenge that Terence Crawford has ever had and I'm looking forward to it – it is going to be in New York and there will be a nice Dominican contingent there to support Felix.
Felix, you worked hard to call out Terence, which a lot of people do not do. How do you feel now that you have the fight?
FÉLIX DÍAZ: I called out Terence because Terence is the best in the division. It is a big opportunity for me to fight at Madison Square Garden against Terence Crawford.
What is it about Crawford that you think you can beat him?
FÉLIX DÍAZ: With his style, I know I can beat Terence Crawford. Crawford has fought no one like me. Stylistically, I can beat him.
Indongo is going to be ringside for the fight and Bob Arum hopes that if all goes well they can set up that unification fight.
FÉLIX DÍAZ: I am definitely motivated that I am being overlooked and that I am the underdog. But I have my own plans. I am going to destroy Top Rank's plans.
What could you take away from the Lamont Peterson fight – that many people thought you won?
FÉLIX DÍAZ: I learned a lot in that fight and got the experience of fighting one of the great fighters in the division. It is great to have the experience to go in there and go 12 rounds with that guy. Adapting to each fighter is different for each fight but having that experience of 12 tough rounds will really help me.
Do you feel that you have the power to scare Crawford at all?
FÉLIX DÍAZ: There is going to be a difference. I feel a lot stronger at 140. If you look you will notice that every person I fought at 140, I knocked them out, except for Granados, who I knocked down twice (rounds 9 & 10).
What did you see in the Postol fight that impressed you?
LOU DiBELLA: I didn't see much about Postol that impressed me at all. Postol was fighting a really good fighter and that may have had something to do with it, but I don't care if he was fighting Bozo the Clown, Postol brought nothing to that dance.
FÉLIX DÍAZ: I saw nothing from Crawford in the Postol fight – he did not impress me.
What were you not impressed with the Postol fight?
FÉLIX DÍAZ: I did not get to see the whole Postol fight but the parts I did see I was not impressed.
Do you think Crawford is overrated?
LOU DiBELLA: I think he is a damn good fighter. Do I think he is overrated? I think he has fought some smaller guys. I don't think his resume screams of the best in the world but in this day and age not a lot of resumes do. Until someone proves otherwise he is a terrific fighter and Felix wanted this fight because he views Crawford as the best. I do believe that now he will be in there with a guy with real credentials who is a real 140-pounder. He has maybe fought a lot of guys that were smaller and not at the level of Felix. But I take nothing away from the guy – he is certainly one of the top pound-for-pound fighters in the game today. Unfortunately we don't have a lot of resumes that look like Hearns, Leonard, Duran, Whitaker or those kinds of situations any more because we have to do a better job of getting the best in with the best. I think the people should come out to The Garden on May 20 because this is an example of the best fighting the best.
How much do you think Crawford will switch back and forth to southpaw?
FÉLIX DÍAZ: It all depends on Crawford. When he sees what I am bringing in, he is going to have to adjust to me. I really can't answer that question until we get in the ring to really see. I cannot anticipate what he is going to do until we get in the ring.
What does it mean to fight at The Garden?
FÉLIX DÍAZ: It is great to be able to fight at Madison Square Garden, the Mecca of Boxing and the Mecca of history. I know that a lot of the Dominicans from Manhattan and the Bronx and the Dominican communities will be coming out to support me.
What did you take away from the Peterson fight in Virginia?
FÉLIX DÍAZ: I don't feel that I lost the fight. I did everything possible to win that fight. The judges were not on my side, maybe it was because of the style of the fight, but I feel I did enough to beat Lamont Peterson. I regret that I didn't knock him out but
LOU DiBELLA: I think we learned that it's not an ideal situation to fight a Virginian fighter in Virginia.
In Closing…
LOU DiBELLA: It took a long time to make this and maybe not under all of the terms we would have liked, but thank you to Top Rank and Terence Crawford's team for giving Felix the opportunity and Felix is going to make the most of it on May 20.
FÉLIX DÍAZ: I would like to thank everyone that has made this fight possible and you will see on May 20 what I am able to bring to the table and I hope that people take notice.
****************
The HBO telecast will open with RAY "Sugar" BELTRAN (32-7-1, 20 KOs), of Phoenix, AZ by way of Ahome, Mexico, and JONATHAN "The Last Inca" MAICELO (25-2, 12 KOs), of North Bergen, New Jersey by way of Callao, Peru, going mano a mano in a high-stakes battle of world-rated lightweight contenders. Sanctioned by the International Boxing Federation (IBF) as a world lightweight title elimination bout, the winner of the 12-round rumble will also lay claim to the vacant World Boxing Association (WBA) International and the NABF and NABO lightweight titles, currently held by Beltran. The world championship event will also feature the Pride of Newark and 2016 U.S. Olympic silver medalist SHAKUR STEVENSON (1-0). Stevenson's bout and all the undercard bouts will be streamed live exclusively via www.toprank.tv.
Promoted by Top Rank®, in association with DiBella Entertainment, Tecate and Madison Square Garden, remaining tickets to the Crawford vs. Díaz world championship event are priced at $250, $150, $100, $75, $50 and $35. They can be purchased at the Madison Square Garden Box Office, all Ticketmaster outlets, Ticketmaster charge by phone (866-858-0008), and online at www.ticketmaster.com and www.thegarden.com.