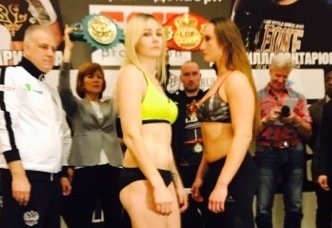 Robert Rolle is here to discuss with us the first ever WBC/ LBF Title which is soon to be upon the horizon. Robert is the son of the legendary "lady in red" boxing promoter Eva Rolle. The Legends Boxing Foundation truly is a unique organisation, and we can now find out what is in store for us boxing fans in 2018. So, ladies and gentlemen here we have Robert Rolle's voice on the latest developments for the WBC/LBF.
WV: Robert, it is great to have you here with us at East Side Boxing. Could you give us an introduction to what you are about?
I am a professional boxing trainer and manager. I started boxing at the age of eighteen and turned professional without any amateur fights being necessary. I was German Champion and IBF European Champion. However, I had to stop boxing because of an eye injury. Then I studied sport science and learnt the trade of being a boxing trainer. Me and my boxers won some international titles for example the IBF international and intercontinental title. And the IBF Female World Championship. After some furious years as a boxing trainer, I became a teacher in a school, also gaining credentials in sport and fitness. For example, endurance and performance coach, weight-lifter trainer and dietitian.
WV: The first ever WBC/ LBF Title fight is soon to take place. Could you tell us more about this event? What makes it so unique?
This is the first event for me as a coach for a long time. I was out for a while for some personal reasons, but now I am back and here to stay. Also, it was the first time for one year that Jennifer Retzke began boxing again. And, for my mum who is involved in the LBF (Legends Boxing Foundation) this was the first time that the LBF made a unification fight with one of the biggest boxing world sanctions body the WBC.
WV: Who is fighting at this exhibition? And how are the preparations for the fight going?
Jennifer fought against a strong Russian lady called Inna Sagaydakovskaya. That girl has a decent amateur background with one hundred amateur fights and six professional fights. Jennifer never fought as an amateur, but has twenty professional fights under her belt. We only had ten days preparation and Jennifer also didn't train for one year because of work. She is not just anyone, a professional fighter with daily training. But, when this kind of chance comes you must try to take it with both hands. This time though we didn't have any luck. The referee stopped the fight after 1.57 minutes in the second round. But, the decision was okay, and the opponent was too strong and as I say circumstances were not really all that good.
Also, Kazakhstani female boxer Firuza Sharipova 9-1, 4 KOs beat Djemilla "The Pitbull" Gontaruk, over ten rounds to acquire the vacant WBC silver female and IBO female super featherweight titles. There were also many young talented fighters on the undercard. Boxers and MMA fighters showed their skills in almost twenty fights at this Event.
WV: Where and when was the event be held?
In Almaty, Kazakhstan 30 December 2017.
WV: You specifically train and manage Jennifer Retzke. Can you tell us more about her?
Jennifer started her first professional fight with at the age of twenty-six in 2010. After only two months of boxing training together with me as her coach. She never fought as an amateur. At the end of 2010 she and Daniella Smith was the first female fighter that fought for the IBF world Championship. After less than one year of boxing training Jennifer fought for her first World Championship. She lost a close battle for the first IBF world title fight by points. Five months later Jennifer got her second IBF title shot and was beating Eva Bajic by TKO in the fifth round. In 2014 Jennifer won the IBO world championship against Florence Muthoni. In the end of 2014 Jennifer had her biggest fight against the female boxing star and the undisputed WBA, WBO, IBF and WBC Champion Cicilia Braekhus. She only lost that fight by points. After that fight Jennifer focused more on her job and we didn´t train daily anymore. Only when we had a fight we trained for some weeks. In the end of 2016 Jennifer had another highlight in her record as she won the LBF (Legend Boxing Foundation) world championship against Elena Sikmashvili in only two rounds. Finally the fight last week against the "Ice Queen".
Jenny is a strong-minded boxer with a huge heart. I love to train with her because she always gives it 100%. In her short boxing career she reached a lot and I am very proud of her. If I would have a young talented fighter with the heart of Jenny I would make him into a world champion. We are friends and I will support her every time when she needs my help. Now she has a record of 16(10)-4(2)-1.
WV: What else does the WBC/LBF have in store for 2018?
Well, we will surely cooperate with the WBC. They are the biggest world sanctioning body and it is an honour to bring the LBF title on stake together with an WBC belt. But, the LBF is also a growing and serious sanctioning body and we will keep working to bring the LBF straight forward. For this we will plan an LBF event in April with some LBF title fights. Also, many fighters and managers show now their interest to fight for the LBF crown. But we also want to bring more impulses to the world of boxing. The LBF has a transparent belt system and we also found a way to give every fighter a chance in getting an LBF title even he doesn´t have the power of a manager or the power of the big money behind him. Professional boxing is also much business, but we want to give everybody a chance to fulfil their dreams.
WV: Any final comments that you would like to leave the audience with?
Thank you for reading the article and thanks to everybody for your support, and our lovely sport of boxing. If anybody need any advice or only want to write a little bit feel free and send me a request on facebook. We are all one family! Love, peace and respect! Yours Robert Rolle